Dephosphorylated parafibromin is a transcriptional coactivator of the Wnt/Hedgehog/Notch pathways
ABSTRACT
---
Evolutionally conserved Wnt, Hedgehog (Hh) and Notch morphogen pathways play essential roles in the development, homeostasis and pathogenesis of multicellular organisms. Nevertheless, mechanisms that intracellularly coordinate these signal inputs remain poorly understood. Here we found that parafibromin, a component of the PAF complex, competitively interacts with β-catenin and Gli1, thereby potentiating transactivation of Wnt- and Hh-target genes in a mutually exclusive manner. Parafibromin also binds to the Notch intracellular domain (NICD), enabling concerted activation of Wnt- and Notch-target genes. The transcriptional platform function of parafibromin is potentiated by tyrosine dephosphorylation, mediated by SHP2 phosphatase, while it is attenuated by tyrosine phosphorylation, mediated by PTK6 kinase. Consequently, acute loss of parafibromin in mice disorganizes the normal epithelial architecture of the intestine, which requires coordinated activation/inactivation of Wnt, Hh and/or Notch signalling. Parafibromin integrates and converts signals conveyed by these morphogen pathways into appropriate transcriptional outputs in a tyrosine phosphorylation/dephosphorylation-regulated manner.
No MeSH data available.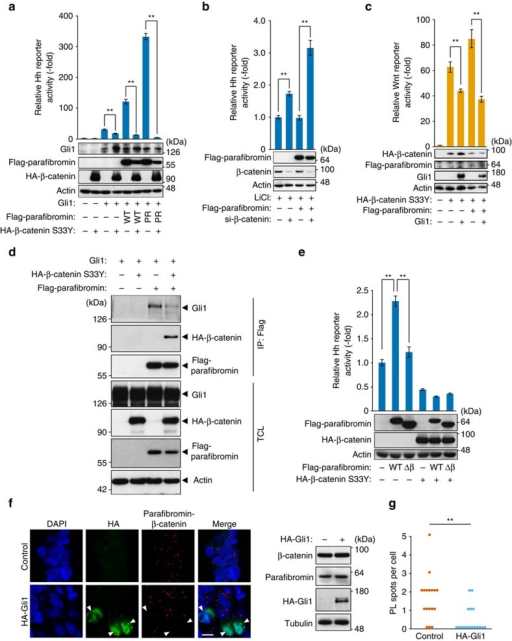 © Copyright Policy - open-access
License
getmorefigures.php?uid=PMC5036006&req=5
Mentions: The above-described observations demonstrated that parafibromin acted as a common transcriptional coactivator in the Wnt, Hh and Notch signalling pathways, thereby promoting downstream target gene activation. This led us to pursue the possibility that parafibromin serves as a molecular platform that integrates multiple morphogen signals and converts them to proper transcriptional outputs. To test this idea, we examined the effect of Wnt signal activation on the parafibromin-dependent Hh signal potentiation. Inhibition of parafibromin expression by shRNA decreased both endogenous Wnt and Hh signals in HEK293T cells (Supplementary Fig. 3a). Furthermore, knockdown of β-catenin by specific siRNA gave rise to the potentiation of Hh signalling (Supplementary Fig. 3b). These observations indicated that parafibromin was utilized for the reciprocal activation of the Wnt and Hh signalling pathways. Consistent with these, co-expression of a constitutively active form of β-catenin (β-catenin S33Y) markedly suppressed Hh signalling activated by parafibromin and Gli1 in HEK293T cells (Fig. 3a). Likewise, LiCl treatment of cells, which inhibits GSK3β and thereby prevents β-catenin degradation, also inhibited parafibromin-dependent Hh activation (Supplementary Fig. 3c). Conversely, knockdown of β-catenin in LiCl-treated cells restored parafibromin-dependent activation of Hh signalling (Fig. 3b). In a reciprocal experiment, ectopic expression of Gli1 attenuated Wnt activation by parafibromin (Fig. 3c). Accordingly, parafibromin-dependent Wnt activation inhibited parafibromin-dependent Hh activation and vice versa. To examine mutual inhibition between the Wnt signal and Hh signal in more physiological settings, we made use of MKN28 human gastric epithelial cells. In MKN28 cells, a Wnt3a/R-spondin-conditioned medium induced nuclear accumulation of β-catenin and activated the Wnt reporter (Supplementary Fig. 3d,e), whereas expression of the Hh ligand, Sonic hedgehog (Shh), stimulated the Hh signal (Supplementary Fig. 3f,g). Thus, MKN28 cells respond to both Wnt and Hh ligands. The Hh signal activation by Shh in MKN28 cells was substantially attenuated when the cells were co-stimulated with the Wnt3a/R-spondin-conditioned medium (Supplementary Fig. 3h).