Dephosphorylated parafibromin is a transcriptional coactivator of the Wnt/Hedgehog/Notch pathways
ABSTRACT
---
Evolutionally conserved Wnt, Hedgehog (Hh) and Notch morphogen pathways play essential roles in the development, homeostasis and pathogenesis of multicellular organisms. Nevertheless, mechanisms that intracellularly coordinate these signal inputs remain poorly understood. Here we found that parafibromin, a component of the PAF complex, competitively interacts with β-catenin and Gli1, thereby potentiating transactivation of Wnt- and Hh-target genes in a mutually exclusive manner. Parafibromin also binds to the Notch intracellular domain (NICD), enabling concerted activation of Wnt- and Notch-target genes. The transcriptional platform function of parafibromin is potentiated by tyrosine dephosphorylation, mediated by SHP2 phosphatase, while it is attenuated by tyrosine phosphorylation, mediated by PTK6 kinase. Consequently, acute loss of parafibromin in mice disorganizes the normal epithelial architecture of the intestine, which requires coordinated activation/inactivation of Wnt, Hh and/or Notch signalling. Parafibromin integrates and converts signals conveyed by these morphogen pathways into appropriate transcriptional outputs in a tyrosine phosphorylation/dephosphorylation-regulated manner.
No MeSH data available.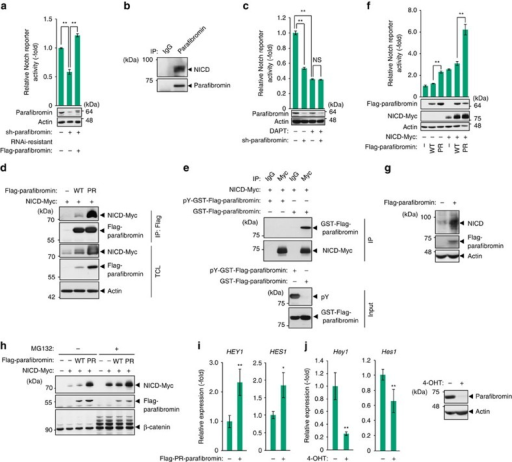 © Copyright Policy - open-access
License
getmorefigures.php?uid=PMC5036006&req=5
Mentions: In zebrafish, Rtf1 and Ctr9, components of the PAF complex, are required for the activation of Notch signalling during embryogenesis25. However, the role of parafibromin, a core component of the PAF complex, in the regulation of Notch signalling has remained unclear. To address this issue, we performed a Notch-dependent luciferase reporter assay in HEK293T cells and found that knockdown of parafibromin significantly reduced the reporter activity and that this reduction was rescued by ectopic expression of RNAi-resistant parafibromin (Fig. 2a). The result of the experiment suggested that parafibromin potentiated Notch signalling. Given that parafibromin enhances both Wnt signalling and Hh signalling by interacting with their respective effectors, β-catenin and Gli1, we hypothesized that parafibromin also potentiates Notch signalling by interacting with the Notch effector, the NICD. To test this idea, we carried out a co-immunoprecipitation study using an anti-parafibromin antibody in human MCF7 breast cancer cells, in which Notch signalling is constitutively activated26. We found that NICD was co-immunoprecipitated with endogenous parafibromin (Fig. 2b and Supplementary Fig. 2a,b), indicating that parafibromin formed a complex with NICD in the cell. Furthermore, treatment of HEK293T cells and MCF7 cells with a γ-secretase inhibitor, DAPT, abrogated parafibromin-dependent Notch reporter activation as well as parafibromin/NICD complex formation (Fig. 2c and Supplementary Fig. 2c), indicating that potentiation of the Notch signal by parafibromin requires γ-secretase-dependent release of NICD. To know if the phosphorylation status of parafibromin affects the complex formation, we transiently expressed wild-type or PR-parafibromin together with NICD in HEK293T cells and we found that PR-parafibromin co-immunoprecipitated a greater amount of NICD than wild-type parafibromin did (Fig. 2d and Supplementary Fig. 2d). Furthermore, in vitro binding assay using recombinant parafibromin revealed that non-phosphorylated parafibromin, but not tyrosine-phosphorylated parafibromin, bound to NICD (Fig. 2e). Thus, parafibromin formed a complex with NICD in a manner that was dependent on tyrosine dephosphorylation of parafibromin. Consistent with this observation, PR-parafibromin was more potent in activating Notch signalling than wild-type parafibromin was in the Notch reporter assay (Fig. 2f). Treatment of cells with DAPT reduced endogenous Notch signalling, whereas NICD-induced activation of the Notch reporter was little influenced by treatment with DAPT (Supplementary Fig. 2e).