The DNA cytosine deaminase APOBEC3H haplotype I likely contributes to breast and lung cancer mutagenesis
ABSTRACT
---
Cytosine mutations within TCA/T motifs are common in cancer. A likely cause is the DNA cytosine deaminase APOBEC3B (A3B). However, A3B- breast tumours still have this mutational bias. Here we show that APOBEC3H haplotype I (A3H-I) provides a likely solution to this paradox. A3B- tumours with this mutational bias have at least one copy of A3H-I despite little genetic linkage between these genes. Although deemed inactive previously, A3H-I has robust activity in biochemical and cellular assays, similar to A3H-II after compensation for lower protein expression levels. Gly105 in A3H-I (versus Arg105 in A3H-II) results in lower protein expression levels and increased nuclear localization, providing a mechanism for accessing genomic DNA. A3H-I also associates with clonal TCA/T-biased mutations in lung adenocarcinoma suggesting this enzyme makes broader contributions to cancer mutagenesis. These studies combine to suggest that A3B and A3H-I, together, explain the bulk of 'APOBEC signature' mutations in cancer.
No MeSH data available.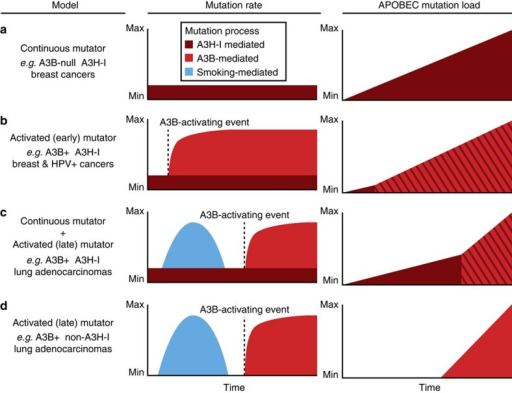 © Copyright Policy - open-access
License
getmorefigures.php?uid=PMC5036005&req=5
Mentions: Our results suggest distinct temporal models for the generation of APOBEC signature mutations in cancer. In the first, in A3B- cancers such as in a subset of breast tumours described here, A3H-I may provide a low mutator activity that over a long period of time results in the observed APOBEC signature mutation spectrum and load (continuous mutator model in Fig. 7a). This mutation programme may be prone to periodic 'flares' (not depicted) because at least one virus (HIV-1) has been shown to induce A3H expression in primary cells4871, and other viruses may have similar stimulatory effects. This model may be particularly relevant to Southeast Asian populations with high frequencies of both A3H-I and the A3B deletion allele (Fig. 2). In the second model, in A3B overexpressing tumours such as many breast cancers and HPV-positive cancers, the mutational impact of A3B may be early, strong, constitutive and additive to that of A3H-I, and the powerful effect of A3B and its similar TC target preferences may rapidly eclipse the A3H-I contribution (activated (early) mutator model in Fig. 7b). HPV infection provides a mechanism for A3B upregulation in virus-positive tumour types, but the mechanisms responsible for early A3B induction in virus-negative tumours are less uniform and less clear (for example, ref. 26). In the third model, the impact of A3H-I is evident among early-arising clonal mutation spectrum in lung adenocarcinomas but it eventually becomes eclipsed by A3B overexpression at a later point in tumour development (continuous mutator plus activated (late) mutator model in Fig. 7c). In a variant of this model, the early continuous mutator effect is absent in tumours lacking A3H-I (activated (late) mutator model in Fig. 7d). In all of the models, apart from those depicting an early smoking signature, other prominent sources of mutation are excluded for purposes of focusing on the APOBEC signature and the different contributions of A3H-I and A3B observed in this study. Such additional sources of mutation are of course capable of contributing to the overall mutation loads and spectra in various tumour types. These models may extend to APOBEC signature cancers beyond those highlighted here, and future studies should be designed to isolate and quantify the mutagenic contributions of A3H-I, A3B and possibly other family members. Future studies should also examine the clinical impact of these different mutational sources together, as well as in isolation, in appropriate populations. Indeed, an analysis of lung cancer incidence in China indicated that unstable/inactive forms of A3H may be protective72 and, therefore, we suggest that A3H-I could be a significant risk factor as the predominant allele in China (∼70%) and other regions of the world.