Selective targeting of IL-2 to NKG2D bearing cells for improved immunotherapy
ABSTRACT
---
Despite over 20 years of clinical use, IL-2 has not fulfilled expectations as a safe and effective form of tumour immunotherapy. Expression of the high affinity IL-2Rα chain on regulatory T cells mitigates the anti-tumour immune response and its expression on vascular endothelium is responsible for life threatening complications such as diffuse capillary leak and pulmonary oedema. Here we describe the development of a recombinant fusion protein comprised of a cowpox virus encoded NKG2D binding protein (OMCP) and a mutated form of IL-2 with poor affinity for IL-2Rα. This fusion protein (OMCP-mutIL-2) potently and selectively activates IL-2 signalling only on NKG2D-bearing cells, such as natural killer (NK) cells, without broadly activating IL-2Rα-bearing cells. OMCP-mutIL-2 provides superior tumour control in several mouse models of malignancy and is not limited by mouse strain-specific variability of NK function. In addition, OMCP-mutIL-2 lacks the toxicity and vascular complications associated with parental wild-type IL-2.
No MeSH data available.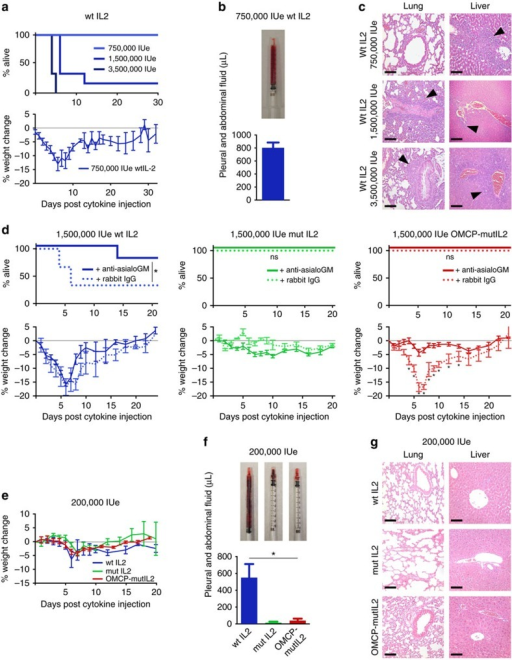 © Copyright Policy - open-access
License
getmorefigures.php?uid=PMC5036003&req=5
Mentions: Dose-dependent toxicity can limit cytokine administration in vivo18. While A/J mice tolerated 750,000 IUe of wtIL-2, mortality was evident at higher doses (Fig. 3a). Even at the 750,000 IUe dose, mice demonstrated distress, weight loss, decreased food consumption, ascites and hepatic inflammation (Fig. 3a–c and Supplementary Fig. 3a). These side-effects resemble the capillary leakage and clinical distress associated with high dose IL-2 therapy in humans7. Depletion of NK cells through the administration of anti-Asialo-GM1 ameliorated mortality, but not weight loss, induced by high dose wtIL-2 (1,500,000 IUe) in A/J mice. This confirmed that side effects of wtIL-2 can occur independent of NK cells (Fig. 3d). Unlike with wtIL-2 no animal death was evident after high dose OMCP-mutIL-2 or mutIL-2 treatment in the presence or absence of NK cells. Animal weight loss after administration of high dose OMCP-mutIL-2 occurred only in NK cell-sufficient mice, suggesting that toxicity of this fusion protein was solely due to immunoactivation (Fig. 3d). A regimen of low-dose, 200,000 IUe of wtIL-2, mutIL-2 or OMCP-mutIL-2, was well tolerated in A/J mice with minimal weight loss, distress or organ inflammation (Fig. 3e–g). Capillary leak, however, was still evident at this dosing regimen for wtIL-2 (Fig. 3f). C57BL/6 mice were able to tolerate higher doses of wtIL-2 but still suffered significant morbidity when administered a regimen equivalent to or higher than 750,000 IUe (Supplementary Fig. 3b). Interestingly weight loss was ameliorated in C57BL/6NKG2D−/− mice treated with OMCP-mutIL-2, consistent with the importance of NKG2D for immunoactivation by our fusion protein (Supplementary Fig. 3c). Taken together these data show that OMCP-mutIL-2 offers a safety advantage compared with wtIL-2.