Dual regulation of cytoplasmic and mitochondrial acetyl-CoA utilization for improved isoprene production in Saccharomyces cerevisiae
ABSTRACT
---
Microbial production of isoprene from renewable feedstock is a promising alternative to traditional petroleum-based processes. Currently, efforts to improve isoprenoid production in Saccharomyces cerevisiae mainly focus on cytoplasmic engineering, whereas comprehensive engineering of multiple subcellular compartments is rarely reported. Here, we propose dual metabolic engineering of cytoplasmic and mitochondrial acetyl-CoA utilization to boost isoprene synthesis in S. cerevisiae. This strategy increases isoprene production by 2.1-fold and 1.6-fold relative to the recombinant strains with solely mitochondrial or cytoplasmic engineering, respectively. By combining a modified reiterative recombination system for rapid pathway assembly, a two-phase culture process for dynamic metabolic regulation, and aerobic fed-batch fermentation for sufficient supply of acetyl-coA and carbon, we achieve 2527, mg l−1 of isoprene, which is the highest ever reported in engineered eukaryotes. We propose this strategy as an efficient approach to enhancing isoprene production in yeast, which might open new possibilities for bioproduction of other value-added chemicals.
No MeSH data available.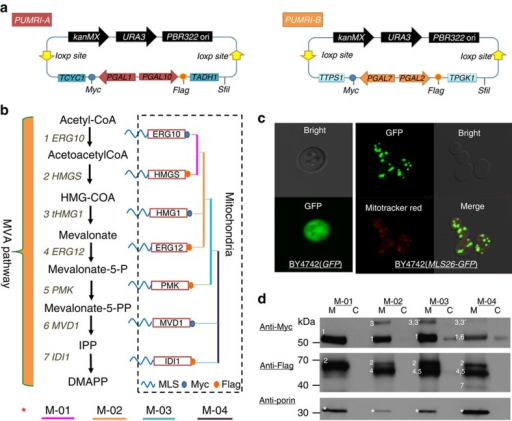 © Copyright Policy - open-access
License
getmorefigures.php?uid=PMC5036000&req=5
Mentions: In this work, genomic integration of pathway genes was performed by reiterative recombination. On the basis of the pMRI vectors constructed in our previous study22, a modified toolbox 'pUMRI' (Fig. 1a) was constructed by combining the KanMX-Cre/loxP recombination system2223 with URA counter-selection to shorten the operation cycle of pathway assembly by simplifying the marker removal process. KanMX was adopted as a selection marker in both Escherichia coli and S. cerevisiae, while URA3 (encoding orotidine 5-phosphate decarboxylase) was used for converting 5-fluoroorotic acid (5-FOA) to the cytotoxic 5-fluorouracil leading to cell death. Generally, three common steps are involved in each round of recombination, including gene cloning, transformant selection and marker recycling (Supplementary Methods). After gene integration, the cassette of 'loxp-kanMX-URA-loxp' was removed by the low-occurrence event of mitotic recombination between the repeated loxp-loxp, and positive colonies could be selected out by marker loss upon URA counter-selection in a one-step process (Supplementary Fig. 1). It is worth mentioning that each recombination cycle could be completed within only 6–7 days. In contrast, 13–14 days are usually required for completion of one recombination using the Cre/loxp system. For expression control of genes in S. cerevisiae, herein, a series of GAL promoters were tested using the carotene-based strength characterization method proposed in our previous work21. Strains with PGAL1, PGAL10, PGAL2 and PGAL7 produced carotene comparable to that of PTEF1 or PHXT7 (two constitutive promoters generally recognized as strong) upon galactose induction, while producing little carotene when glucose was used as the carbon source (Supplementary Fig. 2), thus demonstrating their carbon source-responsive regulation characteristics2324. These four GAL promoters were then introduced into the pUMRI cassettes (Supplementary Fig. 3), generating pUMRI-A and pUMRI-B (Fig. 1a), respectively. To determine the efficiency of marker excision using pUMRI, deletion of DPP1 (encoding diacylglycerol pyrophosphate phosphatase) was performed (Supplementary Methods), which showed high marker removal efficiency (Supplementary Fig. 4) and low recombination frequency between loxp repeats (Supplementary Table 1).