A conserved influenza A virus nucleoprotein code controls specific viral genome packaging
ABSTRACT
---
Packaging of the eight genomic RNA segments of influenza A viruses (IAV) into viral particles is coordinated by segment-specific packaging sequences. How the packaging signals regulate the specific incorporation of each RNA segment into virions and whether other viral or host factors are involved in this process is unknown. Here, we show that distinct amino acids of the viral nucleoprotein (NP) are required for packaging of specific RNA segments. This was determined by studying the NP of a bat influenza A-like virus, HL17NL10, in the context of a conventional IAV (SC35M). Replacement of conserved SC35M NP residues by those of HL17NL10 NP resulted in RNA packaging defective IAV. Surprisingly, substitution of these conserved SC35M amino acids with HL17NL10 NP residues led to IAV with altered packaging efficiencies for specific subsets of RNA segments. This suggests that NP harbours an amino acid code that dictates genome packaging into infectious virions.
No MeSH data available.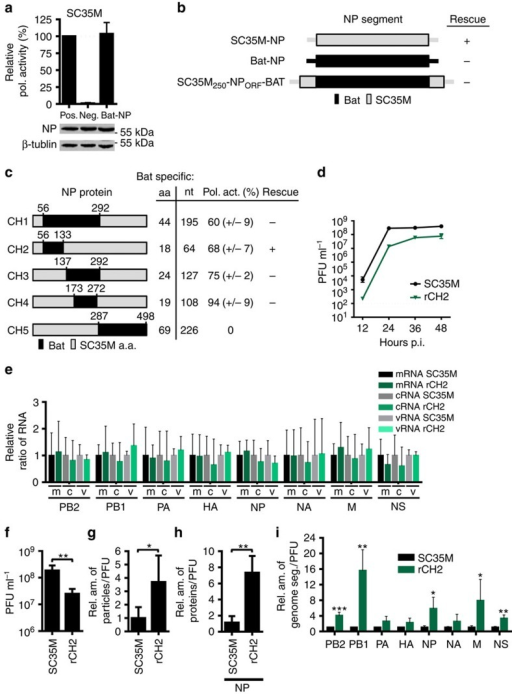 © Copyright Policy - open-access
License
getmorefigures.php?uid=PMC5035998&req=5
Mentions: Previously, it has been shown that chimeric bat influenza A-like viruses fail to reassort with conventional IAV, including A/SC35M (H7N7), due to an incompatibility of the internal viral proteins as well as differences in the packaging sequences2324. Since the bat influenza A-like NP protein (herein referred to as 'Bat NP') of the HL17NL10 subtype (A/little yellow-shouldered bat/Guatemala/164/2009) supported the polymerase activity of SC35M in a polymerase reconstitution assay (Fig. 1a)23, we hypothesized that the generation of recombinant SC35M encoding Bat NP might be possible by employing the packaging sequences of the SC35M NP segment (Fig. 1b). However, in contrast to our expectations such viruses could not be generated (Fig. 1b), even so Bat NP expressed from the pHW2000 rescue plasmid SC35M250-NPORF-Bat was expressed and supported SC35M polymerase activity albeit to lower levels than wild-type (wt) SC35M NP (Supplementary Fig. 1). To identify regions of Bat NP that could rescue a recombinant SC35M virus, NP segments and expression plasmids were generated encoding five SC35M/Bat NP chimeras (CH1–CH5) that varied in the amount of Bat NP-specific amino acids and nucleotides (Fig. 1c). Although all SC35M/Bat NP chimeras except CH5 supported polymerase activity of SC35M in polymerase reconstitution assay, only recombinant SC35M encoding the chimera CH2 (herein referred to as 'rCH2') with 18 Bat NP-specific amino acids located in the so-called body domain of NP (Supplementary Fig. 2) could be successfully generated (Fig. 1c). Infection of MDCKII cells with rCH2 at a multiplicity of infection (MOI) of 0.001 resulted in a 35-fold reduction in viral titres 24 h post infection (h.p.i.) (Fig. 1d), indicating that although the CH2 chimeric NP supported the generation of infectious IAV, the resulting rCH2 virus was attenuated in viral growth. A similar level of attenuation was observed in single cycle infection experiments (MOI of 5) at 6 and 8 h.p.i. with rCH2 (Supplementary Fig. 3). Nevertheless, under the same conditions, comparable mRNA, cRNA and vRNA levels were detected in cells infected with wild-type (wt) SC35M and rCH2 viruses at 6 h.p.i. (Fig. 1e) and in a polymerase reconstitution assay using the SC35M NP segment (Supplementary Fig. 4), indicating that viral polymerase activity and RNA synthesis was not affected by the NP changes in the rCH2 virus, and that this was not the cause for the attenuation of the virus. The small differences of the polymerase activity using the reporter minigenome (Fig. 1c) and the authentic NP segment (Supplementary Fig. 4) are likely to be caused by the artificial nature of the reporter segment. By contrast, at equal hemagglutination titres, supernatants from rCH2 virus-infected cells displayed 10-fold less infectious viruses than wt SC35M (Fig. 1f). Moreover, the ratio of total viral particles to infectious particles, determined by electron microscopy (Supplementary Fig. 5) and plaque assay, was found to be almost fourfold higher in rCH2 than in wt SC35M virus stocks (Fig. 1g). Using equal numbers of infectious viral particles significant higher NP protein levels were detected in rCH2 virus preparations compared with wt SC35M (Fig. 1h). This suggests that relatively more non-infectious viral particles were produced in rCH2-infected cells. To compare the genome equivalents between viral particles released from rCH2 and SC35M-infected cells, we determined the relative ratio of all 8 viral segments by quantitative RT-PCR using an equal number of infectious viral particles as determined by plaque assay. With this approach, the PB2, PB1, NP, M and NS vRNA segments were found to be significantly enriched in the rCH2 preparations compared with the PA, HA and NA segments (Fig. 1i). Together these results suggest that the SC35M/Bat NP chimera rCH2 is characterized by an increased production of non-infectious particles harbouring an irregular set of viral genomes.