Highly-stretchable 3D-architected Mechanical Metamaterials
ABSTRACT
---
Soft materials featuring both 3D free-form architectures and high stretchability are highly desirable for a number of engineering applications ranging from cushion modulators, soft robots to stretchable electronics; however, both the manufacturing and fundamental mechanics are largely elusive. Here, we overcome the manufacturing difficulties and report a class of mechanical metamaterials that not only features 3D free-form lattice architectures but also poses ultrahigh reversible stretchability (strain > 414%), 4 times higher than that of the existing counterparts with the similar complexity of 3D architectures. The microarchitected metamaterials, made of highly stretchable elastomers, are realized through an additive manufacturing technique, projection microstereolithography, and its postprocessing. With the fabricated metamaterials, we reveal their exotic mechanical behaviors: Under large-strain tension, their moduli follow a linear scaling relationship with their densities regardless of architecture types, in sharp contrast to the architecture-dependent modulus power-law of the existing engineering materials; under large-strain compression, they present tunable negative-stiffness that enables ultrahigh energy absorption efficiencies. To harness their extraordinary stretchability and microstructures, we demonstrate that the metamaterials open a number of application avenues in lightweight and flexible structure connectors, ultraefficient dampers, 3D meshed rehabilitation structures and stretchable electronics with designed 3D anisotropic conductivity.
No MeSH data available.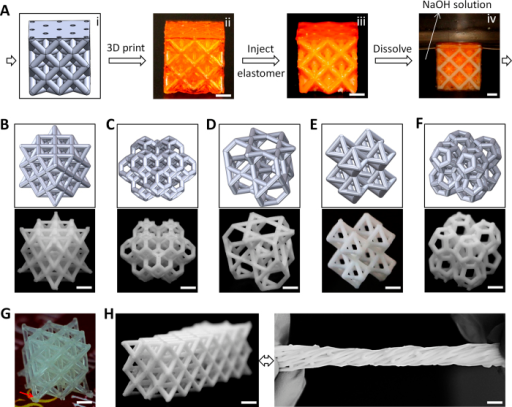 © Copyright Policy - open-access
License
getmorefigures.php?uid=PMC5035992&req=5
Mentions: The elastomer metamaterials are fabricated via a postprocessing of the projection microstereolithography26, in analogous to the fabrication of hollow metallic microlattices with microstereolithography2634, waveguide polymerization2527 or two-photon lithography2428293031. To fabricate hollow metallic microlattices, polymer microlattices with solid beams are first fabricated, followed by a post-deposition of metals around the contour surfaces of the microlattices and a subsequent thermal decomposition of the polymer cores26272830. Here, we invert the process to first additively manufacture a highly-architected hollow polymer microlattice scaffold, then cure elastomers within the hollow channels, and finally chemically dissolve the hollow scaffold1935, thus leaving a freestanding elastomer lattice (Fig. 1A, Supplementary Figs 1 and 2, see Materials and Methods). This facile manufacturing strategy is advantageous in circumventing the outstanding difficulties including high viscosity, long curing time and self-weight supporting of stretchable-elastomer monomers, which widely exist among the extrusion-based and photopolymerization-based additive manufacturing of elastomers2141620. The method enables us to fabricate a variety of elastomer lattices with nearly arbitrary 3D architectures, such as Octet-truss (Fig. 1B), Kelvin (Fig. 1C), Kagome (Fig. 1D), Octahedron (Fig. 1E) and Dodecahedron lattices (Fig. 1F), which are orderly assembled from a number of corresponding unit cells (Supplementary Fig. 3)263036. The resolutions of the fabricated elastomer lattices are determined by the diameters of the hollow channels, in a range from 100 to 1500 μm. The manufacturing method is very general, applicable for a number of stretchable elastomer materials, such as tin-catalyzed silicones and urethane elastomers, either opaque or transparent (semi-transparent) (Fig. 1B–G, Supplementary Fig. 4). Due to the high stretchability of the elastomer constituents, the fabricated lattices are highly deformable to reversibly sustain large-strain compression, tension and torsion (Fig. 1H, Supplementary Fig. 5). In addition, the fabricated lattices are very lightweight, with effective densities in a range of 60–500 kg/m3 that are around 6–50% of the corresponding elastomer bulk. Since the elastomer modulus is in a range of 20–400 kPa (Supplementary Fig. 6), once the relative density is lower than 6% (e.g., beam diameter smaller than 40 μm), achieving freestanding elastomer lattices is challenging because the surface tension plays a significant role in deforming the elastomer lattices into crumpled geometries37. Furthermore, the method is scalable because the elastomer lattices can be easily scaled up to large areas or volumes (e.g., ~1000 cm3) by increasing the volume of the hollow scaffolds and the number of unit cells with the existing stereolithography technique combining x-y axis scanning (Fig. 1H)26.