Effector Diversification Contributes to Xanthomonas oryzae pv. oryzae Phenotypic Adaptation in a Semi-Isolated Environment
ABSTRACT
---
Understanding the processes that shaped contemporary pathogen populations in agricultural landscapes is quite important to define appropriate management strategies and to support crop improvement efforts. Here, we took advantage of an historical record to examine the adaptation pathway of the rice pathogen Xanthomonas oryzae pv. oryzae (Xoo) in a semi-isolated environment represented in the Philippine archipelago. By comparing genomes of key Xoo groups we showed that modern populations derived from three Asian lineages. We also showed that diversification of virulence factors occurred within each lineage, most likely driven by host adaptation, and it was essential to shape contemporary pathogen races. This finding is particularly important because it expands our understanding of pathogen adaptation to modern agriculture.
No MeSH data available.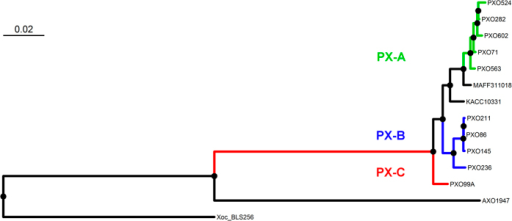 © Copyright Policy - open-access
License
getmorefigures.php?uid=PMC5035989&req=5
Mentions: We obtained complete genome sequences for 10 major Xoo races collected in the Philippines between 1974 and 2006 (Supplementary Table S2). The assembled genomes (102-268X coverage range) represent key phenotypic groups isolated before (Races 1, 2, 4, 5, 6, 7, and 8) and after the 1992 epidemics (Races 3c, 9b, and 10). Using phylogenetic reconstruction (Fig. 2) and whole genome alignments (Supplementary Fig. S1) we identified three major lineages as Philippines Xanthomonas groups A, B and C (PX-A, PX-B, and PX-C). A genome-wide assessment of core SNPs (Fig. 2) clustered the strains PXO282, PXO602, PXO71, PXO524, and PXO563 (Races 1, 3c, 4, 9b, and 10, respectively) into lineage PX-A (green) and the strains PXO86, PXO236, PXO145, and PXO211 (Races 2, 5, 7, and 8, respectively) into lineage PX-B (blue). The strain PXO99A (Race 6) represents a unique genotype that was identified as lineage PX-C (red). Removing recombinant SNPs does not alter the phylogenetic signal of Fig. 2.