Cell Culture Models for the Investigation of Hepatitis B and D Virus Infection
ABSTRACT
---
Chronic hepatitis B virus (HBV) and hepatitis D virus (HDV) infections are major causes of liver disease and hepatocellular carcinoma worldwide. Despite the presence of an efficient preventive vaccine, more than 250 million patients are chronically infected with HBV. Current antivirals effectively control but only rarely cure chronic infection. While the molecular biology of the two viruses has been characterized in great detail, the absence of robust cell culture models for HBV and/or HDV infection has limited the investigation of virus-host interactions. Native hepatoma cell lines do not allow viral infection, and the culture of primary hepatocytes, the natural host cell for the viruses, implies a series of constraints restricting the possibilities of analyzing virus-host interactions. Recently, the discovery of the sodium taurocholate co-transporting polypeptide (NTCP) as a key HBV/HDV cell entry factor has opened the door to a new era of investigation, as NTCP-overexpressing hepatoma cells acquire susceptibility to HBV and HDV infections. In this review, we summarize the major cell culture models for HBV and HDV infection, discuss their advantages and limitations and highlight perspectives for future developments.
No MeSH data available.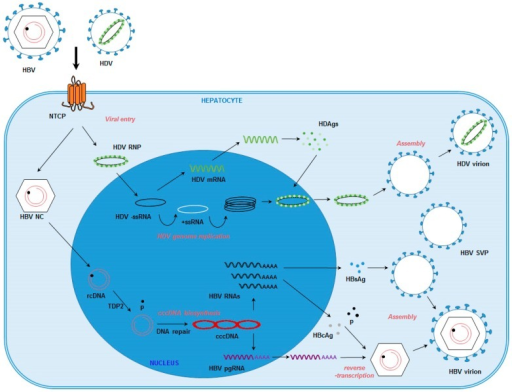 © Copyright Policy
License
getmorefigures.php?uid=PMC5035974&req=5
Mentions: HBV is a small enveloped DNA virus belonging to the Hepadnaviridae family [4], which exclusively infects human hepatocytes [4]. HBV virions (also known as Dane particles) are enveloped particles approximately 42 nm in diameter, comprised of the nucleocapsid, which incorporates the HBV core antigen (HBcAg), and the viral genome, a 3.2 kb partially double-stranded relaxed circular DNA (rcDNA) [7,8]. Embedded in the viral envelope are three proteins: small S (S), middle M (S + preS2 region) and large L (S + preS2 region + preS1 region), forming the HBV surface antigen (HBsAg) [9]. The presence of these viral proteins in the infected cells allows for detection of HBV infection by enzyme-linked immunosorbent assay (ELISA) [10] or immunofluorescence [10,11,12,13]. HBV infection of hepatocytes is initiated by low-affinity attachment to heparan sulfate proteoglycans (HSPGs), including glypican 5 (GPC5) [12]. Subsequent specific binding to the sodium taurocholate co-transporting polypeptide (NTCP) (Figure 1), a hepotocyte-specific receptor, induces entry of the viral particle into its target cells (reviewed in [14]). Following delivery of the viral genome into the nucleus of infected cells, HBV rcDNA is converted into covalently closed circular DNA (cccDNA). This replication intermediate allows the transcription of viral RNAs, including HBV pre-genomic RNA, which is then reverse-transcribed into nascent genomic DNA by the viral polymerase [15]. The cccDNA is responsible for viral persistence in infected hepatocytes and the establishment of chronicity [15]. HBV DNAs and RNAs can be detected by Southern blot and Northern blot, respectively, or by quantitative PCR (qPCR) methods [10,11,16]. cccDNA production induces the expression of the soluble HBeAg, which can be detected by ELISA [10,11,16]. Current therapeutic strategies do not prevent the formation of cccDNA or lead to its eradication. Therefore, treatment does not usually result in viral clearance, even though viral infection can be controlled if treatment is administered for life [15].