Functional Equivalence of Retroviral MA Domains in Facilitating Psi RNA Binding Specificity by Gag
ABSTRACT
---
Retroviruses specifically package full-length, dimeric genomic RNA (gRNA) even in the presence of a vast excess of cellular RNA. The "psi" (Ψ) element within the 5′-untranslated region (5′UTR) of gRNA is critical for packaging through interaction with the nucleocapsid (NC) domain of Gag. However, in vitro Gag binding affinity for Ψ versus non-Ψ RNAs is not significantly different. Previous salt-titration binding assays revealed that human immunodeficiency virus type 1 (HIV-1) Gag bound to Ψ RNA with high specificity and relatively few charge interactions, whereas binding to non-Ψ RNA was less specific and involved more electrostatic interactions. The NC domain was critical for specific Ψ binding, but surprisingly, a Gag mutant lacking the matrix (MA) domain was less effective at discriminating Ψ from non-Ψ RNA. We now find that Rous sarcoma virus (RSV) Gag also effectively discriminates RSV Ψ from non-Ψ RNA in a MA-dependent manner. Interestingly, Gag chimeras, wherein the HIV-1 and RSV MA domains were swapped, maintained high binding specificity to cognate Ψ RNAs. Using Ψ RNA mutant constructs, determinants responsible for promoting high Gag binding specificity were identified in both systems. Taken together, these studies reveal the functional equivalence of HIV-1 and RSV MA domains in facilitating Ψ RNA selectivity by Gag, as well as Ψ elements that promote this selectivity.
No MeSH data available.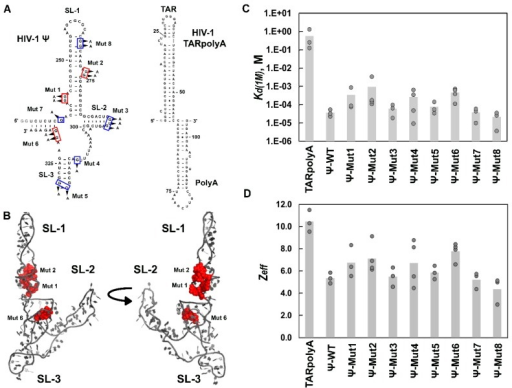 © Copyright Policy
License
getmorefigures.php?uid=PMC5035970&req=5
Mentions: All RNA constructs were in vitro transcribed from linearized plasmids using T7 RNA polymerase and previously established methods [53] (Figure 1A and Figure 5A). The DNA sequences encoding the RSV RNAs were synthesized and cloned into pIDTSMART-AMP by Integrated DNA Technologies (Coralville, IA, USA). The RSV 167 RNA construct was derived from nt 1249–1409 and RSV MΨ WT and mutant RNA constructs were derived from nt 156–315 of RSV Prague C strain, respectively. Each RNA was designed with two non-genomic G residues at the 5′ end to promote T7 polymerase transcription and AAGCU is added to the 3′ end as a result of the HindIII restriction enzyme used to linearize the plasmid prior to transcription. RSV MΨ A197G, MΨ GG to CC (G214C, G215C), MΨ Triple (C195A, G199C, A200U), and MΨ UGCG to GAGA (U217G, G218A, C219G, G220A) were prepared from the RSV RNA MΨ WT plasmid via site-directed mutagenesis using overlap extension PCR [54]. The HIV-1 Ψ-WT RNA construct was derived from nt 229–333 and the TARpolyA RNA construct was derived from nt 1–104 of the HIV-1 NL4-3 genome [55]. Plasmids encoding both RNAs contain FokI restriction enzyme cut sites to generate the correct 3′ end of the RNA. All HIV-1 Ψ RNA variants were designed with 2 additional G residues at the 5′ end to promote efficient T7-mediated transcription. HIV-1 Ψ-Mut 1 (G241,242A), Ψ-Mut 2 (G274,275A), Ψ-Mut 3 (G292A, U293A, G294A), Ψ-Mut 4 (G311A), Ψ-Mut 5 (G319A, G321A), Ψ-Mut 6 (G329,330A), Ψ-Mut 7 (G235A), and Ψ-Mut 8 (G267,268A) were prepared from the HIV-1 Ψ-WT template plasmid using QuikChange (Agilent Technologies, Santa Clara, CA, USA) or site-directed ligase-independent mutagenesis (SLIM) [56].