Transmission of Hepatitis E Virus in Developing Countries
ABSTRACT
---
Hepatitis E virus (HEV), an RNA virus of the Hepeviridae family, has marked heterogeneity. While all five HEV genotypes can cause human infections, genotypes HEV-1 and -2 infect humans alone, genotypes HEV-3 and -4 primarily infect pigs, boars and deer, and genotype HEV-7 primarily infects dromedaries. The global distribution of HEV has distinct epidemiological patterns based on ecology and socioeconomic factors. In resource-poor countries, disease presents as large-scale waterborne epidemics, and few epidemics have spread through person-to-person contact; however, endemic diseases within these countries can potentially spread through person-to-person contact or fecally contaminated water and foods. Vertical transmission of HEV from infected mother to fetus causes high fetal and perinatal mortality. Other means of transmission, such as zoonotic transmission, can fluctuate depending upon the region and strain of the virus. For instance, zoonotic transmission can sometimes play an insignificant role in human infections, such as in India, where human and pig HEV infections are unrelated. However, recently China and Southeast Asia have experienced a zoonotic spread of HEV-4 from pigs to humans and this has become the dominant mode of transmission of hepatitis E in eastern China. Zoonotic HEV infections in humans occur by eating undercooked pig flesh, raw liver, and sausages; through vocational contact; or via pig slurry, which leads to environmental contamination of agricultural products and seafood. Lastly, blood transfusion-associated HEV infections occur in many countries and screening of donors for HEV RNA is currently under serious consideration. To summarize, HEV genotypes 1 and 2 cause epidemic and endemic diseases in resource poor countries, primarily spreading through contaminated drinking water. HEV genotypes 3 and 4 on the other hand, cause autochthonous infections in developed, and many developing countries, by means of a unique zoonotic food-borne transmission.
No MeSH data available.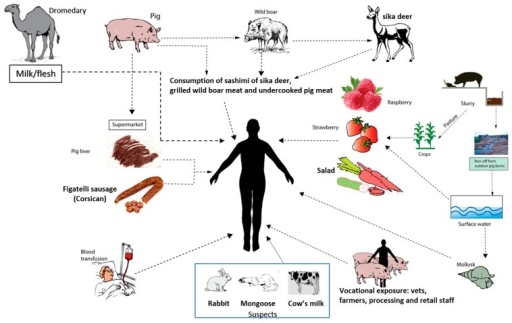 © Copyright Policy
License
getmorefigures.php?uid=PMC5035967&req=5
Mentions: Hepatitis E is a zoonotic disease, and domestic pigs, wild boar, and sika deer are reservoirs for genotypes HEV-3 and HEV-4 [81]. Human infections occur through three methods, namely, zoonotic foodborne consumption, direct contact with infected animals, and environmental contamination by animal manure run-off (Figure 5) [82]. Food-borne zoonotic transmission of HEV-3 and HEV-4 has been well studied [56,82]. Wild boar, sika deer, and domestic pigs cross transmit HEV [83], and eating the parboiled flesh or liver (a delicacy in many countries) could be responsible for the autochthonous cases and outbreaks of hepatitis E [84]. A more common method of the spread of HEV is through consumption of raw livers from supermarkets or eating Corsican figatelli sausage in Europe [85,86,87]. Such livers and sausages are often infected with live HEV. Vocational exposure to domestic pig farms, manure, and sewage is also a significant risk factor in HEV infections in many countries [88,89,90]. Swine veterinarians as well as workers, were found to be 2 to 5 times more likely to be positive for IgG anti-HEV than non-swine veterinarians and the general population in many European countries [91,92,93,94]. Additionally, pig slurry can cause environmental contamination through several ways. Use of pig slurry as pasture can infect agricultural products like raspberries, strawberries, and many vegetables used in salad [95,96]. Run-off from outdoor pig farms causes contamination of surface water as well as produce receiving surface water [97,98].