Transmission of Hepatitis E Virus in Developing Countries
ABSTRACT
---
Hepatitis E virus (HEV), an RNA virus of the Hepeviridae family, has marked heterogeneity. While all five HEV genotypes can cause human infections, genotypes HEV-1 and -2 infect humans alone, genotypes HEV-3 and -4 primarily infect pigs, boars and deer, and genotype HEV-7 primarily infects dromedaries. The global distribution of HEV has distinct epidemiological patterns based on ecology and socioeconomic factors. In resource-poor countries, disease presents as large-scale waterborne epidemics, and few epidemics have spread through person-to-person contact; however, endemic diseases within these countries can potentially spread through person-to-person contact or fecally contaminated water and foods. Vertical transmission of HEV from infected mother to fetus causes high fetal and perinatal mortality. Other means of transmission, such as zoonotic transmission, can fluctuate depending upon the region and strain of the virus. For instance, zoonotic transmission can sometimes play an insignificant role in human infections, such as in India, where human and pig HEV infections are unrelated. However, recently China and Southeast Asia have experienced a zoonotic spread of HEV-4 from pigs to humans and this has become the dominant mode of transmission of hepatitis E in eastern China. Zoonotic HEV infections in humans occur by eating undercooked pig flesh, raw liver, and sausages; through vocational contact; or via pig slurry, which leads to environmental contamination of agricultural products and seafood. Lastly, blood transfusion-associated HEV infections occur in many countries and screening of donors for HEV RNA is currently under serious consideration. To summarize, HEV genotypes 1 and 2 cause epidemic and endemic diseases in resource poor countries, primarily spreading through contaminated drinking water. HEV genotypes 3 and 4 on the other hand, cause autochthonous infections in developed, and many developing countries, by means of a unique zoonotic food-borne transmission.
No MeSH data available.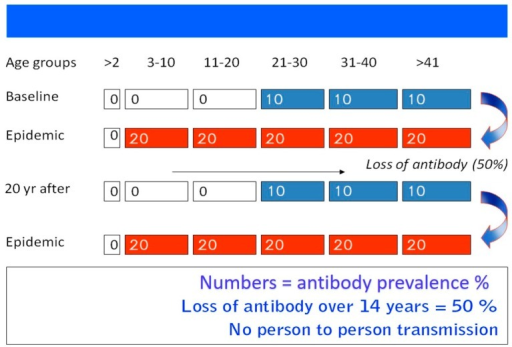 © Copyright Policy
License
getmorefigures.php?uid=PMC5035967&req=5
Mentions: One of the puzzling epidemiological features of hepatitis E is the fact that epidemics occur only periodically within the same geographical region, in spite of constant fecal contamination of water supplies (Table 1). For example, Kashmir, India has been under surveillance since the first epidemic of viral hepatitis was recorded and studied in 1978–1979. The first reported epidemic spread over 200 villages with 600,000 inhabitants; it amounted to 20,083 individuals with jaundice and 600 fatalities in a seven-week period (Figure 1). Initially, six epidemics occurred in adjacent regions on a yearly basis (1978 to 1984), all in the late autumn and early winter months when the fecal pollution of the waterways becomes concentrated, affecting a population of 1,937,000 individuals, and causing 53,307 cases of jaundice and 1752 deaths. Following this outbreak, a decade went by with no epidemics occurring within the population. However, in November of 2007, a second wave of epidemics was then recorded by Khuroo, et al. [39], who looked at the sero-epidemiology of this outbreak, comparing it to the first epidemic from 1978–1979. In 1993, 45 hepatitis E subjects infected in 1978–1979 were studied to determine the status of long-term IgG. Around half of the subjects with HEV infection had lost the antibodies over 14 years' follow-up [38]. After a natural infection, IgG anti-HEV titers rise for four weeks, followed by a decline. Around 28%–67% of subjects have undetectable antibodies over a two-year follow-up [64,71]. Therefore, it is thought that periodic epidemics within a population is due to a cohort effect. During an epidemic, around one-fourth of the population becomes infected and show the presence of serum IgG anti-HEV. Following this, there is a gradual loss of antibodies over time and little exposure to HEV infection in the inter-epidemic period in a new cohort of the population. Once the herd immunity falls to a critical level, the next epidemic hits the community (Figure 4).