Transmission of Hepatitis E Virus in Developing Countries
ABSTRACT
---
Hepatitis E virus (HEV), an RNA virus of the Hepeviridae family, has marked heterogeneity. While all five HEV genotypes can cause human infections, genotypes HEV-1 and -2 infect humans alone, genotypes HEV-3 and -4 primarily infect pigs, boars and deer, and genotype HEV-7 primarily infects dromedaries. The global distribution of HEV has distinct epidemiological patterns based on ecology and socioeconomic factors. In resource-poor countries, disease presents as large-scale waterborne epidemics, and few epidemics have spread through person-to-person contact; however, endemic diseases within these countries can potentially spread through person-to-person contact or fecally contaminated water and foods. Vertical transmission of HEV from infected mother to fetus causes high fetal and perinatal mortality. Other means of transmission, such as zoonotic transmission, can fluctuate depending upon the region and strain of the virus. For instance, zoonotic transmission can sometimes play an insignificant role in human infections, such as in India, where human and pig HEV infections are unrelated. However, recently China and Southeast Asia have experienced a zoonotic spread of HEV-4 from pigs to humans and this has become the dominant mode of transmission of hepatitis E in eastern China. Zoonotic HEV infections in humans occur by eating undercooked pig flesh, raw liver, and sausages; through vocational contact; or via pig slurry, which leads to environmental contamination of agricultural products and seafood. Lastly, blood transfusion-associated HEV infections occur in many countries and screening of donors for HEV RNA is currently under serious consideration. To summarize, HEV genotypes 1 and 2 cause epidemic and endemic diseases in resource poor countries, primarily spreading through contaminated drinking water. HEV genotypes 3 and 4 on the other hand, cause autochthonous infections in developed, and many developing countries, by means of a unique zoonotic food-borne transmission.
No MeSH data available.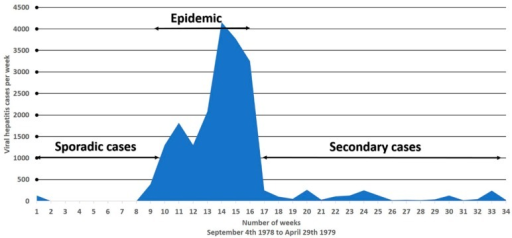 © Copyright Policy
License
getmorefigures.php?uid=PMC5035967&req=5
Mentions: Hepatitis E is primarily transmitted through the fecal–oral route [3]. Gross fecal contamination of the community water supplies has been associated with several outbreaks in developing countries [8,57,58,59]. Epidemics are of common source origin as the epidemic curve is highly compressed, lasting for a duration of approximately six to eight weeks (Figure 1). Testing of water supplies at source and delivery points shows high E. coli counts, suggesting fecal contamination [8]. In several epidemics, there is a definite relationship between time of contamination and onset of disease, determined by the incubation period [57,58]. It has been shown that communities that use alternative water sources for drinking purposes (especially protected well water), prior to and during outbreaks, do not develop the disease [8]. Furthermore, raw sewage and water supplies have also been shown to contain HEV isolates closely related to human and animal infection [60,61,62,63].