The Host Cell Receptors for Measles Virus and Their Interaction with the Viral Hemagglutinin (H) Protein
ABSTRACT
---
The hemagglutinin (H) protein of measles virus (MeV) interacts with a cellular receptor which constitutes the initial stage of infection. Binding of H to this host cell receptor subsequently triggers the F protein to activate fusion between virus and host plasma membranes. The search for MeV receptors began with vaccine/laboratory virus strains and evolved to more relevant receptors used by wild-type MeV. Vaccine or laboratory strains of measles virus have been adapted to grow in common cell lines such as Vero and HeLa cells, and were found to use membrane cofactor protein (CD46) as a receptor. CD46 is a regulator that normally prevents cells from complement-mediated self-destruction, and is found on the surface of all human cells, with the exception of erythrocytes. Mutations in the H protein, which occur during adaptation and allow the virus to use CD46 as a receptor, have been identified. Wild-type isolates of measles virus cannot use the CD46 receptor. However, both vaccine/laboratory and wild-type strains can use an immune cell receptor called signaling lymphocyte activation molecule family member 1 (SLAMF1; also called CD150) and a recently discovered epithelial receptor known as Nectin-4. SLAMF1 is found on activated B, T, dendritic, and monocyte cells, and is the initial target for infections by measles virus. Nectin-4 is an adherens junction protein found at the basal surfaces of many polarized epithelial cells, including those of the airways. It is also over-expressed on the apical and basal surfaces of many adenocarcinomas, and is a cancer marker for metastasis and tumor survival. Nectin-4 is a secondary exit receptor which allows measles virus to replicate and amplify in the airways, where the virus is expelled from the body in aerosol droplets. The amino acid residues of H protein that are involved in binding to each of the receptors have been identified through X-ray crystallography and site-specific mutagenesis. Recombinant measles "blind" to each of these receptors have been constructed, allowing the virus to selectively infect receptor specific cell lines. Finally, the observations that SLAMF1 is found on lymphomas and that Nectin-4 is expressed on the cell surfaces of many adenocarcinomas highlight the potential of measles virus for oncolytic therapy. Although CD46 is also upregulated on many tumors, it is less useful as a target for cancer therapy, since normal human cells express this protein on their surfaces.
No MeSH data available.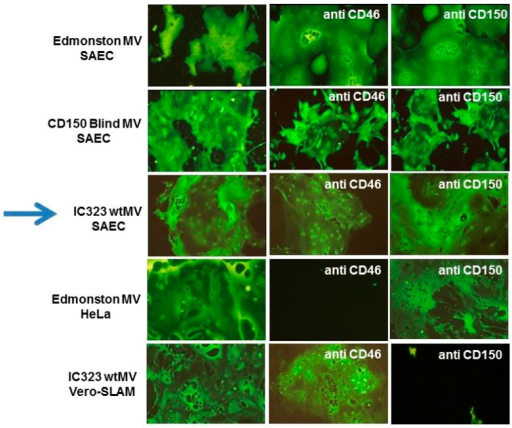 © Copyright Policy
License
getmorefigures.php?uid=PMC5035964&req=5
Mentions: Wild-type MeV does not readily infect laboratory fibroblast, endothelial, or epithelial cell lines and its spread to these cell types in infected macaques is limited [114,115,116]. However, Tashiro's group first showed that wtMeV could readily infect primary human small airway epithelial cells (SAECs) if they were actively growing in 2% fetal calf serum [124]. These cells do not express SLAMF1 and wtMeV cannot use CD46. This finding suggested that there was another receptor on epithelial cells [124]. We confirmed and reported similar results at the Negative Strand Virus Meeting in Salamanca (2006) [130]. These cells did not express SLAMF1 and virus infections could not be blocked with antibodies against either SLAMF1 or CD46 (Figure 8). Marmoset SAECs which lack CD46 [58], as well as CD150, could also be infected with wtMeV in the presence of 2% fetal calf serum. These results strongly indicated that there was an additional receptor for MeV on airway epithelial cells. Subsequently, Yanagi's laboratory discovered that the lung adenocarcinoma cell line NCI-H358 was susceptible to infection by wtMeV [131]. We also showed that many adenocarcinoma cell lines from the lung, breast, and colon could be readily infected with wtMeV (Negative Strand Virus Meeting in Brugge 2010; [132]). Again, these adenocarcinoma cell lines did not express SLAMF1 nor were wtMeV infections blocked by antibodies against MCP/CD46 or SLAMF1. The third receptor was hypothesized to lie on the basolateral side of polarized epithelial cells in close proximity to infected lymphocytes [115,116,133,134], but we also found the receptor/entry site is on the apical surface of adenocarcinoma cells [132,133]. Other investigators were also searching for this receptor on cancer cell lines. Through microarray analysis, it was determined that loss of tight junction proteins, caused by the expression of SNAIL transcription repressor, inhibited wtMeV infections [137]. Using site-specific mutagenesis, the H protein amino acids that interact with the putative epithelial receptor were mapped on the 3-D structure of H protein, and include residues I456, L464, L482, P497, Y541, and Y543 [115,135].