The Host Cell Receptors for Measles Virus and Their Interaction with the Viral Hemagglutinin (H) Protein
ABSTRACT
---
The hemagglutinin (H) protein of measles virus (MeV) interacts with a cellular receptor which constitutes the initial stage of infection. Binding of H to this host cell receptor subsequently triggers the F protein to activate fusion between virus and host plasma membranes. The search for MeV receptors began with vaccine/laboratory virus strains and evolved to more relevant receptors used by wild-type MeV. Vaccine or laboratory strains of measles virus have been adapted to grow in common cell lines such as Vero and HeLa cells, and were found to use membrane cofactor protein (CD46) as a receptor. CD46 is a regulator that normally prevents cells from complement-mediated self-destruction, and is found on the surface of all human cells, with the exception of erythrocytes. Mutations in the H protein, which occur during adaptation and allow the virus to use CD46 as a receptor, have been identified. Wild-type isolates of measles virus cannot use the CD46 receptor. However, both vaccine/laboratory and wild-type strains can use an immune cell receptor called signaling lymphocyte activation molecule family member 1 (SLAMF1; also called CD150) and a recently discovered epithelial receptor known as Nectin-4. SLAMF1 is found on activated B, T, dendritic, and monocyte cells, and is the initial target for infections by measles virus. Nectin-4 is an adherens junction protein found at the basal surfaces of many polarized epithelial cells, including those of the airways. It is also over-expressed on the apical and basal surfaces of many adenocarcinomas, and is a cancer marker for metastasis and tumor survival. Nectin-4 is a secondary exit receptor which allows measles virus to replicate and amplify in the airways, where the virus is expelled from the body in aerosol droplets. The amino acid residues of H protein that are involved in binding to each of the receptors have been identified through X-ray crystallography and site-specific mutagenesis. Recombinant measles "blind" to each of these receptors have been constructed, allowing the virus to selectively infect receptor specific cell lines. Finally, the observations that SLAMF1 is found on lymphomas and that Nectin-4 is expressed on the cell surfaces of many adenocarcinomas highlight the potential of measles virus for oncolytic therapy. Although CD46 is also upregulated on many tumors, it is less useful as a target for cancer therapy, since normal human cells express this protein on their surfaces.
No MeSH data available.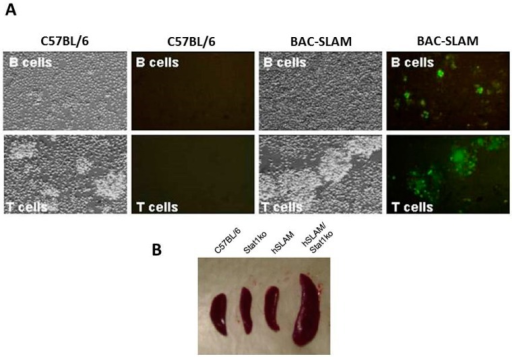 © Copyright Policy
License
getmorefigures.php?uid=PMC5035964&req=5
Mentions: Since mouse SLAMF1 differs considerably from the human homologue (Figure 5A), it cannot function as a receptor for MeV. A number of transgenic mouse models that express human SLAMF1 (hSLAMF1) have been developed using different promoters to drive the transgene. However, replication of MeV is still somewhat limited and many of the studies have been performed in mice with an immune deficient background. The first hSLAMF1 transgenic mouse was generated with the receptor under control of the Lck promoter, which is specific for T lymphocytes [103]. T cells, spleen lymphocytes, and thymocytes were susceptible to infection with wild-type and vaccine strains of MeV. Viral antigens were detected in the lymphocytes, although clinical symptoms were not observed. SLAMF1 transgenic mice were also generated using the CD11c promoter, which allows expression of the receptor in spleen and bone marrow derived dendritic cells [104]. Infection of dendritic cells (DCs) inhibited their function and caused MeV induced immune suppression in the mice [105]. DC cells that were infected inhibited T cell proliferation, and exhibited decreased synthesis of interleukin (IL)-12 following virus engagement of the Toll-like receptor 4 (TLR4) signal pathway [106]. Another laboratory expressed hSLAMF1 in mice under control of the ubiquitous HMGCR promoter, and suckling mice were highly susceptible to intranasal MeV infection [107]. Infected suckling mice developed severe neurological symptoms including lethargy, seizures, ataxia, and weight loss, and died within three weeks. More natural SLAMF1 transgenic models were generated by incorporating the entire SLAMF1 gene under control of its native promoter. The first of these was performed in our own laboratory and incorporated the gene from a hSLAMF1 bacmid into the mouse genome [108]. hSLAMF1 was expressed in activated B, T, and dendritic cells. Limited and transient infection of nasal lymph nodes was observed in wild-type mice infected via the intranasal route with wtMeV-eGFP. To enhance infection, these SLAMF1 transgenic mice were crossed into a signal transducer and activator of transcription 1 (STAT-1) deficient background. After either intranasal or intraperitoneal inoculation, infection of the thymus, spleen, and lymph nodes was detected. Infected T and B cells, enlarged lymph nodes and splenomegaly were apparent (Figure 7). This same genomic hSLAMF1 mouse model was further investigated with mice having an IFNAR-KO background [109]. To identify the cells undergoing primary MeV infection, mice were inoculated intranasally with wtMeV-eGFP. One day after inoculation 2.5% of the alveolar macrophages and 0.5% of the dendritic cells in the airways were infected. Later, at 2–3 days post-infection, MeV infected B and T lymphocytes and virus could be isolated from lymphatic tissue including mandibular, mediastinal, mesenteric, and inguinal lymph nodes, and spleen. This model recapitulated early events in human MeV infections. Using mouse "knockin technology", a refined model from Yanagi's laboratory was generated by producing a chimeric SLAMF1 molecule in mice where the V domain of mouse SLAMF1 was replaced by that of human SLAMF1 [110]. Again, MeV could only grow in hSLAMF1 knockin mice that were bred on an IFNAR-KO background. Following intranasal or intraperitoneal inoculation, MeV was detected in the spleen and lymph nodes throughout the mice. A subsequent paper using this mouse showed that MeV infections caused lymphopenia, inhibition of T cell proliferation and antibody production, increased production of IL-4 and IL-10, and the suppression of contact hypersensitivity [111]. Indications were that this hSLAMF1 transgenic mouse is a useful small animal model for MeV-induced immunosuppression. Interestingly, the cotton rat has also been shown to be a semipermissive small animal model for MeV pathogenesis [112]. wtMeV replicates in the lymph nodes, spleen, and lung of this animal. Infection was shown to be due to wtMeV's ability to use the cotton rat SLAMF1 as a receptor, unlike the mouse homologue [113]. However, the cotton rat SLAMF1's function as a receptor was 10 times worse than the human homologue, and it produced smaller plaques and lower wtMeV titers in Vero-cotton rat SLAMF1 cells [113].