The Host Cell Receptors for Measles Virus and Their Interaction with the Viral Hemagglutinin (H) Protein
ABSTRACT
---
The hemagglutinin (H) protein of measles virus (MeV) interacts with a cellular receptor which constitutes the initial stage of infection. Binding of H to this host cell receptor subsequently triggers the F protein to activate fusion between virus and host plasma membranes. The search for MeV receptors began with vaccine/laboratory virus strains and evolved to more relevant receptors used by wild-type MeV. Vaccine or laboratory strains of measles virus have been adapted to grow in common cell lines such as Vero and HeLa cells, and were found to use membrane cofactor protein (CD46) as a receptor. CD46 is a regulator that normally prevents cells from complement-mediated self-destruction, and is found on the surface of all human cells, with the exception of erythrocytes. Mutations in the H protein, which occur during adaptation and allow the virus to use CD46 as a receptor, have been identified. Wild-type isolates of measles virus cannot use the CD46 receptor. However, both vaccine/laboratory and wild-type strains can use an immune cell receptor called signaling lymphocyte activation molecule family member 1 (SLAMF1; also called CD150) and a recently discovered epithelial receptor known as Nectin-4. SLAMF1 is found on activated B, T, dendritic, and monocyte cells, and is the initial target for infections by measles virus. Nectin-4 is an adherens junction protein found at the basal surfaces of many polarized epithelial cells, including those of the airways. It is also over-expressed on the apical and basal surfaces of many adenocarcinomas, and is a cancer marker for metastasis and tumor survival. Nectin-4 is a secondary exit receptor which allows measles virus to replicate and amplify in the airways, where the virus is expelled from the body in aerosol droplets. The amino acid residues of H protein that are involved in binding to each of the receptors have been identified through X-ray crystallography and site-specific mutagenesis. Recombinant measles "blind" to each of these receptors have been constructed, allowing the virus to selectively infect receptor specific cell lines. Finally, the observations that SLAMF1 is found on lymphomas and that Nectin-4 is expressed on the cell surfaces of many adenocarcinomas highlight the potential of measles virus for oncolytic therapy. Although CD46 is also upregulated on many tumors, it is less useful as a target for cancer therapy, since normal human cells express this protein on their surfaces.
No MeSH data available.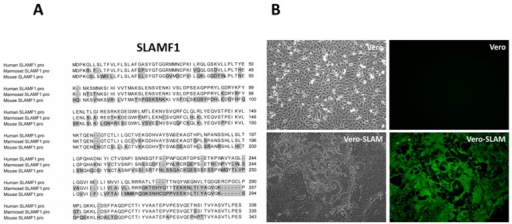 © Copyright Policy
License
getmorefigures.php?uid=PMC5035964&req=5
Mentions: We, and others, hypothesized that an alternative receptor to CD46 could be used by wtMeV [41,83,84,85]. Kobune's group had shown that wtMeV could be isolated in B95-8 cells, a marmoset B cell line immortalized with Epstein Barr virus (EBV). The wtMeV grew in B95-8 cells without the need for adapting the virus to CD46 receptor usage [86]. These wtMeV isolates do not possess the ability to down-regulate surface expression of CD46 or hemagglutinate African green monkey red blood cells (RBCs), while laboratory strains that were adapted to Vero monkey kidney cells do [26,87,88]. In addition, CD46 could not serve as a receptor for MeV in tamarins or marmosets, since the SCR1 domain is deleted in the cells/tissues of New World monkeys through alternative splicing (Figure 3) [58,67]. Despite the SCR1 deletion, South American monkeys are still susceptible to laboratory strains and wtMeV infections, and the disease is primarily lymphotropic leading to secondary infections that cause gastroenterocolitis, pneumonitis, and bacteremia [1,15,16]. We subsequently provided indisputable evidence for the existence of a second receptor on activated lymphocytes. MeV that had been isolated in marmoset B95-8 cells bound to activated B lymphocytes and lymphomas [58]. A single tyrosine residue at amino acid 481 of H determined high affinity binding to CD46, but binding to the putative lymphocyte receptor was favored when asparagine was at this position [41]. The N481 residue was observed in all wild-type isolates grown in B95-8 cells, and could be converted to the Y481, to yield the CD46-binding phenotype, by passaging the virus 2–5 times in HeLa cells. As one would anticipate, polyclonal antibodies directed against CD46 did not inhibit infections of activated B cells with the wild-type virus [41]. Yusuke Yanagi's group was first to identify signalling lymphocyte activation molecule family member 1 (SLAMF1/SLAM/CD150) as the lymphocyte receptor for MeV [89]. They used pools of cDNA expression clones derived from B95-8 lymphocytes which express SLAMF1, but not a functional CD46 receptor. This group transfected the cDNAs into 293T cells, which do not express SLAMF1, to screen for infectivity by vesicular stomatitis virus (VSV)-wtH,F pseudotypes. The pseudotypes did not recognize CD46 since they contained wtH protein. Pools each containing 450 different clones were further subdivided until it was determined that an individual expression plasmid containing the coding sequence for SLAMF1 could promote wtMeV infections. This study subsequently demonstrated that CHO cells expressing SLAMF1 were susceptible to wtMEV infections. Our laboratory confirmed this discovery with a similar approach [85]. Using cDNA expression libraries prepared from B95-8 lymphocytes and screening transfected CHO cells for susceptibility to wtMeV infection, our laboratory used magnetic beads conjugated to a monoclonal antibody directed against the H protein to isolate infected cells. The episomal expression plasmid encoding SLAMF1 was extracted and rescued from these cells. Amino acid sequences of SLAMF1 for humans and marmosets are highly similar, but differ substantially from the mouse homologue (Figure 5A). CHO or Vero cells expressing SLAMF1 became susceptible to infections with wtMeV and used this receptor without the need to adapt and use CD46 (Figure 5B) [90].