The Host Cell Receptors for Measles Virus and Their Interaction with the Viral Hemagglutinin (H) Protein
ABSTRACT
---
The hemagglutinin (H) protein of measles virus (MeV) interacts with a cellular receptor which constitutes the initial stage of infection. Binding of H to this host cell receptor subsequently triggers the F protein to activate fusion between virus and host plasma membranes. The search for MeV receptors began with vaccine/laboratory virus strains and evolved to more relevant receptors used by wild-type MeV. Vaccine or laboratory strains of measles virus have been adapted to grow in common cell lines such as Vero and HeLa cells, and were found to use membrane cofactor protein (CD46) as a receptor. CD46 is a regulator that normally prevents cells from complement-mediated self-destruction, and is found on the surface of all human cells, with the exception of erythrocytes. Mutations in the H protein, which occur during adaptation and allow the virus to use CD46 as a receptor, have been identified. Wild-type isolates of measles virus cannot use the CD46 receptor. However, both vaccine/laboratory and wild-type strains can use an immune cell receptor called signaling lymphocyte activation molecule family member 1 (SLAMF1; also called CD150) and a recently discovered epithelial receptor known as Nectin-4. SLAMF1 is found on activated B, T, dendritic, and monocyte cells, and is the initial target for infections by measles virus. Nectin-4 is an adherens junction protein found at the basal surfaces of many polarized epithelial cells, including those of the airways. It is also over-expressed on the apical and basal surfaces of many adenocarcinomas, and is a cancer marker for metastasis and tumor survival. Nectin-4 is a secondary exit receptor which allows measles virus to replicate and amplify in the airways, where the virus is expelled from the body in aerosol droplets. The amino acid residues of H protein that are involved in binding to each of the receptors have been identified through X-ray crystallography and site-specific mutagenesis. Recombinant measles "blind" to each of these receptors have been constructed, allowing the virus to selectively infect receptor specific cell lines. Finally, the observations that SLAMF1 is found on lymphomas and that Nectin-4 is expressed on the cell surfaces of many adenocarcinomas highlight the potential of measles virus for oncolytic therapy. Although CD46 is also upregulated on many tumors, it is less useful as a target for cancer therapy, since normal human cells express this protein on their surfaces.
No MeSH data available.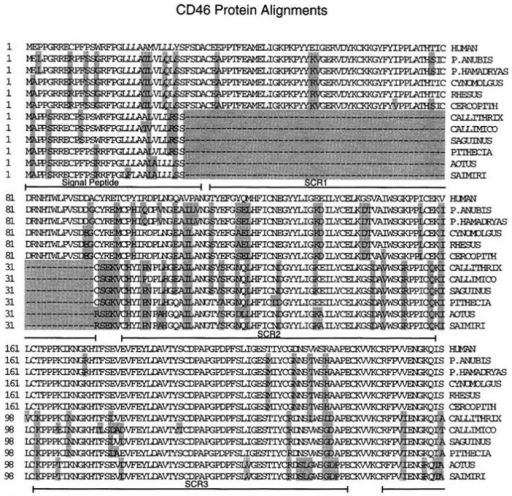 © Copyright Policy
License
getmorefigures.php?uid=PMC5035964&req=5
Mentions: Natural isolates of MeV can be rapidly adapted to grow in Vero monkey kidney cells, and the Edmonston virus has been propagated in these cells for many years. Laboratory-adapted measles strains infect a wide variety of human and monkey cell lines derived from different organs including lung (HEL), kidney (Vero, CV-1, HEK 293), bladder, prostate, and cervix (HeLa). We employed a genetic approach to identify the receptor for Edmonston MeV [48,49]. Mouse and hamster cells could not support infections by the Edmonston strain of MeV and we also demonstrated that rodent cell lines could not bind the virus [48]. Mouse–human hybrid cell lines were tested for their ability to bind MeV using a monkey red blood cell (MRBC) rosette assay. Hybrid cell lines that contained an intact human chromosome 1 arm q32 were capable of binding virus, while cell lines with only part of chromosome 1 arm p could not [48,49]. An earlier publication from Gerlier's group described a monoclonal antibody that blocked MeV infection and reacted with two polypeptides of molecular masses 57 kDa and 67 kDa [50]. Based upon all these criteria, a search through an encyclopedia of determinants for cell surface markers [51], and flow cytometry analysis with commercial antisera, indicated that the complement binding protein known as membrane complex protein (MCP) or CD46 [52,53] was a likely candidate for the MeV receptor. We subsequently proved this hypothesis by generating Chinese hamster ovary (CHO) cell lines that expressed human CD46 (Figure 2). Cells expressing this marker bound MRBC in the presence of MeV, and were susceptible to infection by the Edmonston strain of virus, forming syncytia and synthesizing viral proteins. An identical and independent conclusion was simultaneously published the same month by Gerlier's group using the Halle strain of MeV [54]. They used their MeV neutralizing monoclonal antibody to immunoprecipitate the putative receptor and identified the protein by mass spectrometry. CD46 normally binds complement components C3b and C4b on a target cell and serves to protect homologous host tissue or sperm from complement mediated damage [52,53]. The MeV binding site on CD46 was mapped using mutagenesis by several laboratories, including our own, to the short consensus region 1 (SCR1) and short consensus region 2 (SCR2) domains [41,55,56,57,58,59,60,61,62,63,64,65,66]. In a study with blood samples from eight species of New World monkeys, we were able to show that erythrocytes from New World monkey were unable to hemagglutinate in the presence of Edmonston MeV [58]. Lymphocytes and kidney cell lines from these New World monkeys contained a major deletion of SCR1 in their CD46 molecules due to a difference in messenger RNA (mRNA) splicing (Figure 3). Subsequently, NZP60 and OMK cell lines derived from common marmoset and owl monkeys, respectively, were also shown to contain the deleted form of CD46, and could not be infected with laboratory strains of MeV [58]. The SCR1 deletion was confirmed by John Atkinson's group for most cells and tissues of marmoset and squirrel monkeys. However, they did find the undeleted isoform of CD46 on spermatozoa [67]. The evolutionary and clinical significance for this SCR1 deletion in different types of monkeys is still unclear. It may be more relevant to other pathogens such as Neisseria meningitidis [68], human herpes virus 6 [69], adenovirus (groups B and D) [70,71], and bovine diarrhea virus, which also use CD46 as a receptor [72].