On the Selective Packaging of Genomic RNA by HIV-1
ABSTRACT
---
Like other retroviruses, human immunodeficiency virus type 1 (HIV-1) selectively packages genomic RNA (gRNA) during virus assembly. However, in the absence of the gRNA, cellular messenger RNAs (mRNAs) are packaged. While the gRNA is selected because of its cis-acting packaging signal, the mechanism of this selection is not understood. The affinity of Gag (the viral structural protein) for cellular RNAs at physiological ionic strength is not much higher than that for the gRNA. However, binding to the gRNA is more salt-resistant, implying that it has a higher non-electrostatic component. We have previously studied the spacer 1 (SP1) region of Gag and showed that it can undergo a concentration-dependent conformational transition. We proposed that this transition represents the first step in assembly, i.e., the conversion of Gag to an assembly-ready state. To explain selective packaging of gRNA, we suggest here that binding of Gag to gRNA, with its high non-electrostatic component, triggers this conversion more readily than binding to other RNAs; thus we predict that a Gag–gRNA complex will nucleate particle assembly more efficiently than other Gag–RNA complexes. New data shows that among cellular mRNAs, those with long 3′-untranslated regions (UTR) are selectively packaged. It seems plausible that the 3′-UTR, a stretch of RNA not occupied by ribosomes, offers a favorable binding site for Gag.
No MeSH data available.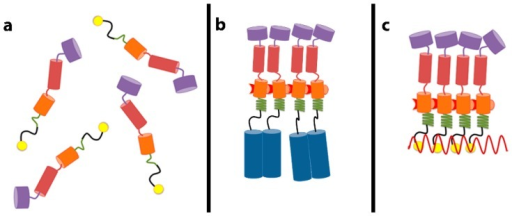 © Copyright Policy
License
getmorefigures.php?uid=PMC5035960&req=5
Mentions: As noted above, RNA is unnecessary for particle assembly if the Gag protein contains a dimerizing zipper domain [10,11]. This implies that the role of RNA in assembly is to bring Gag molecules into close proximity: once this happens, the Gag molecules are able to engage in all the protein-protein interactions required for assembly. How does juxtaposition of Gag molecules alter their properties? We have recently identified a small region of Gag whose conformation responds to its local concentration [22]. As mentioned above, the SP1 domain is located between the NC domain (the principal RNA-binding domain) and the CA domain, which performs most of the Gag–Gag interaction in assembly. The sequence of SP1 is such that if it were folded into an α-helix, the helix would be amphipathic, with a polar face and a hydrophobic face. Thus, if multiple SP1 molecules were associated together, they could form bundles of helices, with hydrophobic faces shielded from the aqueous solvent in the interior of the bundles. We have analyzed the properties of short fragments, including SP1, of Gag and of assembly-competent Gag–zipper chimeric proteins [23]. We found that free SP1 peptide is helical when it is at high (~5 mM), but not at low (~0.05 mM) concentration. In contrast, it is helical even in very dilute solutions when it is attached to a dimerizing leucine-zipper, which of course maintains it at a high local concentration [22]. We also noted that these SP1-zipper proteins are tetrameric in solution. The tetramers are formed because the zipper moiety causes them to dimerize, and then the SP1 moiety causes the dimers to further dimerize into tetramers. Mutations in SP1, which disrupt proper assembly in the Gag or Gag–zipper context, also fail to convert the SP1-zipper dimers to tetramers; this shows that the same SP1–SP1 interactions inducing tetramerization of the SP1-zipper constructs are important in proper particle assembly by Gag or Gag–zipper protein. We proposed that juxtaposition of Gag molecules could induce helix formation in the SP1 domain and that this change in SP1 conformation might be propagated into the CA domain, activating the formation of new interfaces for Gag–Gag interaction in assembly. This scenario, presented schematically in Figure 1, can explain how the close proximity of Gag molecules can lead to particle assembly. Three-dimensional structures of this region of Gag in the helical form have now been elucidated [24,25].