Foamy Virus Protein — Nucleic Acid Interactions during Particle Morphogenesis
ABSTRACT
---
Compared with orthoretroviruses, our understanding of the molecular and cellular replication mechanism of foamy viruses (FVs), a subfamily of retroviruses, is less advanced. The FV replication cycle differs in several key aspects from orthoretroviruses, which leaves established retroviral models debatable for FVs. Here, we review the general aspect of the FV protein-nucleic acid interactions during virus morphogenesis. We provide a summary of the current knowledge of the FV genome structure and essential sequence motifs required for RNA encapsidation as well as Gag and Pol binding in combination with details about the Gag and Pol biosynthesis. This leads us to address open questions in FV RNA engagement, binding and packaging. Based on recent findings, we propose to shift the point of view from individual glycine-arginine-rich motifs having functions in RNA interactions towards envisioning the FV Gag C-terminus as a general RNA binding protein module. We encourage further investigating a potential new retroviral RNA packaging mechanism, which seems more complex in terms of the components that need to be gathered to form an infectious particle. Additional molecular insights into retroviral protein-nucleic acid interactions help us to develop safer, more specific and more efficient vectors in an era of booming genome engineering and gene therapy approaches.
No MeSH data available.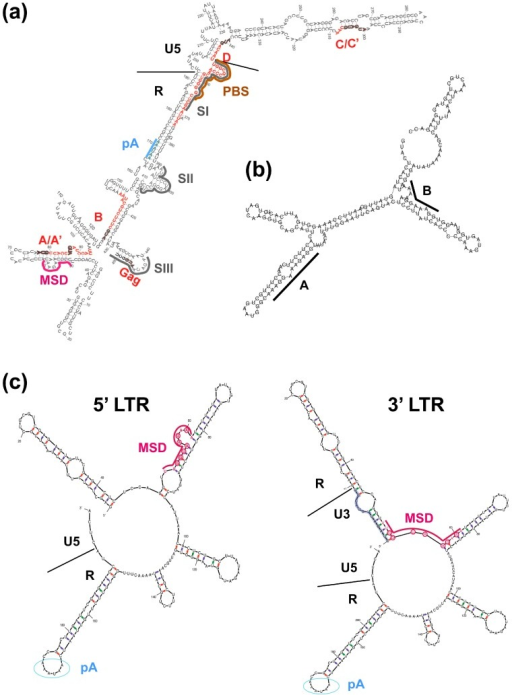 © Copyright Policy
License
getmorefigures.php?uid=PMC5035957&req=5
Mentions: The essential 5′ element of the FV vgRNA is termed CAS-I and in the case of PFV comprises nucleotides (nt) 1 to 645 (Figure 2 and Figure 3). It harbors the LTR R- and U5-regions, of which R is required for the strand switch after minus-strand strong stop DNA synthesis during reverse transcription, and U5 is recognized as substrate by the viral integrase in the linear double-stranded vgDNA facilitating proviral integration into host cell chromosomes. Furthermore, CAS-I contains additional functionally essential sequence elements located between LTR R-U5-region and the first 200 nt of the gag ORF (Figure 2). These include the primer binding site (PBS), which is complementary to the 3′ end of cellular transfer RNA (tRNA) Lys1,2 and required for minus-strand DNA synthesis initiation, as well as dimer linkage sequences (DLS) involved in genome dimerization (Figure 2 and Figure 3a) [21,22]. Three DLS sequence elements (SI to SIII) were characterized that contributed to dimerization of in vitro transcribed PFV CAS-I RNAs (Figure 3a) [23]. SI and SIII overlap with the PBS and gag translation initiation site. Mutation of these DLS elements, in context of proviral expression constructs, led to attenuated viral replication [21]. In contrast, alterations in the palindrome sequence of the SII element completely abolished viral replication. This suggests an important role of DLS SII in vgRNA dimerization and viral replication. Surprisingly, vgRNA encapsidation of DLS SII mutants was not reduced, indicating that dimerization is not a prerequisite for PFV vgRNA packaging. Moreover, CAS-I also includes the major splice donor (MSD) site used for splicing of subgenomic FV RNA transcripts derived from the 5′ LTR, which is located in the LTR R-region (Figure 2 and Figure 3a,c) [24,25]. Interestingly, its presence appears to be crucial for translation of the Gag protein from vgRNA and from expression constructs harboring authentic FV gag ORFs (see below) [26,27,28,29,30,31].