Foamy Virus Protein — Nucleic Acid Interactions during Particle Morphogenesis
ABSTRACT
---
Compared with orthoretroviruses, our understanding of the molecular and cellular replication mechanism of foamy viruses (FVs), a subfamily of retroviruses, is less advanced. The FV replication cycle differs in several key aspects from orthoretroviruses, which leaves established retroviral models debatable for FVs. Here, we review the general aspect of the FV protein-nucleic acid interactions during virus morphogenesis. We provide a summary of the current knowledge of the FV genome structure and essential sequence motifs required for RNA encapsidation as well as Gag and Pol binding in combination with details about the Gag and Pol biosynthesis. This leads us to address open questions in FV RNA engagement, binding and packaging. Based on recent findings, we propose to shift the point of view from individual glycine-arginine-rich motifs having functions in RNA interactions towards envisioning the FV Gag C-terminus as a general RNA binding protein module. We encourage further investigating a potential new retroviral RNA packaging mechanism, which seems more complex in terms of the components that need to be gathered to form an infectious particle. Additional molecular insights into retroviral protein-nucleic acid interactions help us to develop safer, more specific and more efficient vectors in an era of booming genome engineering and gene therapy approaches.
No MeSH data available.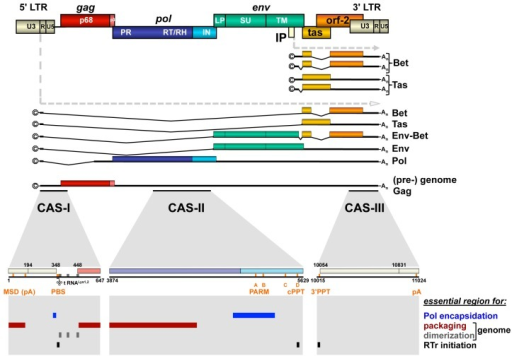 © Copyright Policy
License
getmorefigures.php?uid=PMC5035957&req=5
Mentions: Although assembly of FVs is similar to prototypic B/D type orthoretroviruses like Mazon-Pfizer monkey virus (MPMV) or mouse mammary tumor virus (MMTV), the FV replication cycle bears unique features not observed in any other retrovirus during these steps [2]. For example, FVs had to develop a unique mechanism for encapsidating their enzymatic proteins encoded by the pol open reading frame (ORF), since FV Pol is not expressed in an orthoretroviral-like Gag-Pol fusion protein but as a separate Pol precursor protein from a spliced mRNA (Figure 2) [6,7,8,9,10]. Furthermore, in a significant number (~5%–10%) of FV capsids, reverse transcription of the packaged viral genomic RNA (vgRNA) is already initiated in the capsids, preassembled at the centrosome. As a consequence, infected cells release both vgRNA- and viral genomic DNA (vgDNA)-containing FV particles, and reintegration of vgDNA into chromatin occurs (Figure 1a) [10,11,12,13]. Finally, budding of FV particles at cellular membranes requires expression of both the Gag as well as the Env protein, as FV Gag protein lacks a membrane targeting or membrane association domain [4,14,15]. For budding, preassembled FV capsids depend on a very specific interaction of Gag with the N-terminal cytoplasmic domains of the Env leader peptide subunit in order to initiate the budding process [16,17].