How Polyomaviruses Exploit the ERAD Machinery to Cause Infection
ABSTRACT
---
To infect cells, polyomavirus (PyV) traffics from the cell surface to the endoplasmic reticulum (ER) where it hijacks elements of the ER-associated degradation (ERAD) machinery to penetrate the ER membrane and reach the cytosol. From the cytosol, the virus transports to the nucleus, enabling transcription and replication of the viral genome that leads to lytic infection or cellular transformation. How PyV exploits the ERAD machinery to cross the ER membrane and access the cytosol, a decisive infection step, remains enigmatic. However, recent studies have slowly unraveled many aspects of this process. These emerging insights should advance our efforts to develop more effective therapies against PyV-induced human diseases.
No MeSH data available.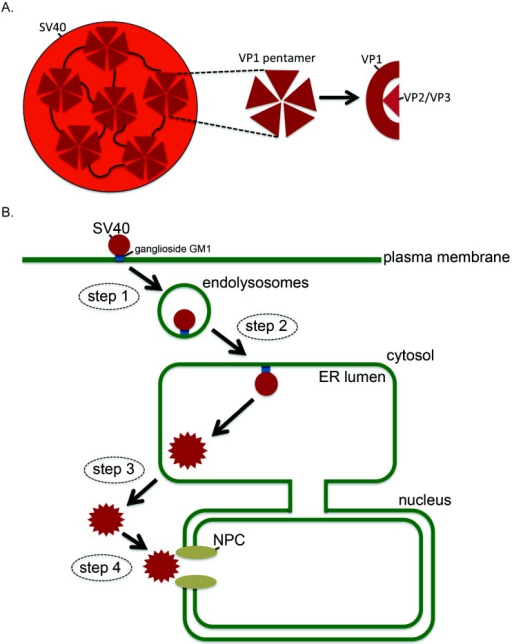 © Copyright Policy
License
getmorefigures.php?uid=PMC5035956&req=5
Mentions: In this review, we will discuss host entry of the PyV simian virus 40 (SV40) due to the wealth of available information; where relevant, other PyVs will also be described. SV40 is the archetype PyV, displaying both genetic and structural similarity to human PyVs. Structurally, SV40 contains a circular doubled-stranded DNA genome of approximately five kilobases that encodes seven genes, three structural genes called VP1, VP2, VP3, and four non-structural genes called VP4, large T antigen, small T antigen, and agno protein [3,5,9,11]. As a non-enveloped virus, SV40 lacks a surrounding envelope and instead contains a protein capsid composed of 360 VP1 copies arranged as 72 pentamers that are displayed on the viral surface (Figure 1A). The pentamers are stabilized by disulfide bonds, as well as by interactions between the VP1 carboxy-terminus, which invades a neighboring pentamer [12,13]. VP1 also associates with the underlying internal hydrophobic proteins VP2 and VP3, which along with VP1, bind to the genome [14]. When fully assembled, SV40 is approximately 45–50 nm in diameter [5,9,12].