Coxsackievirus A16 induced neurological disorders in young gerbils which could serve as a new animal model for vaccine evaluation
ABSTRACT
---
Coxsackievirus A16 (CA16) is one of the major pathogens associated with human hand, foot, and mouth disease (HFMD) in the Asia-pacific region. Although CA16 infections are generally mild, severe neurological manifestations or even death has been reported. Studies on CA16 pathogenesis and vaccine development are severely hampered because the small animal models that are currently available show major limitations. In this study, gerbils (Meriones unguiculatus) were investigated for their suitability as an animal model to study CA16 pathogenesis and vaccine development. Our results showed that gerbils up to the age of 21 days were fully susceptible to CA16 and all died within five days post-infection. CA16 showed a tropism towards the skeletal muscle, spinal cord and brainstem of gerbils, and severe lesions, including necrosis, were observed. In addition, an inactivated CA16 whole-virus vaccine administrated to gerbils was able to provide full protection to the gerbils against lethal doses of CA16 strains. These results demonstrate that gerbils are a suitable animal model to study CA16 infection and vaccine development.
No MeSH data available.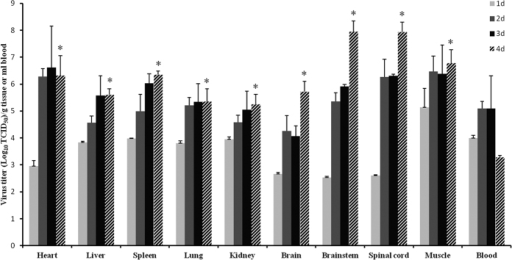 © Copyright Policy - open-access
License
getmorefigures.php?uid=PMC5035925&req=5
Mentions: To investigate dissemination of CA16 in infected gerbils and replication of the virus in different organs and tissues, gerbils at the age of 21 days were infected with a TCID50 of 105.5 and virus loads were monitored in the heart, liver, spleen, lung, kidney, brain, brainstem, spinal cord, muscle and blood at one to four days post-infection. Virus replication was observed in all of the tissues investigated (Fig. 3). At one day post-infection, the highest virus load was detected in muscle tissues, with a TCID50 of 105.1 per gram (Fig. 3). Virus loads generally increased until two to three days post-infection, after which a plateau was reached for most of the tissues. Interestingly, in the nervous tissues (brain, brainstem and spinal cord), virus loads reached an initial plateau at two days post-infection, but at four days post-infection the virus loads showed again an increase. As a result, the highest virus titers were recorded for the brainstem and spinal cord, with a TCID50 of 107.9 per gram. The high virus loads detected in the gerbil muscle, brainstem and spinal cord indicated that these tissues were major targets during CA16 infection, and damage to their structural integrity might therefore play an important role in the onset of typical disease symptoms such as wasting and hind-limb paralysis.