Using fluorescent dissolved organic matter to trace and distinguish the origin of Arctic surface waters
ABSTRACT
---
Climate change affects the Arctic with regards to permafrost thaw, sea-ice melt, alterations to the freshwater budget and increased export of terrestrial material to the Arctic Ocean. The Fram and Davis Straits represent the major gateways connecting the Arctic and Atlantic. Oceanographic surveys were performed in the Fram and Davis Straits, and on the east Greenland Shelf (EGS), in late summer 2012/2013. Meteoric (fmw), sea-ice melt, Atlantic and Pacific water fractions were determined and the fluorescence properties of dissolved organic matter (FDOM) were characterized. In Fram Strait and EGS, a robust correlation between visible wavelength fluorescence and fmw was apparent, suggesting it as a reliable tracer of polar waters. However, a pattern was observed which linked the organic matter characteristics to the origin of polar waters. At depth in Davis Strait, visible wavelength FDOM was correlated to apparent oxygen utilization (AOU) and traced deep-water DOM turnover. In surface waters FDOM characteristics could distinguish between surface waters from eastern (Atlantic + modified polar waters) and western (Canada-basin polar waters) Arctic sectors. The findings highlight the potential of designing in situ multi-channel DOM fluorometers to trace the freshwater origins and decipher water mass mixing dynamics in the region without laborious samples analyses.
No MeSH data available.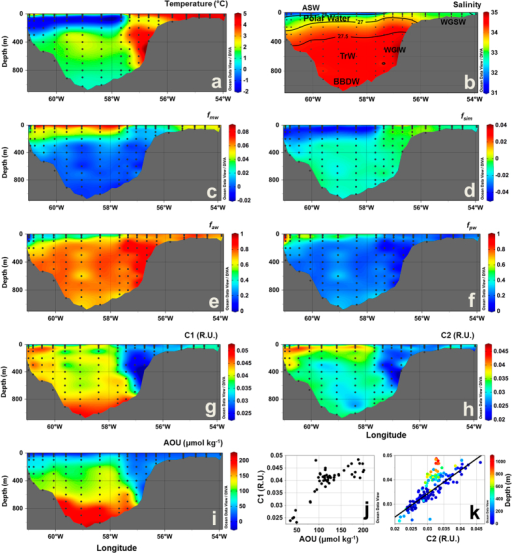 © Copyright Policy - open-access
License
getmorefigures.php?uid=PMC5035922&req=5
Mentions: Six water masses were identified in Fram Strait, on east Greenland shelf and Iceland Sea, based on published thermohaline characteristics2234 (Table S1), as shown on the T-S diagram (Fig. 1b): Atlantic Water, Polar Water and Arctic Surface Water (ASW) in the surface layer (<~200 m); and upper and lower Arctic Intermediate Water (uAIW and lAIW, respectively) and Norwegian Sea Deep Water (NSDW) in the deep layers. In Davis Strait a similar pattern for the temperature versus salinity relation was observed, however with lower salinity values (Fig. 1c). For Davis Strait the following waters masses were observed: West Greenland Shelf Water (WGSW), West Greenland Irminger Water (WGIW), Polar Water, Arctic Surface Water (ASW), Transitional Water (TrW) at depth >300 m and Baffin Bay Deep Water (BBDW) at depth >900 m (adapted from Tang et al.18, Azetsu-Scott et al.21, Curry et al.19). In cruises east of Greenland temperature ranged from −1.77 °C to 7.92 °C with the highest values associated with Atlantic Water in eastern Fram Strait (Figs 1b, 2a and 3a). In Davis Strait the highest temperatures (>3 °C) were associated with WGSW and WGIW (in eastern Davis Strait) whereas the lowest values (down to −1.63 °C) were found within the Polar Water in the western Davis Strait (Figs 1c and 4a). Salinity in Fram Strait and east Greenland shelf varied typically between 28 and 35 with highest salinity associated with Atlantic Water and the deeper waters (>~500 m; lAIW and NSDW), while the lowest values were observed in surface waters in central Fram Strait and inner Greenland shelf (Figs 1b, 2b and 3b). In Davis Strait, salinity ranged from 31.40 to 34.87, with highest salinity in warm subsurface waters of WGIW and TrW (Figs 1c and 4b). BBDW occupied the deepest parts of the Davis Strait section (>750 m) and had lower temperatures than the layer above it, characterized by TrW. The distribution of apparent oxygen utilization (AOU) in Davis Strait showed a clear pattern with lowest values (<60 μmol kg−1) in western Greenland and surface waters, whereas these values increase toward the bottom layer reaching up to 216 μmol kg−1 within BBDW (Fig. 4i). Although we have sampled for temperature and salinity over the entire water column, in Fram Strait we hereafter focus our results on the surface layer (300 m).