The utilization and prognostic impact of B-type Natriuretic Peptide in hospitalized acute decompensated heart failure in an Asian population
ABSTRACT
---
Background: B-type natriuretic peptide (BNP) levels during admission have been shown to have prognostic value in the diagnosis of heart failure and further predict the in-hospital mortality of acute decompensated heart failure (ADHF). This study describes the characteristics of BNP among hospitalized ADHF and elucidates its prognostic value of in-hospital mortality in an Asian population.
Methods: We consecutively studied patients aged 20+ who were discharged with a diagnosis of ADHF from March 2013 to March 2014 in a tertiary hospital of northern Taiwan by reviewing medical records. Prognostic predictors of mortality were assessed using Cox proportional hazard regression models. BNP > 100 pg/ml was used as the cut-off for defining abnormally high BNP based on current clinical practice criteria.
Results: After implementation of our exclusion criteria, a total of 1,807 patients hospitalized with ADHF were studied. Compared to those subjects with BNP ≤100 pg/ml, individuals with higher BNP tended to have more advanced age, more clusters of the typical signs of heart failure (HF) (e.g., peripheral edema or lung rales) at presentation, lower ejection fraction, lower hemoglobin levels, more disturbed biochemical data, worsened renal function, and twice the risk for in-hospital mortality (15.2 vs 6.2 %, all p < 0.05). In a multivariate analysis, more advanced age, the presence of rales, a worse New York Heart Association functional class, wider QRS duration, and abnormal BNP levels (>100 pg/ml) were all associated with in-hospital mortality among admitted HF patients after accounting for clinical co-variates and global ventricular ejection fraction (HR: 2.17, 95 % CI: 1.15–6.64, p = 0.024).
Conclusion: Abnormally high BNP levels in ADHF patients during admission were tightly linked to clinical features of worse physical, functional, and clinical presentations, and further provided prognostic value for determining in-hospital mortality among patients with ADHF in an Asian population.
No MeSH data available.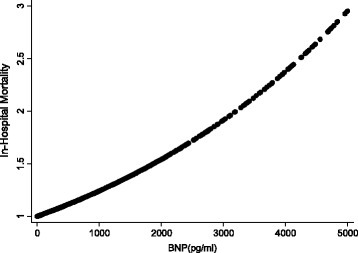 © Copyright Policy - OpenAccess
License 1 - License 2


getmorefigures.php?uid=PMC5017059&req=5

Mentions: In a univariate Cox model, advanced age, presentation at admission with pulmonary basilar rales, worse NYHA FC, cardiomegaly, wider QRSD, higher total bilirubin, higher potassium, lower sodium, abnormally high BNP and lower hemoglobin were all associated with in-hospital mortality among ADHF patients (all p < 0.05). Multivariate Cox proportional hazard regression analysis was further performed to determine the independent risk factors associated with in-hospital mortality. After adjusting for age, gender, rales, NYHA FC, QRSD, cardiomegaly, total bilirubin, urine acid, urea, potassium, sodium, BNP, and hemoglobin we found that more advanced age (HR: 1.02, 95 % CI: 1.01–1.03), presence of rales (HR: 1.50, 95 % CI: 1.07–2.11), worse NYHA FC (HR: 1.66, 95 % CI: 1.29–3.05), more widened QRS duration (HR: 1.01, 95 % CI: 1.001–1.01) and admission with abnormally high BNP (>100 pg/ml, HR: 2.17, 95 % CI: 1.15–6.64) were associated with in-hospital mortality among hospitalized ADHF (all p < 0.05). Our patients in the higher BNP group (BNP >100 pg/ml) had a graver prognosis than their lower (BNP ≤100 pg/ml) counterparts. Kaplan-Meier survival curves by BNP group are presented in Fig. 1. (The log-rank test: χ2 = 6.78; p-value = 0.0092). A local regression scatterplot smoothing of BNP levels and in-hospital mortality risk is presented in Fig. 2—further confirming BNP as a continuous clinical biomarker and a predictor of in-hospital mortality. Kaplan-Meier survival curves by quartiles (Q) of BNP were Q1 < 260.5 pg/ml, Q2 (260.5–617 pg/ml), Q3 (618–1340 pg/ml), Q4 ≥ 1341 are presented in Fig. 3. Mortality rates in the BNP quartiles were tested for trend of survival functions: Chi-square = 11.23; p-value = 0.0008. Higher BNP quartiles predicted higher in-hospital mortality.Fig. 1