Probing conformational and functional states of human hepatocyte growth factor by a panel of monoclonal antibodies
ABSTRACT
---
HGF-Met signaling contributes to various biological events by controlling cell migration. Since the abnormal activation of Met receptor causes cancer progression, inhibitors such as neutralizing antibodies are regarded as promising therapeutics. HGF is secreted as a single-chain (sc) precursor and is processed by extracellular proteases to generate disulfide-bonded two-chain (tc) HGF. Although this proteolytic processing of HGF is necessary for its biological activity, exactly how the proteolysis leads to the conversion of HGF to the active form is still unclar due to the lack of structural information. In order to gain insights about this point, we generated 6 antibodies against HGF. All antibodies recognized different epitopes on the native HGF protein and showed distinct effects when tested in a cell-based HGF-Met signaling assay. They included one antibody (t1E4) that strongly blocks Met activation by tcHGF, as well as one antibody (t8E4) exclusively recognizing the active tcHGF but not inactive scHGF. Thus, a panel of anti-HGF antibodies suitable for probing the structural mechanism of HGF activation were obtained.
No MeSH data available.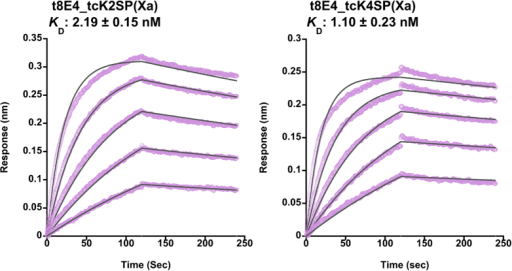 © Copyright Policy - open-access
License
getmorefigures.php?uid=PMC5017023&req=5
Mentions: In order to map the location of the epitope for the 6 antibodies, binding toward various HGF fragments were evaluated using an Octet system. The fragments tested included the K2SP(Xa) construct used in the immunization and a shorter version lacking the K2 and K3 (called K4SP hereafter). They were either untreated (single chain) or treated with Factor Xa (two chain), resulting in 4 different samples, namely, scK2SP(Xa), tcK2SP(Xa), scK4SP(Xa) and tcK4SP(Xa) (Supplementary Figure S1). As shown in Fig. 3, antibodies t1E4, t3H3 and t7E3 bound all fragments nearly equally, indicating that they can bind not only the two chain but also the single chain HGF and each recognizes an epitope located within the K4-SP region. In contrast, t5A11 and t8G12 bound scK2SP(Xa) and tcK2SP(Xa) while they showed no binding toward scK4SP(Xa) and tcK4SP(Xa). Therefore, epitopes for these two antibodies are located primarily in the K2-K3 region of HGF, which are equally exposed on both tcHGF and scHGF. Intriguingly, the binding specificity of t8E4 was totally different from these 5 antibodies; it bound both K2SP and K4SP fragments when they are in the two-chain state but showed no reactivity toward the single chain versions. We determined the binding affinity of t8E4 toward the HGF proteins by varying the analyte concentration in the Octet experiments (Fig. 4), and obtained KD values of 2.19 ± 0.15 nM and 1.10 ± 0.23 nM (mean ± SD, n = 3) for tcK2SP(Xa) and tcK4SP(Xa), respectively. These results strongly suggest that t8E4 recognizes an epitope present in the K4-SP region, and that this site is formed only after the cleavage between Arg494 and Val495 occurs. The specificity toward cleaved HGF was also checked by an immunoprecipitation assay using wild-type HGF devoid of the engineered factor Xa site. As shown in Fig. 5, t8E4 can specifically immunoprecipitate tcHGF but not scHGF, while t1E4 and anti-tag antibody (NZ-1) precipitate both scHGF and tcHGF equally well. This clearly demonstrates that t8E4 recognizes natural epitope present in the active tcHGF, rather than an artificial epitope involving the engineered factor Xa site. In summary, we succeeded in generating 6 antibodies that react with native human HGF, including one antibody (t1E4) with function-neutralizing activity and one (t8E4) with an ability to distinguish active tcHGF from inactive scHGF.