Application of optically-induced-dielectrophoresis in microfluidic system for purification of circulating tumour cells for gene expression analysis- Cancer cell line model
ABSTRACT
---
Circulating tumour cells (CTCs) in a blood circulation system are associated with cancer metastasis. The analysis of the drug-resistance gene expression of cancer patients' CTCs holds promise for selecting a more effective therapeutic regimen for an individual patient. However, the current CTC isolation schemes might not be able to harvest CTCs with sufficiently high purity for such applications. To address this issue, this study proposed to integrate the techniques of optically induced dielectrophoretic (ODEP) force-based cell manipulation and fluorescent microscopic imaging in a microfluidic system to further purify CTCs after the conventional CTC isolation methods. In this study, the microfluidic system was developed, and its optimal operating conditions and performance for CTC isolation were evaluated. The results revealed that the presented system was able to isolate CTCs with cell purity as high as 100%, beyond what is possible using the previously existing techniques. In the analysis of CTC gene expression, therefore, this method could exclude the interference of leukocytes in a cell sample and accordingly contribute to higher analytical sensitivity, as demonstrated in this study. Overall, this study has presented an ODEP-based microfluidic system capable of simply and effectively isolating a specific cell species from a cell mixture.
No MeSH data available.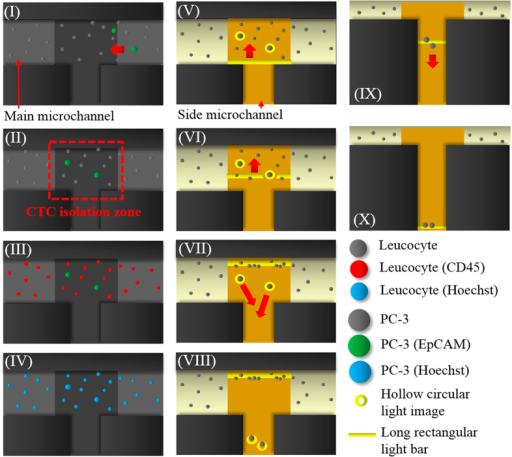 © Copyright Policy - open-access
License
getmorefigures.php?uid=PMC5016898&req=5
Mentions: In this study, the combination of ODEP force-based cell manipulation and laminar flow in a microfluidic system was established (Fig. 1) for CTC isolation based on the working scheme described in Fig. 2. With the recent progress in Bio-MEMS (Bio-Micro-Electro-Mechanical System) technology, a wide variety of novel approaches such as acoustophoresis32, magnetophoresis33, thermophoresis34, dielectrophoresis (DEP)29, and optically induced-dielectrophoresis (ODEP)35 have been proposed for the manipulation of biological substances (e.g., cells36, bacteria37, or DNA38). Among them, DEP force-based cell manipulation has been widely adopted for various applications2939. However, it normally requires a costly, time-consuming, and technically demanding microfabrication process to create a unique metal electrode layout that is specific to the application. The key technical merit of the ODEP force-based technique is that it can easily and quickly create or modify an electrode layout through the control of optical patterns, acting as a virtual electrode40. In operation, one can simply use a commercial digital projector to display optical images on the ODEP system to manipulate cells in a simple, flexible and user-friendly manner through a computer-interfaced control36. In this study, moreover, the inherent nature of laminar flow in a microfluidic system was used to transport a cell suspension in the main microchannel (Fig. 2). This allowed the biological cells to be delivered unidirectionally without cross-contamination of the sample caused by fluidic turbulent flow. Furthermore, immunofluorescent microscopic observation was conducted in the CTC isolation zone to specifically identify and position the target cancer cells. This step was followed by implementing ODEP force to precisely separate the cells of interest from the cell mixture, as described in Fig. 2. Through the specific biochemical differentiation of cell identity, CTC isolation with higher cell purity can be achieved.