Does Preference for Abstract Patterns Relate to Information Processing and Perceived Duration?
ABSTRACT
---
Repetitive prestimulation, in the form of click trains, is known to alter a wide range of cognitive and perceptual judgments. To date, no research has explored whether click trains also influence subjective preferences. This is plausible because preference is related to perceptual fluency and clicks may increase fluency, or, because preference is related to arousal and clicks may increase arousal. In Experiment 1, participants heard a click train, white noise, or silence through headphones and then saw an abstract symmetrical pattern on the screen for 0.5, 1, or 1.5 s. They rated the pattern on a 7-point scale. Click trains had no effect on preference ratings, although patterns that lasted longer were preferred. In Experiment 2, we again presented a click train, silence, or white noise but included both symmetrical and random patterns. Participants made both a duration and a preference judgment on every trial. Auditory click trains increased perceived duration, and symmetrical patterns were perceived as lasting longer than random patterns. Again there was no effect of auditory click trains on preference, and again patterns that were presented for longer were preferred. We conclude that click trains alter perceptual and cognitive processes, but not preferences. This helps clarify the nature of the click train effect and shows which predictions implicit in the existing literature are supported.
No MeSH data available.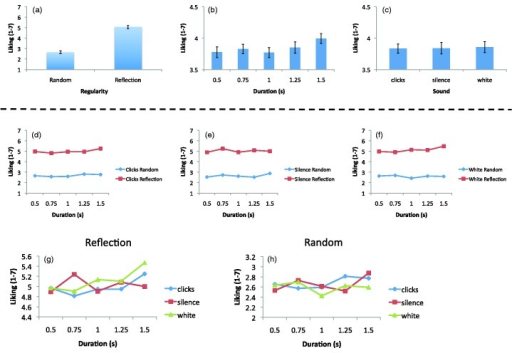 © Copyright Policy - creative-commons
License 1 - License 2 - License 3


getmorefigures.php?uid=PMC5016823&req=5

Mentions: Preference results are shown in Figure 5. There was a main effect of regularity, F(1, 23) = 80.79, p = .000,  = .778, Figure 5(a), because symmetric patterns were liked more than random patterns. The main effect of duration was also significant, F(4, 92) = 6.613, p = .000,  = .223 because preference increased with duration Figure 5(b). As in Experiment 1, there was no main effect of sound on preference, F(1.31, 30.18) = 0.068, p = .860, Figure 5(c). The preference for longer presentation durations was found in both symmetry and random conditions: There was no Regularity × Duration interaction, F(4, 92) = 0.955, p = .420. This suggests that longer presentation durations do not amplify preexisting valence but make both positive and negative stimuli seem slightly more positive.Figure 5.