Microvesicles from brain-extract — treated mesenchymal stem cells improve neurological functions in a rat model of ischemic stroke
ABSTRACT
---
Transplantation of mesenchymal stem cells (MSCs) was reported to improve functional outcomes in a rat model of ischemic stroke, and subsequent studies suggest that MSC-derived microvesicles (MVs) can replace the beneficial effects of MSCs. Here, we evaluated three different MSC-derived MVs, including MVs from untreated MSCs (MSC-MVs), MVs from MSCs treated with normal rat brain extract (NBE-MSC-MVs), and MVs from MSCs treated with stroke-injured rat brain extract (SBE-MSC-MVs), and tested their effects on ischemic brain injury induced by permanent middle cerebral artery occlusion (pMCAO) in rats. NBE-MSC-MVs and SBE-MSC-MVs had significantly greater efficacy than MSC-MVs for ameliorating ischemic brain injury with improved functional recovery. We found similar profiles of key signalling proteins in NBE-MSC-MVs and SBE-MSC-MVs, which account for their similar therapeutic efficacies. Immunohistochemical analyses suggest that brain-extract—treated MSC-MVs reduce inflammation, enhance angiogenesis, and increase endogenous neurogenesis in the rat brain. We performed mass spectrometry proteomic analyses and found that the total proteomes of brain-extract—treated MSC-MVs are highly enriched for known vesicular proteins. Notably, MSC-MV proteins upregulated by brain extracts tend to be modular for tissue repair pathways. We suggest that MSC-MV proteins stimulated by the brain microenvironment are paracrine effectors that enhance MSC therapy for stroke injury.
No MeSH data available.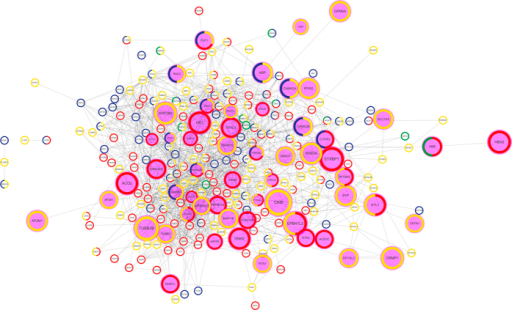 © Copyright Policy - open-access
License
getmorefigures.php?uid=PMC5016792&req=5
Mentions: To gain a holistic view of therapeutic modules in NBE-MSC-MVs, we employed a systems biology approach. The 1,523 identified proteins (from 775 genes) in the human NBE-MSC-MV proteome represent a wide variety of functional categories. To reduce the complexity of functional analysis, we focused on four well-characterised functional categories involved in tissue repair: angiogenesis, neurogenesis, anti-inflammation, and apoptosis. We identified 272 genes associated with GO terms related to these four functional categories, with significant enrichment for each category: 11 of 89 angiogenesis-related genes, 76 of 1,475 anti-inflammatory genes, 156 of 1,620 neurogenesis-related genes, and 122 of 1,697 apoptosis-related genes (P = 3.24 × 10−4, 4.46 × 10−4, 9.87   10−30, and 2.70   10−13, respectively, by Fisher's exact test) were represented (Supplementary Table S4). We then constructed a network of the 272 therapeutic genes by projecting them on the HumanNet functional network (Fig. 6). HumanNet connected 247 of the 272 genes with 1,439 links. This densely wired network suggests a high degree of functional association among NBE-MSC-MV proteins belonging to these four functional categories. Notably, the network was highly enriched for upregulated NBE-MSC-MV proteins (P = 1.91 × 10−80, Fisher's exact test), suggesting that stimulating factors from brain extract may target these MSC-MV proteins. We were able to construct a similar protein network for SBE-MSC-MV (Supplementary Fig. S2), which has 1,294 links among 222 genes belonging to the four functional categories involved in tissue repair (Supplementary Table S5). These results also demonstrated the importance of proteomic analysis for investigating the effects of brain extract on the MSC-MV proteome in regulating tissue repair pathways.