Response of wheat growth, grain yield and water use to elevated CO 2 under a Free ‐ Air CO 2 Enrichment ( FACE ) experiment and modelling in a semi ‐ arid environment
ABSTRACT
---
The response of wheat crops to elevated CO2 (eCO2) was measured and modelled with the Australian Grains Free‐Air CO2 Enrichment experiment, located at Horsham, Australia. Treatments included CO2 by water, N and temperature. The location represents a semi‐arid environment with a seasonal VPD of around 0.5 kPa. Over 3 years, the observed mean biomass at anthesis and grain yield ranged from 4200 to 10 200 kg ha−1 and 1600 to 3900 kg ha−1, respectively, over various sowing times and irrigation regimes. The mean observed response to daytime eCO2 (from 365 to 550 μmol mol−1CO2) was relatively consistent for biomass at stem elongation and at anthesis and LAI at anthesis and grain yield with 21%, 23%, 21% and 26%, respectively. Seasonal water use was decreased from 320 to 301 mm (P = 0.10) by eCO2, increasing water use efficiency for biomass and yield, 36% and 31%, respectively. The performance of six models (APSIM‐Wheat, APSIM‐Nwheat, CAT‐Wheat, CROPSYST, OLEARY‐CONNOR and SALUS) in simulating crop responses to eCO2 was similar and within or close to the experimental error for accumulated biomass, yield and water use response, despite some variations in early growth and LAI. The primary mechanism of biomass accumulation via radiation use efficiency (RUE) or transpiration efficiency (TE) was not critical to define the overall response to eCO2. However, under irrigation, the effect of late sowing on response to eCO2 to biomass accumulation at DC65 was substantial in the observed data (~40%), but the simulated response was smaller, ranging from 17% to 28%. Simulated response from all six models under no water or nitrogen stress showed similar response to eCO2 under irrigation, but the differences compared to the dryland treatment were small. Further experimental work on the interactive effects of eCO2, water and temperature is required to resolve these model discrepancies.
No MeSH data available.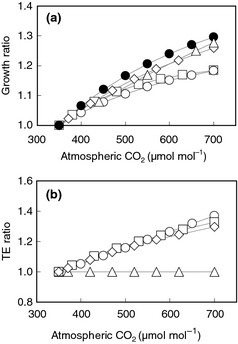 © Copyright Policy - creativeCommonsBy-nc
License
getmorefigures.php?uid=PMC5016785&req=5
Mentions: The Agricultural Production Systems Simulator (APSIM) is a farming systems simulation framework that has been designed to allow evaluation of farm decision‐making in the face of climatic risk, climate change or changes in policy (Keating et al., 2003). The Wheat model within APSIM has been broadly tested across Australia and internationally in a range of experimental (Holzworth et al., 2011; Zhang et al., 2012) and farm (Hochman et al., 2009; Carberry et al., 2013) conditions. Testing of simulated responses to increasing atmospheric CO2 has been published for predecessors of the current APSIM‐Wheat model (Reyenga et al., 1999; Asseng et al., 2004). Increased atmospheric CO2 concentration impacts upon simulated crop growth and resource use via changes to RUE, TE and the critical nitrogen concentration (CNC) for crop growth (Reyenga et al., 1999). To capture CO2 effects on RUE, and interactions with temperature, APSIM‐Wheat (v 7.4) scales RUE using the ratio (ϕp) of the light‐limited photosynthetic response at the enhanced CO2 level to that at 350 μmol mol−1:(1)ϕp=Co2−Γ350+2ΓCo2+2Γ350−Γ, where the temperature‐dependent CO2 compensation point (Г) is calculated as:(2)Γ=163−t5−0.1t, where t is the temperature (°C). The responses of transpiration efficiency (g m−2 mm−1) and leaf CNC (%) to increased CO2 are assumed to be linear with changes of +37% and −7%, respectively, for a doubling of CO2 concentration to 700 μmol mol−1 (Fig. 1). Actual transpiration is indirectly reduced under eCO2 through the gain in TE. Table S3 lists the salient cultivar parameters for APSIM‐Wheat used to simulate the AGFACE experiments.