Multifunctional Polymer-Based Graphene Foams with Buckled Structure and Negative Poisson ' s Ratio
ABSTRACT
---
In this study, we report the polymer-based graphene foams through combination of bottom-up assembly and simple triaxially buckled structure design. The resulting polymer-based graphene foams not only effectively transfer the functional properties of graphene, but also exhibit novel negative Poisson's ratio (NPR) behaviors due to the presence of buckled structure. Our results show that after the introduction of buckled structure, improvement in stretchability, toughness, flexibility, energy absorbing ability, hydrophobicity, conductivity, piezoresistive sensitivity and crack resistance could be achieved simultaneously. The combination of mechanical properties, multifunctional performance and unusual deformation behavior would lead to the use of our polymer-based graphene foams for a variety of novel applications in future such as stretchable capacitors or conductors, sensors and oil/water separators and so on.
No MeSH data available.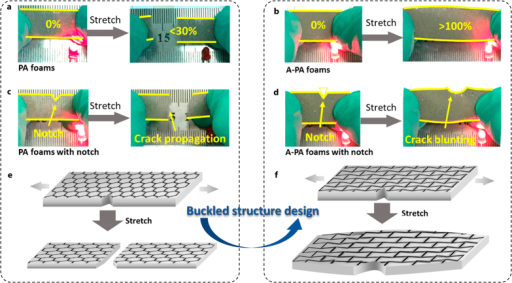 © Copyright Policy - open-access
License
getmorefigures.php?uid=PMC5016781&req=5
Mentions: We further tried to apply our compression-induced buckled structure into the 3D porous template/nanomaterial monolith beyond the PU-graphene foams. Here, we chose Ag nanowires as our functional nanomaterials because of their high conductivity and their increasingly uses in the field of electronic conductors. Melamine (PM) foams (or sponges) were chosen as our polymer templates as they are another commercially available templates with the desirable physical properties and thus widely used in recent reports18192021222324252627. Following quite similar strategy for the fabrication of our PG and A-PG foams, we could easily obtain PM-Ag nanowires (PA) foams by the assembly of Ag nanowires onto the commercial PM foams, and further auxetic PM-Ag nanowires (A-PA) foams with buckled structures by additional triaxial compression processes (see Experimental Section for details). Also similar to our testing results of PG and A-PG foams, it is found that as-obtained A-PA foams exhibit prominent improvements in flexibility and stretchability, compared to PA foams. As shown, the PA foams could catastrophically break under less than 30% tensile strain, whereas the A-PA foams with bucked structures showed remarkable tolerance (more than 100%) to tensile deformation. We also integrated LED lights with our samples as simple demonstrations of stretchable conductors in Fig. 4. The brightness of the connected LED showed almost no change after stretching the A-PA samples to more than 100% tensile strain, indicating their high performance as stretchable conductors, comparable with that of PDMS/carbon nanotube network systems in Figure S7a. More interestingly, unlike the PA conductors and the PDMS substrate with positive Poisson's ratio in Fig. 4c,e and Figure S7b, the auxetic A-PA conductors showed remarkable crack resistance. For example, crack tip in a V-notch of A-PA samples could be effectively shielded as illustrated in Fig. 4f, and crack blunting rather than propagation could be observed in Fig. 4d. Consequently, the buckled structure and NPR deformation behaviors enabled our A-PA conductor more than 100% stretchability even after a shallow V notching, which is intriguing for the stretchable conductors in practice. After discussion of PU-graphene system and this simple demonstration of PM-Ag nanowire system, we, therefore, believe that our 3D triaxial compression method would provide a novel, universal and facile strategy for the fabrication of a new class of high-performance template-based nanomaterials monoliths.