Multifunctional Polymer-Based Graphene Foams with Buckled Structure and Negative Poisson ' s Ratio
ABSTRACT
---
In this study, we report the polymer-based graphene foams through combination of bottom-up assembly and simple triaxially buckled structure design. The resulting polymer-based graphene foams not only effectively transfer the functional properties of graphene, but also exhibit novel negative Poisson's ratio (NPR) behaviors due to the presence of buckled structure. Our results show that after the introduction of buckled structure, improvement in stretchability, toughness, flexibility, energy absorbing ability, hydrophobicity, conductivity, piezoresistive sensitivity and crack resistance could be achieved simultaneously. The combination of mechanical properties, multifunctional performance and unusual deformation behavior would lead to the use of our polymer-based graphene foams for a variety of novel applications in future such as stretchable capacitors or conductors, sensors and oil/water separators and so on.
No MeSH data available.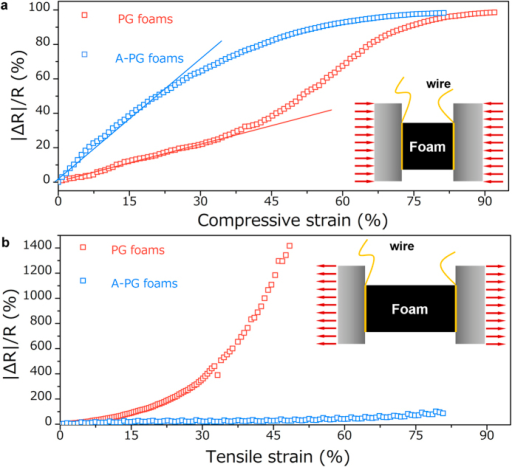 © Copyright Policy - open-access
License
getmorefigures.php?uid=PMC5016781&req=5
Mentions: To explore the effects of the buckled structure in our A-PG foams on their functional performance, we further undertook electrical characterizations of our sample in response to mechanical deformation. First, the unique buckled structures of A-PG foams give rise to improved electrical conductivity. As expected, the graphene "skin" that modified onto the polymer skeleton confers conductivity upon the whole surface area of the entire micorfibers network, and the buckled structures further increase the contacts or paths between these conductive network as well as decrease the size of the foams. Indeed, the electrical conductivity of A-PG foams is measured to be 0.001 S/m (Figure S5a), three times higher than that of the parent PG foams. Second, in contrast to the conductive microfiber network in PG foams without post-compression treatment, the buckled microfiber network shows giant variation of the contact area under the compressive deformation, which would determine the piezoresistive sensitivity of conductive foams when utilized in the sensor fields215152. As quantified by the gauge factor in Fig. 3a, the sensitivity of A-PG foams is calculated to be 2.7, much higher than that of PG foams (0.7). Hence, the post-compression-induced buckling method represents a simple and nondestructive strategy to prepare sensitive cellular solids based flexible sensors (Figure S5b), which were previously prepared by applying destructive fracture on the microfiber in graphene foams21. It is worth noting that, A-PG foams also show high electromechanical stability with negligible variation of resistance after 300 cycles (Figure S5d). Third, as aforementioned and shown in Fig. 2b inset, the buckled structures of A-PG foams could offer additional rotational deformation of microfibers at initial tension. It also means that this bucked structures would protect the graphene "skin" from quick disconnection and significant decay in conductivity under stretching. The resistance variations of our samples was studies as a function of tensile strain as shown in Fig. 3b. The resistance increase ΔR/R of A-PG foams with bucked structures at the strain of 80% was 95%, which is much better than that of the PG foams (1600% at 50% strain), PG-foams-PDMS composites (1490% at 60% strain)19 and graphene-foams-PDMS composites (ca. 210% at 95% strain, note that structure of this graphen foams structure is quite similar to that of our original PG foams because of the structural similarities in the templates)53, and also comparable with that of previously reported melamine (PM)-foam-Ag nanowire-PDMS composites (160% at 100% strain)19 and PU-foam-Ag nanowire-graphene-PDMS composites (200% at 50% strain)13. Thus, combining with above-mentioned mechanical performance (e.g. the improved flexibility and stretchability), the buckled structure we designed in A-PG foams would effectively improve their performance as smart materials.