Development of a Cell-penetrating Peptide that Exhibits Responsive Changes in its Secondary Structure in the Cellular Environment
ABSTRACT
---
15123453333: Cell-penetrating peptides (CPP) are received a lot of attention as an intracellular delivery tool for hydrophilic molecules such as drugs, proteins, and DNAs. We designed and synthesized nona-arginine analogues – [FAM-β-Ala-(l-Arg-l-Arg-l-Pro)3-(Gly)3-NH2 (), FAM-β-Ala-(l-Arg-l-Arg-l-ProNH2)3-(Gly)3-NH2 (), FAM-β-Ala-(l-Arg-l-Arg-l-ProGu)3-(Gly)3-NH2 (), FAM-β-Ala-(l-Arg)2-(l-ProGu)2-(l-Arg)4-l-ProGu-(Gly)3-NH2 (), and FAM-β-Ala-(l-Arg)6-(l-ProGu)3-(Gly)3-NH2 ()] containing l-proline (l-Pro) or cationic proline derivatives (l-ProNH2 and l-ProGu), and investigated their cell-penetrating abilities. Interestingly, only peptide having the side-chain guanidinyl l-ProGu exhibited a secondary structural change in cellular environment. Specifically, peptide formed a random structure in hydrophilic conditions, whereas it formed a helical structure under amphipathic conditions. Furthermore, during cellular permeability tests, peptide demonstrated greater cell-penetrating activity than other peptides and effectively transported plasmid DNA into HeLa cells. Thus, l-ProGu-containing peptide may be a useful candidate as a gene delivery carrier.
No MeSH data available.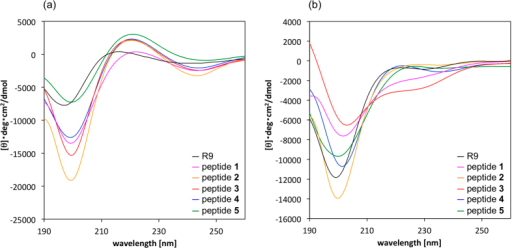 © Copyright Policy - open-access
License
getmorefigures.php?uid=PMC5016780&req=5
Mentions: Figure 4 shows the CD spectra of peptides 1–5 and R9 in 20 mM phosphate buffer solution and in 1.0 w/v% sodium dodecyl sulphate (SDS) solution. The spectra of all of the peptides showed negative maxima at around 200 and 245 (weak) nm and weak positive maxima at around 220 nm, indicating that those peptides formed random structures in phosphate buffer (under physiological conditions) (Fig. 4a)8. Whereas, marked conformational changes were observed in peptide 3 in SDS solution, which simulates the environment found near the cell membrane (Fig. 4b)20303132. Specifically, under amphipathic conditions the spectrum of peptide 3 exhibited negative maxima at around 205 and 225 nm, indicating that the preferred secondary structure of 3 changed from a random structure to a helical structure33343536. The ideal α-helical peptide such as peptide B shows negative maxima at around 208 and 222 nm in the spectrum, and therefore, peptide 3 might not form an α-helical but a helix-like structure (Fig. S7). Accordingly, peptide 3 might be able to form a helical structure and become more compact in the cell membrane environment, and the greater cell-penetrating ability of peptide 3 might arise from these specific conformational changes. On the other hand, peptides 4 and 5, which had as many Arg and ProGu as peptide 3 but these amino acids were not arranged regularly, didn't show the spectra specific to helical structure. These results indicated that regular array of amino acids induces organized secondary structures. l-Pro residues in peptide sequences sometimes induce specific secondary structural changes from random to helical structures in an environment-dependent manner8. In the reference, in fact, the helical propensity of Pro was found to be greatly enhanced in the membrane-mimetic environment (SDS in buffer), analyzing by their CD spectra. Thus, the peptide 3 might also form a random structure in hydrophilic conditions (in PBS), and change its secondary structure to a helical structure under amphipathic conditions (1% SDS in PBS). Whereas, the preferred conformations of peptides 4 and 5, which are isomeric sequences of peptide 3, were almost no changes in hydrophilic/amphipathic conditions. Furthermore, compared to the cell-penetrating activities of these three isomeric peptides 3–5, the activity of peptide 3 was superior to those of peptides 4 and 5. Considering the relationship of the conformations and activities of 3–5, the high cell-penetrating activity of peptide 3 is possible to result from the secondary structure in a certain environment.