Development of a Cell-penetrating Peptide that Exhibits Responsive Changes in its Secondary Structure in the Cellular Environment
ABSTRACT
---
15123453333: Cell-penetrating peptides (CPP) are received a lot of attention as an intracellular delivery tool for hydrophilic molecules such as drugs, proteins, and DNAs. We designed and synthesized nona-arginine analogues – [FAM-β-Ala-(l-Arg-l-Arg-l-Pro)3-(Gly)3-NH2 (), FAM-β-Ala-(l-Arg-l-Arg-l-ProNH2)3-(Gly)3-NH2 (), FAM-β-Ala-(l-Arg-l-Arg-l-ProGu)3-(Gly)3-NH2 (), FAM-β-Ala-(l-Arg)2-(l-ProGu)2-(l-Arg)4-l-ProGu-(Gly)3-NH2 (), and FAM-β-Ala-(l-Arg)6-(l-ProGu)3-(Gly)3-NH2 ()] containing l-proline (l-Pro) or cationic proline derivatives (l-ProNH2 and l-ProGu), and investigated their cell-penetrating abilities. Interestingly, only peptide having the side-chain guanidinyl l-ProGu exhibited a secondary structural change in cellular environment. Specifically, peptide formed a random structure in hydrophilic conditions, whereas it formed a helical structure under amphipathic conditions. Furthermore, during cellular permeability tests, peptide demonstrated greater cell-penetrating activity than other peptides and effectively transported plasmid DNA into HeLa cells. Thus, l-ProGu-containing peptide may be a useful candidate as a gene delivery carrier.
No MeSH data available.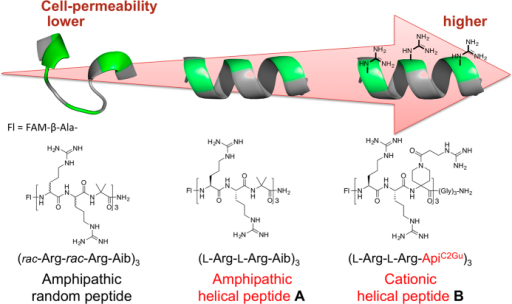 © Copyright Policy - open-access
License
getmorefigures.php?uid=PMC5016780&req=5
Mentions: l-Proline (l-Pro) is a genetically encoded amino acid. It has a variety of unique properties, and hence, has attracted great interest from chemists and biologists. From the point of view of the secondary structures of proteins, l-Pro is often found in turn structures and is considered to be a potent breaker of helical and sheet structures1234. On the other hand, oligoprolines form a characteristic helical structure called a polyproline helix56, and l-Pro residues in peptide sequences sometimes induce specific secondary structural changes in an environment-dependent manner78. Thus, l-Pro is a useful amino acid for creating peptides with secondary structures that are able to adapt to environmental changes. To date, various conformationally restricted Pro-rich peptides have been developed as cell-penetrating peptides (CPP) and have been used as intracellular delivery tools for hydrophilic molecules910111213. Recently, we investigated how the secondary structures of CPP influence their cell-penetrating activity. Specifically, α-aminoisobutyric acid (Aib)1415161718, which is a representative α,α-disubstituted amino acid (dAA) and is often used to stabilize peptide helical structures, was incorporated into an arginine (Arg)-based nonapeptide at the 3rd, 6th, and 9th positions to generate the amphipathic peptide FAM-β-Ala-(l-Arg-l-Arg-Aib)3-NH2 (A)19. Conformational analyses and cell-permeability tests demonstrated that the peptide's helical structure contributes to its ability to efficiently pass through the cell membrane. Furthermore, we recently developed a cationic dAA, ApiC2Gu, as an Arg mimic and replaced the hydrophobic Aib residues in peptide A with cationic ApiC2Gu residues. The cationic peptide B also formed a stable helical structure and exhibited greater cell permeability than nona-arginine (R9)20. These studies suggested that the secondary structures and cell permeability of CPP are related (Fig. 1). However, previous studies examining the development of CPP have focused on stabilizing the peptides' secondary structures in all environments9101112132021222324252627. On the other hand, proteins change their secondary structures in response to subtle environmental changes in the living body. These dynamic conformational changes contribute to the versatile functional expression of proteins, and therefore, conformational flexibility is a key factor in functional diversification, effective functional expression, and functional improvement. So, it is considered that a new peptide with the ability to change its secondary structure depending on its environment would exhibit a greater ability to penetrate the cell-membrane. Herein, we speculated that the insertion of an l-Pro analogue with a guanidinylated side chain into Arg-based peptides could result in a peptide with a secondary structure that was able to adapt to the surrounding environment.