Bulk production of the antiviral lectin griffithsin
ABSTRACT
---
Application of plant‐based protein expression systems for bulk production of recombinant protein pharmaceuticals is building momentum. There are considerable regulatory challenges to consider in commercialization of plant‐made pharmaceuticals (PMPs), some of which are inherent to plant‐production systems and others that are common with other production systems, but are new to PMPs because of the youth of the industry. In this review, we discuss our recent and ongoing experience with bulk production of the HIV microbicide candidate, griffithsin (GRFT), utilizing plant‐based transient protein expression, with specific focus on areas relevant to commercial manufacturing of bulk GRFT active pharmaceutical ingredient (API). Analytical programs have been developed for the qualification and monitoring of both the expression vector system and the API detailing our experience and plans for each. Monitoring postpurification protein modifications are discussed in relation to stability and safety programs. Expression, processing and analytics programs are associated with increased manufacturing costs in current good manufacturing practice (cGMP) production because of the required qualification testing. The impact of these costs on the overall cost of goods is particularly relevant to GRFT manufacturing because GRFT, as an HIV microbicide, is most needed in populations at high risk for HIV exposure in resource‐poor countries. Consequently, GRFT for microbicide applications is a very cost‐sensitive recombinant PMP. We have therefore emphasized maintaining a low cost of goods. We provide a review of the literature on the economics of PMPs with various expression systems and how they may impact production costs and complexity.
No MeSH data available.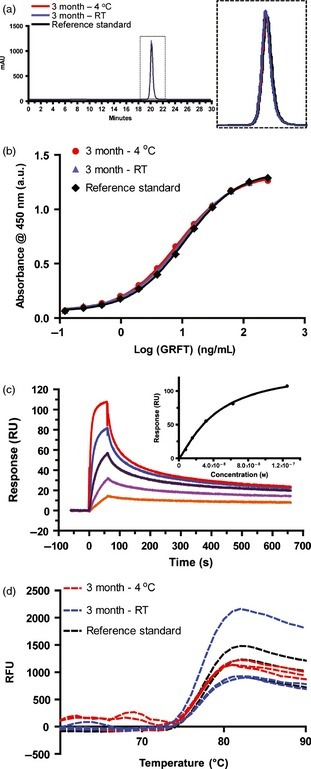 © Copyright Policy - creativeCommonsBy-nc-nd
License
getmorefigures.php?uid=PMC5016770&req=5
Mentions: Table 2 details the current quality profile for GRFT bulk API and will be used for the release of GRFT manufactured under cGMP. Stability testing includes some methods not required for release but used for information only. Common methods include OD280 and SEC‐HPLC and potency ELISA to monitor the physical (degradation and aggregation) and functional stability (i.e. gp120‐binding affinity), respectively. To be a viable microbicide product, GRFT must have a shelf life of at least 2 years. Therefore, we have designed a 2‐year stability program (Table 3) to monitor the chemical, physical, thermal and functional stability of GRFT. Specifically, oxidation, aggregation, degradation, melting temperature and potency of GRFT will be evaluated. Currently, we have completed 3 months of stability including GRFT API stored at room temperature and 4 °C. There was no detectable change in any measured aspect of the GRFT API. Figure 2 highlights some of the data generated at the 3 month stability time point. A SEC‐HPLC method has been developed as a standard operating procedure (SOP) for the product release of GRFT as well as to monitor the physical stability. This SOP is being transferred to Kentucky Bioprocessing, Inc., a facility capable of large‐scale cGMP production of GRFT, with the assay criteria that the GRFT native dimer must show >95% purity and the retention time of the dimer must be within 95% confidence interval of reference standard GRFT from three independent runs. SEC‐HPLC is a dynamic method to show the purity of GRFT API as well as to monitor the aggregation and degradation of GRFT. Figure 2a shows that GRFT is >95% pure, and after 3 months of shelf life stability assessment, there is no detectible aggregation or degradation of GRFT. Another analytical assay we have developed for GRFT product release and to monitor stability is a potency validation assay, which will ensure the anti‐HIV activity of GRFT. Specifically, GRFT's binding to a recombinant HIV‐1 envelope glycoprotein gp120 (which is solely responsible for GRFT anti‐HIV activity) will be verified by gp120 ELISA. The data in Figure 2b demonstrate that GRFT is functionally active, binding to gp120 in the nanomolar range. After 3 months, GRFT has not lost potency. To further validate the gp120 binding activity of GRFT, surface plasmon resonance (SPR) was employed to determine the equilibrium dissociation constant (Kd) (Figure 2c). The average Kd of GRFT to gp120 was found to be 31.9 nm and after 3 months, while GRFT stored at 4 °C and room temperature (RT) had Kd values of 32.2 and 33.0 nm, respectively. Thus, there is no significant loss in GRFT binding to gp120 after 3 months of storage. Another parameter to highlight is the thermostability of GRFT. Differential scanning fluorimetry (DSF) was used to determine the melting temperature (Tm) of GRFT (Figure 2d). After 3 months of storage at 4 °C or RT, there was no significant change in the Tm therefore confirming the structural integrity of GRFT. Lastly, although not discussed here, the concentration of GRFT as determined by OD280 and the purity of the monomer species monitored by reducing SDS‐PAGE were unaltered after 3 months of storage.