A case of asymptomatic pancytopenia with clinical features of hemolysis as a presentation of pernicious anemia
ABSTRACT
---
Pernicious anemia is an autoimmune disease with a variety of clinical presentations. We describe a case of pernicious anemia presenting with pancytopenia with hemolytic features. Further workup revealed very low vitamin B12 levels and elevated methylmalonic acid. It is important for a general internist to identify pernicious anemia as one of the cause of pancytopenia and hemolytic anemia to avoid extensive workup. Pernicious anemia can present strictly with hematological abnormalities without neurological problems or vice versa as in our case.
No MeSH data available.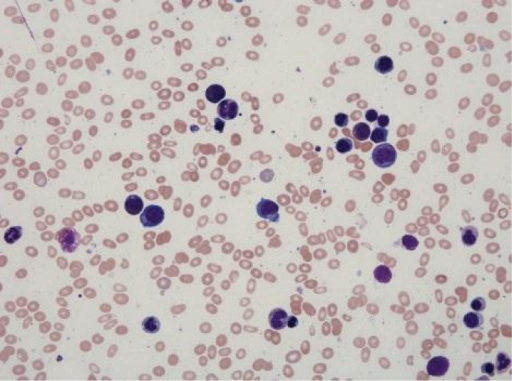 © Copyright Policy - open-access
License
getmorefigures.php?uid=PMC5016744&req=5
Mentions: A 42-year-old Latin American woman with significant past medical history of asthma, unknown cause of anemia since childhood, diabetes, and hyperlipidemia was admitted for worsening cough and shortness of breath for 3 days. Her symptoms are associated with rhinorrhea, dry cough, sore throat, and chest congestion. Review of systems was otherwise unremarkable. Her presenting vital signs revealed a temperature 97.9 F, blood pressure 132/72 mmHg, heart rate 120/min, and oxygen saturation 98% on room air. Physical examination was notable for conjunctival pallor and mild upper lobe wheezing with the rest of the examinations otherwise unremarkable. She was subsequently admitted for a suspected acute asthma exacerbation. Incidentally, her laboratory values revealed a hemoglobin (Hgb) level of 6.8, white blood cell count (WBC) of 1.3, and platelet count of 112. Therefore, a new diagnosis of pancytopenia was established with further workup to follow exhibiting an elevated lactate dehydrogenase (LDH) (1,155 U/L), low haptoglobin (<10 mg/dL), and normal bilirubin levels. Peripheral smear revealed normocytic, normochromic anemia with ovalocytes and an admixture of 'teardrop-shaped' red blood cells (Fig. 1). There was a concern for underlying myelodysplastic syndrome because of pancytopenia and teardrop cells on the peripheral smear. Therefore, for further evaluation a bone marrow biopsy was performed, which showed hypercellular (for age) bone marrow with significant erythroid hyperplasia and megaloblastic changes (Fig. 2). Autoimmune workup was negative for anti-nuclear antibodies (ANA), DS-DNA, anti-neutrophilic antibodies (C-ANCA), rheumatoid factor (RF), anti-scleroderma antibody (SLC) 70, anticentromere, antiribonuclear protein (RNP), hypersensitivity panel, HIV, and hepatitis panel. She also was found to have normal folic acid and iron studies. However, her vitamin B12 was markedly decreased (59). Patient had been taking iron supplementation for her undiagnosed anemia since childhood. Further workup for vitamin B12 deficiency showed elevated methylmalonic acid (18.96) and homocysteine (83.6), as well as positive anti-parietal cell and intrinsic factor antibodies. She was started on vitamin B12 shots every day for 7 days and then once a month. Follow-up after 4 months showed normal WBC, Hgb, and platelet levels (Table 1).