Loss of mesenchymal bone morphogenetic protein signaling leads to development of reactive stroma and initiation of the gastric neoplastic cascade
ABSTRACT
---
Bmps are morphogens involved in various gastric cellular functions. Studies in genetically-modified mice have shown that Bmp disruption in gastric epithelial and stromal cell compartments leads to the development of tumorigenesis. Our studies have demonstrated that abrogation of gastric epithelial Bmp signaling alone was not sufficient to recapitulate the neoplastic features associated with total gastric loss of Bmp signaling. Thus, epithelial Bmp signaling does not appear to be a key player in gastric tumorigenesis initiation. These observations suggest a greater role for stromal Bmp signaling in gastric polyposis initiation. In order to identify the specific roles played by mesenchymal Bmp signaling in gastric homeostasis, we generated a mouse model with abrogation of Bmp signaling exclusively in the gastro-intestinal mesenchyme (Bmpr1aΔMES). We were able to expose an unsuspected role for Bmp loss of signaling in leading normal gastric mesenchyme to adapt into reactive mesenchyme. An increase in the population of activated-fibroblasts, suggesting mesenchymal transdifferentiation, was observed in mutant stomach. Bmpr1aΔMES stomachs exhibited spontaneous benign polyps with presence of both intestinal metaplasia and spasmolytic-polypeptide-expressing metaplasia as early as 90 days postnatal. These results support the novel concept that loss of mesenchymal Bmp signaling cascade acts as a trigger in gastric polyposis initiation.
No MeSH data available.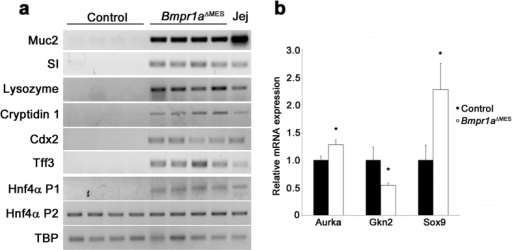 © Copyright Policy - open-access
License
getmorefigures.php?uid=PMC5016723&req=5
Mentions: Intestinal metaplasia (IM) is a recognized premalignant condition of the stomach38 and is frequently found, even with early gastric cancer. Stomachs presenting IM lesions display aberrant expression of intestinal markers38 such as Muc2 found in intestinal goblet cells, sucrase-isomaltase expressed by absorptive cells and lysozyme associated with Paneth cells38. RT-PCR analyses from whole corpus extract support the presence of Muc2, an intestinal goblet cell mucin, sucrase-isomaltase, an intestinal absorptive cells digestive enzyme as well as lysozyme and cryptidin 1, both Paneth cells antimicrobial products, in the Bmpr1aΔMES stomach whereas no expression of these intestinal markers were found in the normal stomach (Fig. 6a). Cdx2 is a transcription factor that regulates the differentiation of intestinal epithelial cells40. Its normal expression is strictly confined to the small intestine and colon. Aberrant expression of Cdx2 in the stomach is an important marker for the pathogenesis of IM41. RT-PCR analysis confirmed the presence of Cdx2 expression in the Bmpr1aΔMES stomach whereas no expression was found in the normal stomach (Fig. 6a). Trefoil factors are secretory peptides that play a role in mucosal protection. Gastric epithelial cells express Tff1 and Tff2 whereas Tff3 is expressed by intestinal and colonic goblet cells42. In IM, Tff3 expression is found to be upregulated by Cdx2 expression43. Again, RT-PCR analysis confirmed the presence of Tff3 expression in the Bmpr1aΔMES stomach whereas no expression was found in the normal stomach (Fig. 6a). Hepatocyte nuclear factor-4α (HNF4α) is a key regulator of several genes involved in glucose and fatty acid metabolism as well as in the pathogenesis of human cancer4445. HNF4α exists in multiple isoforms generated by alternate P1 and P2 promoter usage and splicing. P1 promoter-driven HNF4α is expressed in hepatocytes, small intestine, colon, kidney and epididymis but is absent in the normal stomach while P2 promoter-driven HNF4α is expressed in bile duct, pancreas, stomach, small intestine, colon and epididymis4445. However, an altered expression pattern of promoter-driven HNF4α is observed in gastric carcinomas where the diseased gastric mucosa expresses P1 promoter-driven HNF4α as opposed to the normally-expressed P2 promoter-driven HNF4α44. RT-PCR was performed to investigate the presence of the various Hnf4α promoter isoforms in the stomach of both mutant and control. Expression of P1 promoter isoform was found in the Bmpr1aΔMES stomach whereas this isoform was not expressed in the normal stomach (Fig. 6a). No modification in the expression pattern of the P2 promoter isoform was observed between control and mutant stomachs. Lastly, over the years, deregulation in specific markers associated with a precancerous gastric mucosa such as the cancer susceptibility gene AURKA46, the tumor suppressor gene GNK247 or the aberrant expression of hindgut gene SOX94849, have been identified. To determine whether these various markers were affected by a loss of mesenchymal Bmp signaling, their respective expression levels in both mutant and wild-type animals were analyzed by qPCR. A significant 1.27-fold and 2.28-fold increase in Aurka and Sox9 mRNA as well as a 1.84-fold significant decrease in Gkn2 mRNA expression levels in mutant gastric mucosa were observed comparatively to controls (Fig. 6b).