Rigid Cooperation of Per1 and Per2 proteins
ABSTRACT
---
Period circadian clock (Per) genes Per1 and Per2 have essential roles in circadian oscillation. In this study, we identified a new role of Per1-Per2 cooperation, and its mechanism, using our new experimental methods. Under constant light conditions, the period length of Per1 and Per2 knockout mice depended on the copy number ratio of Per1:Per2. We then established a light-emitting diode-based lighting system that can generate any pattern of light intensity. Under gradually changing light in the absence of phase shift with different periods, both Per1(−/−) and Per2(−/−) mice were entrained to a broader range of period length than wild-type mice. To analyse Per1-Per2 cooperative roles at the cell culture level, we established a Per2 knockout-rescue system, which can detect period shortening in a familial advanced sleep phase syndrome (FASPS) mutant. Upon introduction of the Per1 coding region in this system, we saw period shortening. In conclusion, short period-associated protein Per1 and long period-associated Per2 cooperated to rigidly confine the circadian period to "circa" 24-h. These results suggest that the rigid circadian rhythm maintained through the cooperation of Per1-Per2 could negatively impact modern society, in which the use of artificial lighting is ubiquitous, and result in circadian disorders, including delirium.
No MeSH data available.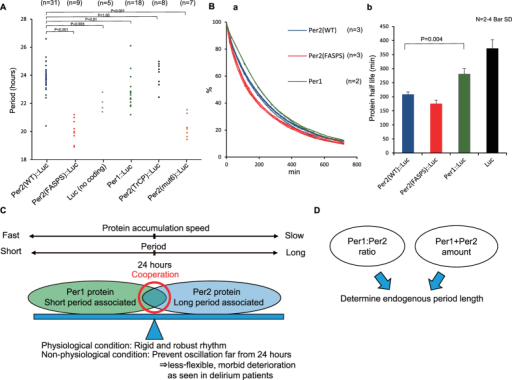 © Copyright Policy - open-access
License
getmorefigures.php?uid=PMC5016722&req=5
Mentions: Because our system proved to be versatile, we also analysed cells transfected with the construct without the Per2 coding region (Fig. 6A). Oscillation was weaker and period was shorter than in cells expressing WT Per2 (Fig. 6B,C, Supplemental Figure S5B). This suggests that cooperative roles of Per1 and Per2 are also important at the cell culture level. Next, we replaced the Per2 coding region in the construct with that of Per1 (Fig. 6D). Likewise, we utilized western blotting to examine Per1 and Per2 expression in Per1- and Per2-rescued ES cells. Both ES cell lines lacked native Per2 but expressed similar levels of native Per1. As expected, Per1::Luc was only expressed in the Per1-rescued ES cells, and Per2::Luc was only expressed in the Per2-rescued ES cells (Supplemental Fig. 7). Per1 and Per2 have different promoter structures, mRNA expression patterns, and mRNA stability controlled by the 3′ UTR174647. Moreover, in the Per2 knockout-rescue system with adenoviral induction described in a previous report, Per1 and Per2 coding regions showed a similar effect on oscillation, although period was not determined31. Therefore, we expected to see similar periods with this experiment. Contrary to our expectations, we observed period shortening with Per1 expression (22.3 ± 0.4 h) compared to Per2 (25.4 ± 1.6 h) in the two independent ES clones (Fig. 6E,F, Supplemental Figure S5C). That is, the association of Per1 expression with a shorter period and that of Per2 with a longer period is at least partly explained by differences in the Per coding regions, and not the Per promoters as previously reported31. We also analysed data from all ES cell experiments (Fig. 7A). The period length could be divided into three groups. WT and β-TrCP mutant lines had periods of approximately 24 h. Cells expressing constructs in which the Per2 coding region was lacking or replaced by that of Per1 had periods of approximately 22–23 h, and the FASPS and mut6 mutants had periods of approximately 20 h.