Tree seedling richness, but not neighborhood composition, influences insect herbivory in a temperate deciduous forest community
ABSTRACT
---
Insect herbivores can serve as important regulators of plant dynamics, but their impacts in temperate forest understories have received minimal attention at local scales. Here, we test several related hypotheses about the influence of plant neighborhood composition on insect leaf damage in southwestern Pennsylvania, USA. Using data on seedlings and adult trees sampled at 36 sites over an approximately 900 ha area, we tested for the effects of total plant density, rarefied species richness (i.e., resource concentration and dietary‐mixing hypotheses), conspecific density (i.e., Janzen–Connell hypothesis), and heterospecific density (i.e., herd‐immunity hypothesis), on the proportion of leaf tissue removed from 290 seedlings of 20 species. We also tested for the effects of generic‐ and familial‐level neighborhoods. Our results showed that the proportion of leaf tissue removed ranged from zero to just under 50% across individuals, but was generally quite low (<2%). Using linear mixed models, we found a significant negative relationship between insect damage and rarefied species richness, but no relationship with neighborhood density or composition. In addition, leaf damage had no significant effect on subsequent seedling growth or survival, likely due to the low levels of damage experienced by most individuals. Our results provide some support for the resource concentration hypothesis, but suggest a limited role for insect herbivores in driving local‐scale seedling dynamics in temperate forest understories.
No MeSH data available.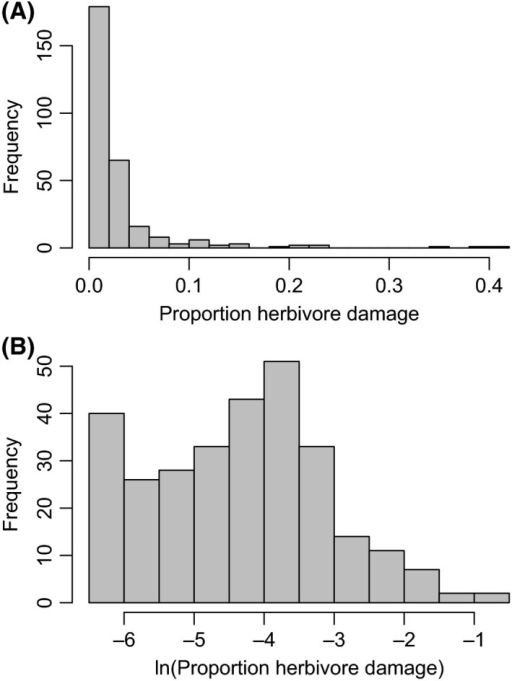 © Copyright Policy - creativeCommonsBy
License
getmorefigures.php?uid=PMC5016651&req=5
Mentions: The proportion of leaf damage across individuals was highly right skewed and required a ln‐transformation to meet statistical assumptions (Fig. 2). Furthermore, because the data contained many zeros (i.e., no insect damage observed), we rescaled the data using the equation: (1)x′=x(N−1)+0.5Nwhere x is the proportion of leaf damage and N is the total number of samples (Smithson and Verkuilen 2006). In all subsequent analyses, the ln‐transformation of x' was used. We then fit linear mixed‐effects models to assess the relationship between insect leaf damage and the density, richness, and composition of local seedling neighbors found in the same 1 × 1 m subquadrat as the focal seedlings. Our first model tested the effects of total plant neighborhood density, independent of the species composition of the neighborhood (i.e., density model). Next, we tested the relationship between species richness and damage (i.e., resource concentration and dietary mixing model). Under the resource concentration hypothesis, we would expect a negative relationship between rarefied richness and damage, while under dietary mixing, we would expect a positive relationship. Actual species richness varied from 1 to 8 at the 1 × 1 m scale, and from 3 to 24 at the 20 × 20 m scale. However, because we did not want the effects of total plant density to confound the effects of species richness (Gotelli and Colwell 2001), we used rarefied species richness instead of raw counts. This was carried out by taking the average value of repeated random samples of 2 individual seedlings from each quadrat. Thus, rarefied species richness was bounded between 1 and 2.