Cyto ‐ nuclear discordance suggests complex evolutionary history in the cave ‐ dwelling salamander, E urycea lucifuga
ABSTRACT
---
Our understanding of the evolutionary history and ecology of cave‐associated species has been driven historically by studies of morphologically adapted cave‐restricted species. Our understanding of the evolutionary history and ecology of nonrestricted cave species, troglophiles, is limited to a few studies, which present differing accounts of troglophiles' relationship with the cave habitat, and its impact on population dynamics. Here, we used phylogenetics, demographic statistics, and population genetic methods to study lineage divergence, dates of divergence, and population structure in the Cave Salamander, Eurycea lucifuga, across its range. In order to perform these analyses, we sampled 233 individuals from 49 populations, using sequence data from three gene loci as well as genotyping data from 19 newly designed microsatellite markers. We find, as in many other species studied in a phylogeographic context, discordance between patterns inferred from mitochondrial relationships and those inferred by nuclear markers indicating a complicated evolutionary history in this species. Our results suggest Pleistocene‐based divergence among three main lineages within E. lucifuga corresponding to the western, central, and eastern regions of the range, similar to patterns seen in species separated in multiple refugia during climatic shifts. The conflict between mitochondrial and nuclear patterns is consistent with what we would expect from secondary contact between regional populations following expansion from multiple refugia.
No MeSH data available.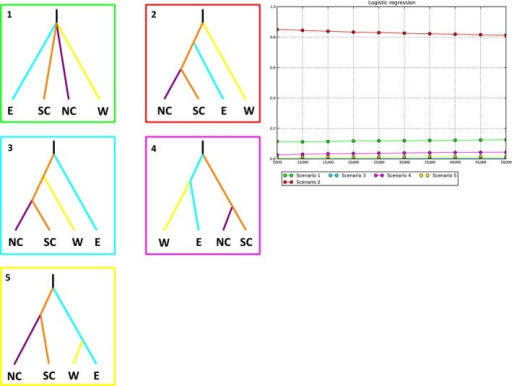 © Copyright Policy - creativeCommonsBy
License
getmorefigures.php?uid=PMC5016636&req=5
Mentions: We examined genetic diversity within each region by comparing estimates of heterozygosity and inbreeding coefficients directly. To estimate how variation is partitioned among‐ and within‐groups and populations, and to estimate Wright's F statistics, we used analysis of molecular variance (AMOVA) in the program GenoDive v2.0b27 (Meirmans and Van Tienderen 2004). We used a principal component analysis on allele frequencies among populations in order to visualize clustering in the microsatellite data. This was performed in GenoDive (Meirmans and Van Tienderen 2004) using the covariance matrix method. The resulting axes of variance were tested for significance using 99 permutations. We tested for significant differences in the variation explained by the first two principal components using ANOVA followed by a Tukey test in the R packages aov() and TukeyHSD(). Finally, to compare divergence at a regional scale using microsatellite data with the results of the gene‐based phylogenetic methods, we used approximate Bayesian computation (ABC) in the program DIYABC v2.0 (Cornuet et al. 2014) to infer the likelihood of different divergence scenarios. We tested five scenarios, that included four clusters consistently recovered by the *BEAST and STRUCTURE analyses, representing the East, West, and splitting the central cluster into north‐central and south‐central. The five scenarios included one with equal ages for each major clade and four additional scenarios designating each major region as the outgroup to the other clades (Fig. 2). We assumed the microsatellites were evolving under a Generalized Stepwise Mutation model, using the default priors for each analysis, and ran the simulation for 5,000,000 iterations. We performed model selection on our simulation results, using both a direct estimation of the most likely scenario with 500 iterations and a logistical regression using 4000 iterations. Model checking was used to compare axes of variation within the summary statistics produced from the simulation to those predicted by the posterior predicted distribution of the best‐fitting model. Upon obtaining DIYABC's estimates for the timing of divergences among lineages, we multiplied the generation times by estimates of the age of sexual maturity in E. lucifuga to infer a range of ages in years. Sexual maturity in this species is reached at approximately 2.5–4 years (Petranka 1998), so we multiplied each time estimate by 2.5 and by 4. Given the variability in first reproduction in this species, as well as the error in the timing estimates, however, the ages of divergence are only approximate.