Risk factors for lymph node metastasis in mucosal gastric cancer and re-evaluation of endoscopic submucosal dissection
ABSTRACT
---
Purpose: The selection of the appropriate treatment strategy for patients with mucosal gastric cancer (MGC) remains controversial. In the present study, we aimed to determine the risk factors for lymph node (LN) metastasis in MGC and reassess the role of endoscopic submucosal dissection (ESD).
Methods: We examined 1,191 MGC patients who underwent curative gastrectomy between January 2005 and December 2014. We determined the clinicopathologic risk factors for LN metastasis among the MGC patients.
Results: Among 1,191 patients with MGC, 42 patients (3.5%) had LN metastasis. Univariate analysis indicated that age ≤ 50 years (P = 0.045), tumor invasion to the muscularis mucosa (P < 0.001), tumor size > 2 cm (P = 0.014), presence of ulceration (P = 0.01), diffuse type as per Lauren classification (P = 0.005), and undifferentiated-type histology (P = 0.001) were associated with LN metastasis. Moreover, multivariate analysis indicated that tumor invasion to the muscularis mucosa (P = 0.001; odds ratio [OR], 4.909), presence of ulceration (P = 0.036; OR, 1.982), and undifferentiated-type histology (P = 0.025; OR, 4.233) were independent risk factors for LN metastasis. In particular, LN metastasis was observed in some MGC cases with indications for ESD, including absolute indications (1 of 179, 0.6%) and expanded indications (9 of 493, 1.8%).
Conclusion: Although MGC patients can be treated via ESD, we recommend that they undergo a more aggressive treatment strategy if they have tumor invasion to the muscularis mucosa, ulceration, or undifferentiated-type histology in the final pathology report.
No MeSH data available.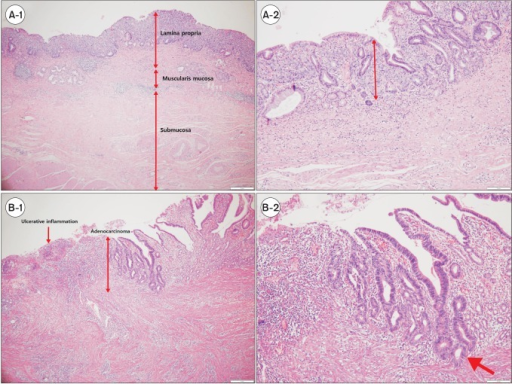 © Copyright Policy - open-access
License
getmorefigures.php?uid=PMC5016601&req=5
Mentions: To determine the possible relationship between LN metastasis and MGC, we analyzed the demographic and clinicopathological characteristics of all the patients. These data included sex, age, tumor location, macroscopic type, depth of tumor invasion, tumor size, presence of ulceration, Lauren classification, histologic type (differentiated or undifferentiated), lymphatic invasion, vascular invasion, and perineural invasion. The stomach was anatomically divided into 3 portions—the upper, middle body (MB), and lower parts—using lines connecting the trisected points on the lesser and greater curvatures. Tumor location was described based on the parts involved. The primary lesions were macroscopically classified according to the Japanese Classification [10] as follows: type 0-I (protruded type), type 0-IIa (superficial elevated type), type 0-IIb (flat type), type 0-IIc (superficial depressed type), and type 0-III (excavated type). In the present study, the primary lesions were classified as follows: elevated type (protruded or elevated: I, IIa, IIa + IIb, and IIa + IIc), flat type (IIb, IIb + IIa, and IIb + IIc), and depressed type (depressed or excavated: IIc, IIc + IIb, IIc + III, IIc + IIa, and III). The depth of tumor invasion of MGC was classified as either invasion of the lamina propria or invasion of the muscularis mucosae without penetration (Fig. 2). The degree of differentiation was classified into 2 groups: differentiated type, which included papillary, well-differentiated or moderately differentiated type; and undifferentiated type, which included poorly differentiated or signet ring cell carcinoma and mucinous carcinoma. The indications for ESD were reassessed according to the Japanese gastric cancer treatment guidelines 2010 (ver. 3) outlined by the Japanese Gastric Cancer Association [11].