Binding Mechanisms of Intrinsically Disordered Proteins: Theory, Simulation, and Experiment
ABSTRACT
---
In recent years, protein science has been revolutionized by the discovery of intrinsically disordered proteins (IDPs). In contrast to the classical paradigm that a given protein sequence corresponds to a defined structure and an associated function, we now know that proteins can be functional in the absence of a stable three-dimensional structure. In many cases, disordered proteins or protein regions become structured, at least locally, upon interacting with their physiological partners. Many, sometimes conflicting, hypotheses have been put forward regarding the interaction mechanisms of IDPs and the potential advantages of disorder for protein-protein interactions. Whether disorder may increase, as proposed, e.g., in the "fly-casting" hypothesis, or decrease binding rates, increase or decrease binding specificity, or what role pre-formed structure might play in interactions involving IDPs (conformational selection vs. induced fit), are subjects of intense debate. Experimentally, these questions remain difficult to address. Here, we review experimental studies of binding mechanisms of IDPs using NMR spectroscopy and transient kinetic techniques, as well as the underlying theoretical concepts and numerical methods that can be applied to describe these interactions at the atomic level. The available literature suggests that the kinetic and thermodynamic parameters characterizing interactions involving IDPs can vary widely and that there may be no single common mechanism that can explain the different binding modes observed experimentally. Rather, disordered proteins appear to make combined use of features such as pre-formed structure and flexibility, depending on the individual system and the functional context.
No MeSH data available.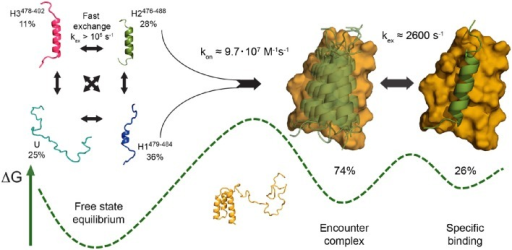 © Copyright Policy
License
getmorefigures.php?uid=PMC5016563&req=5
Mentions: In another study relevant to the subject, we have investigated the interaction between disordered NTAIL and the PX domain of the phosphoprotein from Sendai virus (SeV) using relaxation dispersion NMR experiments. The data were best explained by a three-state model in which one of the preexisting conformers of the highly helical free-state ensemble is initially stabilized in a nonspecific encounter complex with PX, as evidenced by the dominance of 13C backbone chemical shift modulations during the first step of the interaction. From a helical periodicity in 15N and 1H shifts that dominate the second step, we concluded that this NTAIL helix then locks into its final bound position in a hydrophobic interhelical groove of PX, at a rate coincident with intrinsic motion of that groove (Schneider et al., 2015; Figure 3). The first step of this model thus comprises both folding and binding which could not be resolved kinetically. However, the bound conformation is—with one residue difference—nearly identical to one of the helical conformers populated to 28% in the free state. In addition, the molar fractions of PX used (<=15%) were below the population of that helical conformer, and the formation of helices in free NTAIL is much faster—above 105 s−1 from NMR data, in agreement with known helix folding rates (Eaton et al., 1997)—than the on rate, below 140 s−1 under the conditions measured. It can thus be assumed that, in these conditions, enough pre-folded NTAIL conformers resembling the bound state will always be available for a conformational-selection type interaction in the first step of binding.