Identifying and Visualizing Macromolecular Flexibility in Structural Biology
ABSTRACT
---
Structural biology comprises a variety of tools to obtain atomic resolution data for the investigation of macromolecules. Conventional structural methodologies including crystallography, NMR and electron microscopy often do not provide sufficient details concerning flexibility and dynamics, even though these aspects are critical for the physiological functions of the systems under investigation. However, the increasing complexity of the molecules studied by structural biology (including large macromolecular assemblies, integral membrane proteins, intrinsically disordered systems, and folding intermediates) continuously demands in-depth analyses of the roles of flexibility and conformational specificity involved in interactions with ligands and inhibitors. The intrinsic difficulties in capturing often subtle but critical molecular motions in biological systems have restrained the investigation of flexible molecules into a small niche of structural biology. Introduction of massive technological developments over the recent years, which include time-resolved studies, solution X-ray scattering, and new detectors for cryo-electron microscopy, have pushed the limits of structural investigation of flexible systems far beyond traditional approaches of NMR analysis. By integrating these modern methods with powerful biophysical and computational approaches such as generation of ensembles of molecular models and selective particle picking in electron microscopy, more feasible investigations of dynamic systems are now possible. Using some prominent examples from recent literature, we review how current structural biology methods can contribute useful data to accurately visualize flexibility in macromolecular structures and understand its important roles in regulation of biological processes.
No MeSH data available.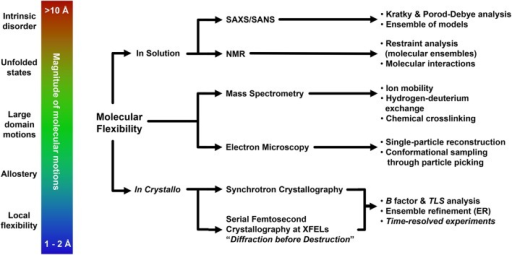 © Copyright Policy
License
getmorefigures.php?uid=PMC5016524&req=5
Mentions: Conformational flexibility is the driving force of a plethora of biological events, and understanding the contributions of dynamics to macromolecule function is a fundamental aspect of basic and applied biological research. Over the course of this review we have described how several cutting-edge structural biology techniques may provide a broad toolbox to explore molecular flexibility, with emphasis on the possible outcome of the investigation and on the methodological approaches to employ. The choice of the most appropriate experimental strategy to carry out the investigation must take into account the overall extent of conformational changes, and will likely involve the usage of multiple structural biology methods (Figure 3). Given the complexity of these studies, it is natural that additional experimental validation using biophysics or other specific methods is of paramount importance. This holds especially true for low resolution methods, which nonetheless can be fundamental for preliminary investigation as well as solid sources of corroborating data, as shown by the usage of SAXS (Hura et al., 2009; Pelikan et al., 2009; Rambo and Tainer, 2011; Bernadó and Svergun, 2012; Hammel, 2012; Petoukhov and Svergun, 2013; Dyer et al., 2014; Kachala et al., 2015) but possibly also by novel, unorthodox methodologies that may provide unexpected, remarkable results (Longchamp et al., 2012, 2016). Although the promise of single-molecule structural biology remains far from possible at the moment (Henderson, 2002; Fratalocchi and Ruocco, 2011), serial femtosecond crystallography at XFELs (Martin-Garcia et al., 2016), as well as atomic resolution single-particle cryo-EM (Bai et al., 2015a; Merk et al., 2015; Subramaniam et al., 2016) are now reality. Combined with more "conventional" structural approaches, these techniques nowadays enable extrapolation of relevant structural information also from datasets so far considered untreatable (Hollenstein et al., 2014; Murray et al., 2016), pushing the resolution limits (Karplus and Diederichs, 2012; Lang et al., 2014; Merk et al., 2015) and further bridging the gap between molecular and cellular approaches of biological investigation (Schröder, 2015; van den Bedem and Fraser, 2015).