Identifying and Visualizing Macromolecular Flexibility in Structural Biology
ABSTRACT
---
Structural biology comprises a variety of tools to obtain atomic resolution data for the investigation of macromolecules. Conventional structural methodologies including crystallography, NMR and electron microscopy often do not provide sufficient details concerning flexibility and dynamics, even though these aspects are critical for the physiological functions of the systems under investigation. However, the increasing complexity of the molecules studied by structural biology (including large macromolecular assemblies, integral membrane proteins, intrinsically disordered systems, and folding intermediates) continuously demands in-depth analyses of the roles of flexibility and conformational specificity involved in interactions with ligands and inhibitors. The intrinsic difficulties in capturing often subtle but critical molecular motions in biological systems have restrained the investigation of flexible molecules into a small niche of structural biology. Introduction of massive technological developments over the recent years, which include time-resolved studies, solution X-ray scattering, and new detectors for cryo-electron microscopy, have pushed the limits of structural investigation of flexible systems far beyond traditional approaches of NMR analysis. By integrating these modern methods with powerful biophysical and computational approaches such as generation of ensembles of molecular models and selective particle picking in electron microscopy, more feasible investigations of dynamic systems are now possible. Using some prominent examples from recent literature, we review how current structural biology methods can contribute useful data to accurately visualize flexibility in macromolecular structures and understand its important roles in regulation of biological processes.
No MeSH data available.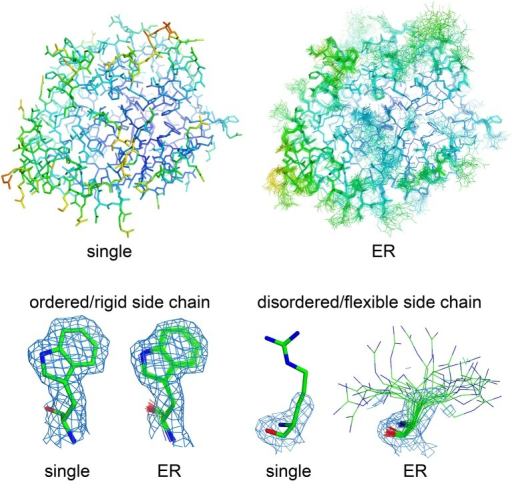 © Copyright Policy
License
getmorefigures.php?uid=PMC5016524&req=5
Mentions: How can we accurately extrapolate the true structural diversity of biomolecules from X-ray diffraction data, without the risk of misleading interpretations? Multiple strategies have been developed over the last 20 years, but due to technical complexity, limitations in applicability, and initial methodological failures, they never spread broadly throughout the structural biology community. The common theme of these methods is that distributions of molecular conformations (similar to NMR ensembles) may provide more accurate and complete representations of a protein's native state also in crystal structures (Best et al., 2006; Levin et al., 2007; Terwilliger et al., 2007; van den Bedem et al., 2009; Tyka et al., 2011; Burnley et al., 2012; Woldeyes et al., 2014; Xue and Skrynnikov, 2014; Clark et al., 2015). Two main strategies allow generation of molecular ensembles from X-ray datasets, time-averaged (Burnley et al., 2012) and multiconformer (van den Bedem et al., 2009) ensemble refinement (ER). Both methods fit the experimental electron density better than a single structural model, without overfitting the data as occurred with original developments of time-averaged ER (for a recent review on ER methods, please see Woldeyes et al., 2014). In time-averaged ER, generation of multiple conformers is assisted through X-ray data-restrained molecular dynamics (MD) simulations, which generate optimal superpositions of a subset of structural models that fit the electron density. The procedure automatically restricts the final number of conformations in the ensemble models by running short MD simulations (0.25–2 ps), preventing data overfitting. Critical parameters for ensemble refinement are the relaxation time of the simulation (which depends on data resolution) and the percentage of atoms used for TLS grouping (Burnley et al., 2012). Usually, these two parameters are determined empirically through parallel ER runs, by selecting the combination which yields the best refinement statistics (based on Rwork/Rfree values; Burnley et al., 2012; Burnley and Gros, 2013). In multiconformer ER, the selection of the optimal number of conformations for each segment of the molecule is based on how well each segment fits the experimental density (van den Bedem et al., 2009). Therefore, time-averaged ER structures include multiple models with the same number of states throughout the entire macromolecular sequence, whereas multiconformer ER models display a variable number of states within specific regions of the crystal structure, depending on the quality of the experimental electron density (Woldeyes et al., 2014). The result of ER is, therefore, a set of superimposed molecular models, more similar to the final output of an NMR structural investigation than a crystal structure, with increasing deviations from the average conformation for the highly flexible regions and nearly perfectly superimposed conformations in the more rigid portions of macromolecules (Figure 1). Flexible elements are shown with a "bouquet" of conformations, each one representing just a fraction of the total population that fits the poorly defined electron density of the highly dynamic region. However, when considered altogether, structural ensembles capture the multiple conformations displayed by various regions of the crystallized macromolecules, poorly represented and hard to understand by B factor analysis (Lang et al., 2014; Woldeyes et al., 2014). Even though these methods are not recent, their diffusion has so far been very limited, mostly due to the heavy computational resources that are needed to generate reliable ensembles (Burnley and Gros, 2013; van den Bedem and Fraser, 2015). However, there is strong interest about their potential as standalone methods for the investigation of structural dynamics, as demonstrated by the increasing number of publications making use of these strategies for the analysis of conformational flexibility (Fenwick et al., 2011; Forneris et al., 2014; Bianchetti et al., 2015; Weerth et al., 2015; Cao et al., 2016; Langan et al., 2016).