Role of Rb during Neurogenesis and Axonal Guidance in the Developing Olfactory System
ABSTRACT
---
The Retinoblastoma protein, Rb, was shown to regulate distinct aspects of neurogenesis in the embryonic and adult brain besides its primary role in cell cycle control. It is still unknown, however, whether Rb is required for tissue morphogenesis and the establishment of synaptic connections between adjacent tissues during development. We have investigated here the role of Rb during development of the olfactory system (OS), which heavily relies on reciprocal interactions between the olfactory epithelium (OE) and the olfactory bulb (OB). We show that mice carrying a telencephalic-specific deletion of Rb display several neurogenic defects in the OS during late development. In the OE, loss of Rb leads to ectopic proliferation of late-born progenitors (Tuj-1+), abnormal radial migration and terminal maturation of olfactory sensory neurons (OSNs). In the OB, deletion of Rb causes severe lamination defects with loss of clear boundaries between distinct layers. Importantly, starting around E15.5 when OB glomerulogenesis is initiated, many OSNs axons that project along the olfactory nerve layer (ONL) fail to properly innervate the nascent bulb, thus resulting in partial loss of connectivity between OE-OB and gradual neuronal degeneration in both tissues peaking at birth. This deficiency correlates with deregulated expressions of two key chemo-repellant molecules, Robo2/Slit1 and Nrp2/Sema3F that control the formation of dorsal-ventral topographic map of OSNs connections with OB glomeruli. This study highlights a critical requirement for Rb during neurogenesis and the establishment of proper synaptic connections inside the OS during development.
No MeSH data available.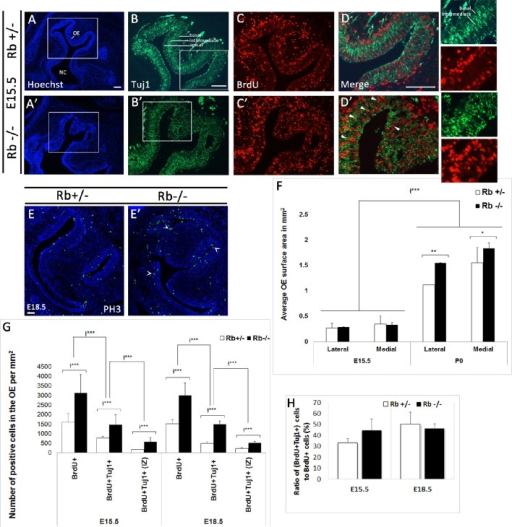 © Copyright Policy
License
getmorefigures.php?uid=PMC5016521&req=5
Mentions: Given the critical role played by Rb at distinct stages of neurogenesis in the telencephalon, we examined whether Rb also regulates neurogenesis in the developing OE. First, we assessed progenitor proliferation following a 2 h-BrdU pulse before sacrifice at distinct embryonic ages. Compared with Rb+/− embryos, Rb−/− embryos showed 1.95- and 1.97-fold increase in the number of BrdU-positive cells detected inside the OE at E15.5 and E18.5, respectively (Figures 3A,A′,C,C′,G, and Supplementary Figure 2; BrdU+: Rb+/− vs. Rb−/−, 1601+/−446 vs. 3129+/−968, E15.5, and 1520+/−202 vs. 3005+/−658, E18.5, p = 0.00005). Moreover, there was a proportional increase in the number of BrdU+ cells co-expressing the early differentiation marker Tuj1 (β-III tubulin) with no change in the ratio of (BrdU+Tuj1+) cells over the number of BrdU+ cells between genotypes [(Figures 3B–D′,G,H and Supplementary Figure 2; (BrdU+Tuj1+): Rb+/− vs. Rb−/−, 773+/−100 vs. 1474+/−527, 1.9-fold increase at E15.5, and 505+/−76 vs. 1498+/−162, 2.96-fold increase at E18.5, p = 0.00005)]. Of note, many (BrdU+Tuj1+) cells were found ectopically proliferating in the intermediate zone (IZ) [(Figures 3D,D′; arrowheads and red inset in Figure 3D′, and Figure 3G; (BrdU+Tuj1+) in IZ: Rb+/− vs. Rb−/−, 174+/−11 vs. 573+/−236, 3.29-fold increase at E15.5, and 221+/−58 vs. 519+/−85, 2.34-fold increase at E18.5, p = 0.00005)]. Moreover, unlike in Rb+/− embryos where all Tuj1+ neuroblasts project their extensions in parallel and well-aligned orientation between the apical and basal layers of the epithelium, many Tuj1+ cells were disoriented and randomly dispersed between these layers in the Rb−/− OE, suggesting the presence of a radial migration defect (Figures 3D,D′; green insets). Despite the ectopic neuroblast proliferation, loss of Rb did not seem to result in major cell cycle exit defect since the number of PH3-positive cells was also found to be increased in Rb−/− vs. Rb+/− OE at E18.5 (Figures 3E,E′; arrowheads in Figure 3E′: PH3+: Rb+/− vs. Rb−/−, 602+/−157 vs. 801+/−60, p = 0.01, 1.33-fold increase). However, this does not rule out that some progenitor cells failed to exit the cell cycle and underwent apoptosis at earlier time-points. In addition, the average surface area of the OE along the latero-medial axis was significantly expanded around birth in the absence of Rb (Figure 3F: OE surface area in mm2 at P0; Rb+/− vs. Rb−/−, 1.12+/−0.078 vs. 1.55+/−0.1, p = 0.0051, 1.38-fold increase at lateral level, and 1.45+/−0.17 vs. 1.84+/−0.3, p = 0.021, 1.27-fold increase at medial level).