Diverse Bacteria with Lignin Degrading Potentials Isolated from Two Ranks of Coal
ABSTRACT
---
Taking natural coal as a "seed bank" of bacterial strains able to degrade lignin that is with molecular structure similar to coal components, we isolated 393 and 483 bacterial strains from a meager lean coal sample from Hancheng coalbed and a brown coal sample from Bayannaoer coalbed, respectively, by using different media. Statistical analysis showed that isolates were significantly more site-specific than medium-specific. Of the 876 strains belonging to 27 genera in Actinobacteria, Firmicutes, and Proteobacteria, 612 were positive for lignin degradation function, including 218 strains belonging to 35 species in Hancheng and 394 strains belonging to 19 species in Zhongqi. Among them, the dominant lignin-degrading strains were Thauera (Hancheng), Arthrobacter (Zhongqi) and Rhizobium (both). The genes encoding the laccases- or laccase-like multicopper oxidases, key enzymes in lignin production and degradation, were detected in three genera including Massila for the first time, which was in high expression by real time PCR (qRT-PCR) detection, confirming coal as a good seed bank.
No MeSH data available.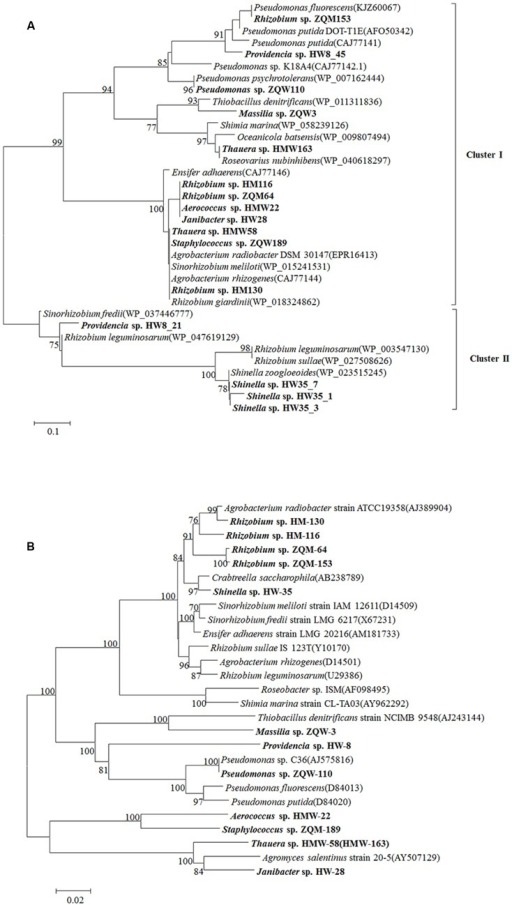 © Copyright Policy
License
getmorefigures.php?uid=PMC5016517&req=5
Mentions: From 13 isolates, belonging to 10 genera of 102 original isolates, 16 LMCO genes with different amino acid sequences were detected (Figure 6A). This is the first report of LMCO genes discovered in the genera Aerococcus, Shinella, and Massilia. Phylogenetic analysis showed that these laccase genes were separated into two major clusters. Cluster I contained a mix LMCO genes from different taxa, such as Rhizobium, Providencia, Pseudomonas, Massilia, and Thauera from Proteobacteria, as well as Aerococcus, Janibacter, and Staphylococcus, from Actinobacteria and Firmicutes. Cluster II contained LMCO genes from Providencia, Shinella, Sinorhizobium, and Rhizobium. The topology of the LMCO gene based phylogenetic tree was much different from that of 16S rRNA gene-based phylogenetic tree (Figures 6A,B). For example, LMCO genes from Rhizobium were separated into different groups, whereas the 16S rRNA gene analysis resulted in these isolates being clustered together. The LMCO gene from Rhizobium sp. ZQM163 was closely related to that of Pseudomonas rather than Rhizobium. LMCO sequences from Thauera sp. HMW163 and Thauera sp. HMW58 were closely related to Roseovarius and Agrobacterium, respectively. However, the 16S rRNA gene sequences from these isolates shared 100.00% similarity and were closely related to Agromyces. Two LMCO genes were found in Providencia sp. HW8, one of which (HW8_45) was closely related to that from Pseudomonas, whereas the other (HW8_21) was closely related to that of Rhizobium. Moreover, genes in Cluster II, from both Proteobacteria and Actinobacteria, showed higher similarities (85.00–100.00%), which suggested that these genes might have been generated from the same ancestor. The results indicated that horizontal gene transfer of LMCO might happen frequently during these strains.