The choice of internal fixator for fractures around the femoral trochanter depends on area classification
ABSTRACT
---
Purpose: In femoral trochanteric fractures, fractures whose fracture lines extend to the basal neck or to the subtrochanteric part have high instability. Area classification can identify such instable fractures. The best choices of internal fixators for femoral trochanteric fractures were investigated according to area classification.
Methods: Femoral trochanteric fractures were investigated with respect to area classification. In area classification, the proximal femur is divided into 4 areas with 3 boundary lines: Line-1 is the center of the neck; Line-2 is the border between the neck and the trochanteric zone; and Line-3 links the inferior borders of the greater and lesser trochanters. A fracture in only the third area was classified as type 3; one in the second and third areas was classified as type 2–3.
Results: Of 284 femoral trochanteric fractures, 50.0 % were type 3, 21 % were type 2–3, 22 % were type 3–4, and 7.4 % were type 2–3–4. Cases with cut-out or excessive telescoping of the internal fixator were defined as the Failure-group; 5.3 % of type 3 and 10.9 % of type 2–3 were in the Failure-group only when short femoral nails with a single rag screw were used. On the other hand, there were no Failure-group cases of type 2–3 with double rag screws. Only 1 case involved a long nail for type 3, while a long nail was used in about half of type 3–4 cases (Chi square test: P < 0.0001).
Conclusions: A double rag screw should be considered for type 2–3. A long nail should be considered for type 3–4.
No MeSH data available.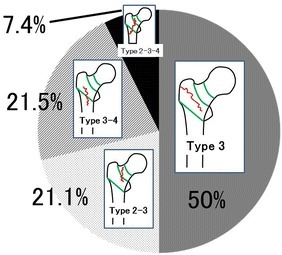 © Copyright Policy - OpenAccess
License
getmorefigures.php?uid=PMC5016488&req=5
Mentions: Overall, femoral trochanteric fractures, namely fractures around area-3 in area classification occurred in 284 of the 482 cases (58.9 %). In area classification, 142 cases (50.0 %) were type 3 fractures, 60 (21.1 %) were type 2–3 fractures, 61 (21.5 %) were type 3–4 fractures, and 21 (7.4 %) were type 2–3–4 fractures (Fig. 2). Average follow-up duration is 4 months (1 month–18 months). Osteosynthesis was performed with the third-generation short Gamma nail or long Gamma nails (Stryker Japan, Tokyo, Japan), Proximal Femoral Nail Antirotation (PFNA) (DePuy Synthes Japan, Tokyo, Japan), and IPT nail system (HOMS giken, Nagano, Japan). The failure rate was 6.3 % in type 3, 8.3 % in type 2–3, 9.8 % in type 3–4, and 14.3 % in type 2–3–4 (Fig. 3). When type 2–3 fractures were compared with type 3 fractures, the failure rates of type 3 and type 2–3 fractures, which were fixed by an internal fixator with a single rag screw, were 5.3 and 10.9 %, respectively (Fig. 4). On the other hand, the failure rates of type 3 and type 2–3 fractures, which were fixed by internal fixators with double rag screws, were 8.6 and 0 %, respectively (Fig. 5). This difference in failure rate between the rate of using single rag screw for type 3 and that for type 2–3 was significant (Chi square test; P = 0.0014). When the choice of internal fixator for type 3–4 fractures was compared with that for type 3 fractures, a long nail was chosen in 42.3 % of type 3–4 fractures, whereas a long nail was chosen in only 1 case (0.8 %) of type 3 fractures; this difference was significant (Chi square test; P < 0.0001) (Fig. 6). However, there was no significant difference in fixation failure between short nail and long nail for type 3–4 (Chi square test; P = 0.0621).Fig. 2