Recent advances in multiple myeloma: a Korean perspective
ABSTRACT
---
Epidemiologically, multiple myeloma (MM) is a malignant disorder of plasma cells with a higher incidence among Western populations than among Asians. However, there is growing evidence of a recent increase in the age-standardized incidence rate (ASR) of MM in Asian countries, particularly Korea. Application of novel agents has resulted in significant improvement of treatment outcomes, and the advances are ongoing with the recent introduction and U.S. Food and Drug Administration's approval of newer agents, including carfilzomib, ixazomib, elotuzumab, and daratumumab. In concert with the technical advances in the cytogenetic and molecular diagnostics of MM, modifications of its diagnosis and staging system have been attempted for better risk stratification. The modified diagnostic criteria from the International Myeloma Working Group in 2014 enabled a strategy of more active treatment for some patients with smoldering MM, with an ultra-high risk of progression, and fine-tuned the definition of end-organ damage, known as CRAB (hypercalcemia, renal insufficiency, anemia, and bone lesions). Considering Korea's trend of aging at an unprecedented rate, we can expect that the ASR of MM will maintain a gradual increase for many years to come; therefore, MM will be a cancer of critical importance from both medical and socioeconomic perspectives in Korea.
No MeSH data available.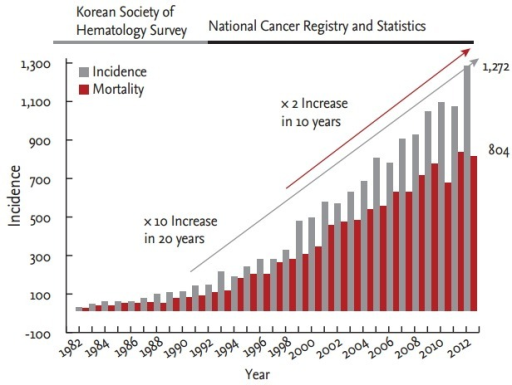 © Copyright Policy
License
getmorefigures.php?uid=PMC5016289&req=5
Mentions: According to the 2012 Korean data on national cancer statistics [16], MM comprised 1,272 new cases and 823 deaths in 2012. Its crude incidence rate and crude mortality rate were 2.5/100,000 and 1.6/100,000, respectively, and the ASR and age-standardized mortality rate were 1.6/100,000 and 1.0/100,000, respectively. Until 2012, there was a 2-fold increase in the ASR of MM over the last 10 years, and the increase was striking considering that the ASR of MM in 2012 was 10 times higher than that 20 years ago (Fig. 1) [13]. The incidence of all cancers in Korea has doubled during the last 10 years, while that of acute myeloid leukemia (AML) has stagnated during the same period. As a result, the number of new cases of MM surpassed AML for the first time in 2012 by a narrow margin (1,272 for MM vs. 1,257 for AML) with an identical crude incidence rate (2.5/100,000 for both of them) [16,17]. Although the ASR of AML (2.0/100,000) was still higher than that of MM (1.6/100,000), probably resulting from the skewed distribution of AML toward the elderly population, we can actually regard MM as the second most common hematologic malignancy in Korea considering its recent higher trend of increase compared to AML [16,17]. Both improved detection and true increase appear to contribute to the increase in the ASR of MM in Korea. The expansion of health insurance, popularization of medical screening, relevant education of students and surgeons, and public awareness of the disease has enabled more and earlier detection of MM. On the other hand, the genuine increase of MM in Korea can be attributed to exposure to environmental risks, such as air pollution, chemicals, and radiation, all of which are related to rapid industrialization. Furthermore, aging is an important factor affecting this perceived increase of MM, considering that myeloma is most frequently diagnosed among people aged 65 to 74 according to the SEER data. Recently, United States investigators have predicted that MM will primarily be a disease that affects older persons aged 64 to 84 years, and circa 2032 to 2034, three of every four newly diagnosed MM patients will be aged 64 to 84 years, an increase from up to two of every three patients diagnosed today [18]. According to the life table of Korea, the life expectancy of a Korean baby born in 2014 is 82.4 years [19]. The proportion of the population aged ≥ 65 years has increased from 7% in 1999 to 11.8% in 2012 and is expected to increase to 14% in 2017, and to 20.8% in 2026 [20]. Reflecting Korea's aging, which is proceeding at an unprecedented rate, we can expect that the ASR of MM will maintain a gradual increase for many years to come; therefore, MM will be one of the cancers in the spotlight from both medical and socioeconomic perspectives in Korea.