Prognostic value of computed tomographic coronary angiography and exercise electrocardiography for cardiovascular events
ABSTRACT
---
Background/aims:: This study is a head-to-head comparison of predictive values for long-term cardiovascular outcomes between exercise electrocardiography (ex-ECG) and computed tomography coronary angiography (CTCA) in patients with chest pain.
Methods:: Four hundred and forty-two patients (mean age, 56.1 years; men, 61.3%) who underwent both ex-ECG and CTCA for evaluation of chest pain were included. For ex-ECG parameters, the patients were classified according to negative or positive results, and Duke treadmill score (DTS). Coronary artery calcium score (CACS), presence of plaque, and coronary artery stenosis were evaluated as CTCA parameters. Cardiovascular events for prognostic evaluation were defined as unstable angina, acute myocardial infarction, revascularization, heart failure, and cardiac death.
Results:: The mean follow-up duration was 2.8 ± 1.1 years. Fifteen patients experienced cardiovascular events. Based on pretest probability, the low- and intermediate-risks of coronary artery disease were 94.6%. Odds ratio of CACS > 40, presence of plaque, coronary stenosis ≥ 50% and DTS ≤ 4 were significant (3.79, p = 0.012; 9.54, p = 0.030; 6.99, p < 0.001; and 4.58, p = 0.008, respectively). In the Cox regression model, coronary stenosis ≥ 50% (hazard ratio, 7.426; 95% confidence interval, 2.685 to 20.525) was only significant. After adding DTS ≤ 4 to coronary stenosis ≥ 50%, the integrated discrimination improvement and net reclassification improvement analyses did not show significant.
Conclusions:: CTCA was better than ex-ECG in terms of predicting long-term outcomes in low- to intermediate-risk populations. The predictive value of the combination of CTCA and ex-ECG was not superior to that of CTCA alone.
No MeSH data available.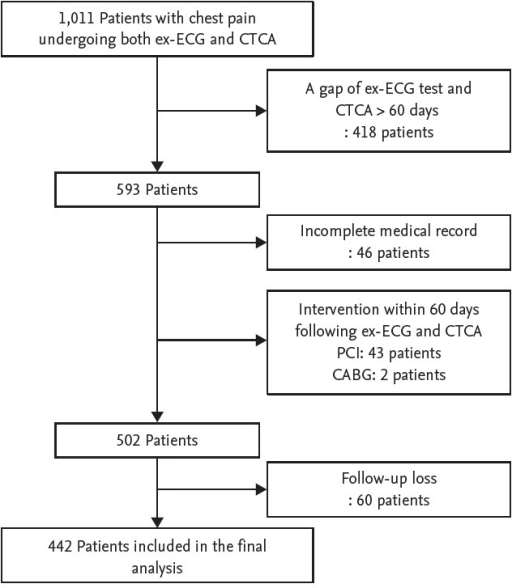 © Copyright Policy
License
getmorefigures.php?uid=PMC5016286&req=5
Mentions: For the study, 1,011 patients who underwent both ex-ECG and CTCA for evaluation of chest pain at Gyeongsang National University Hospital between January 2007 and December 2013 were identified. Based on electronic medical records, patients with chest pain, those older than 18 years and those who had undergone both ex-ECG and CTCA were included. In this study, the interval of between performing ex-ECG and CTCA was limited to within 60 days. The following patients were initially excluded followings: patients who underwent both ex-ECG and CTCA at an interval more than 60 days (n = 418); those with unacceptable clinical information owing to incomplete medical records (n = 46); those who underwent percutaneous coronary intervention (PCI) or coronary artery bypass graft (CABG) surgery within 60 days after ex-ECG and CTCA (n = 45); and those with unknown cardiovascular outcome due to loss to follow-up (n = 60). Finally, the remaining 442 patients were retrospectively enrolled in this study (Fig. 1). The mean interval between ex-ECG and CTCA was 7 ± 11 days. A total 296 patients (67.0%) underwent both exams at the same day. The ex-ECG was performed before CTCA in 68 patients (15.4%), and 18 patients (26.5%, 18/68) of them was positive result. The number of patient underwent CTCA first was 78 patients (17.6%), and 23 patients (29.5%; 23/78) had significant stenosis. From medical records at the first visit, information on age, height, sex, characteristics of chest pain, dyspnea, blood pressure, heart rate, and known cardiac risk factors including smoking, diabetes mellitus, hypertension, dyslipidemia, and chronic kidney disease were collected. Cerebrovascular accidents included transient ischemic attack, ischemic stroke and hemorrhagic stroke. Family history of CAD was defined as the incidence of CAD in first-degree relatives aged < 55 years in men and < 65 years in women. Institutional Review Board approval was obtained by local ethics committee and informed consent was waived.