Clathrin Coat Disassembly Illuminates the Mechanisms of Hsp70 Force Generation
ABSTRACT
---
Hsp70s use ATP hydrolysis to disrupt protein:protein associations or move macromolecules. One example is Hsc70-mediated disassembly of clathrin coats that form on vesicles during endocytosis. We exploit the exceptional features of these coats to test three models—Brownian ratchet, power-stroke and entropic pulling—proposed to explain how Hsp70s transform their substrates. Our data rule out the ratchet and power-stroke models, and instead support a collision pressure mechanism whereby collisions between clathrin coat walls and Hsc70s drive coats apart. Collision pressure is the complement to the pulling force described in the entropic pulling model. We also find that self-association can augment collision pressure to allow disassembly of clathrin lattices predicted to resist disassembly. These results illuminate how Hsp70s generate the forces that transform their substrates.
No MeSH data available.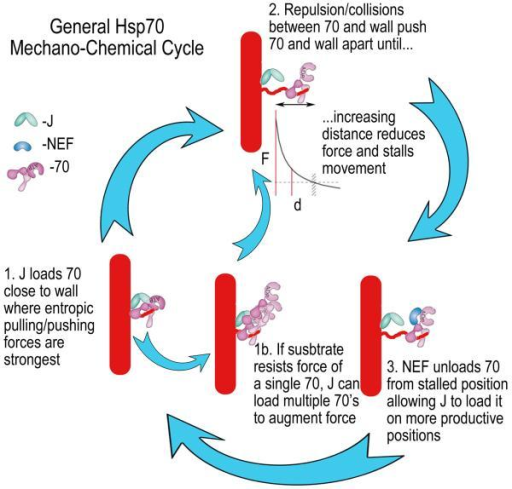 © Copyright Policy
getmorefigures.php?uid=PMC5016234&req=5
Mentions: While anti-FLAG Fabs disassemble FLAG-tag cages, they differ from Hsc70 since they can't actively cycle from released triskelia to cages. Auxilin loads Hsc70 on cages in preference to triskelia both because cages present a higher density and/or better positioning of binding sites for the multiple clathrin binding motifs on the auxilin molecule43, and because cage architecture places auxilin closer to Hsc70 binding sites23,44. Hsp110, the NEF in this system, stimulates disassembly when Hsc70 is limiting (fig. 6A) by unloading Hsc70 from triskelia38, but when Hsc70 isn't limiting, high concentrations of Hsp110 inhibit disassembly by also unloading Hsc70 from cages (fig. 6B). It is similarly seen that Hsp70-mediated protein disaggregation reactions are usually optimally stimulated by low Hsp110 concentrations9,45,46, an observation that may be explained by invoking the role of geometry in the entropic pulling/pushing model. In this model, the role of the J co-chaperone isn't simply to load the Hsp70 onto substrate, but to load it onto substrate at an optimal position: close to a wall where entropic pulling/pushing forces are greatest (fig. 8, step 1). Collisions/repulsion between the wall and Hsp70 push the two apart, but as predicted by the entropic pulling/pushing model and validated by our observations of the effects of shifting the Hsc70 binding sites in the clathrin cage, these pushing forces diminish with distance (fig. 8, step 2). The reaction may stall if this distal Hsp70 sterically blocks loading of another Hsp70 at the more forcefully productive position, near the wall. The role of the NEF in the cycle is to unload the Hsp70 from the non-productive position (step 3), but high NEF concentrations can be inhibitory if they begin to also unload Hsp70s from productive positions. In addition, if the substrate is recalcitrant and does not yield to the force of single Hsp70s (e.g., clathrin cages at pH 6 vs. pH 6.8) then the Hsp70 will remain close to the J co-chaperone, allowing the latter to exploit the self-association properties of the chaperone to load additional Hsp70s onto the first to augment the forces (step 1b). While this model doesn't argue that Hsp110 cannot contribute to disaggregation via other mechanisms47, it can account for the observed Hsp110 concentration dependence and can explain how the established functions of J co-chaperones and NEFs in, respectively, loading and unloading of substrates in the Hsp70 chemical cycle, are harnessed in a mechanical cycle to generate the forces by which Hsp70s move and transform their substrates.