Lysosomal Acid Lipase Hydrolyzes Retinyl Ester and Affects Retinoid Turnover *
ABSTRACT
---
Lysosomal acid lipase (LAL) is essential for the clearance of endocytosed cholesteryl ester and triglyceride-rich chylomicron remnants. Humans and mice with defective or absent LAL activity accumulate large amounts of cholesteryl esters and triglycerides in multiple tissues. Although chylomicrons also contain retinyl esters (REs), a role of LAL in the clearance of endocytosed REs has not been reported. In this study, we found that murine LAL exhibits RE hydrolase activity. Pharmacological inhibition of LAL in the human hepatocyte cell line HepG2, incubated with chylomicrons, led to increased accumulation of REs in endosomal/lysosomal fractions. Furthermore, pharmacological inhibition or genetic ablation of LAL in murine liver largely reduced in vitro acid RE hydrolase activity. Interestingly, LAL-deficient mice exhibited increased RE content in the duodenum and jejunum but decreased RE content in the liver. Furthermore, LAL-deficient mice challenged with RE gavage exhibited largely reduced post-prandial circulating RE content, indicating that LAL is required for efficient nutritional vitamin A availability. In summary, our results indicate that LAL is the major acid RE hydrolase and required for functional retinoid homeostasis.
No MeSH data available.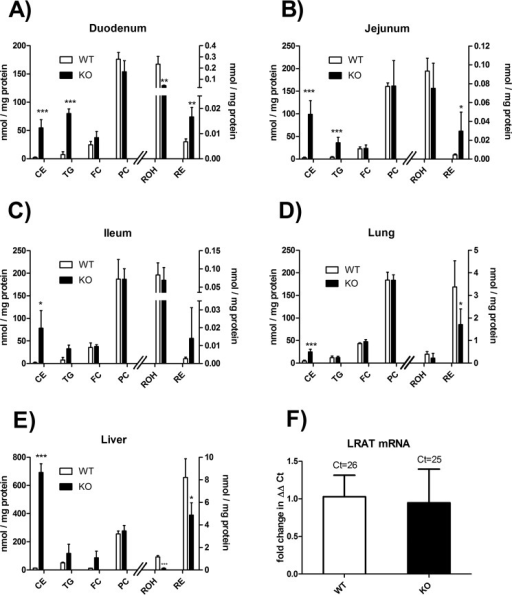 © Copyright Policy - open-access
License
getmorefigures.php?uid=PMC5016185&req=5
Mentions: The lipid phenotype of LAL-deficient mice is known to progress with age (4, 12). Because we speculated that this may also be the case for disturbances in vitamin A homeostasis, we measured neutral lipid (including RE) and phospholipid contents in various tissues of 6.5-month-old LAL-deficient mice and WT littermates. The contents of the main phospholipid class, PC, were comparable between WT and LAL-deficient mice in all investigated tissues (Fig. 6). More importantly, and in accordance with previous reports (4, 5, 12), CE content was increased manyfold (up to 50-fold) in all investigated tissues of LAL-deficient mice (Fig. 6, A–E). In contrast, free cholesterol concentration was virtually unchanged (Fig. 6, A–E). TG and RE contents were significantly increased in the duodenum and jejunum, whereas a trend toward increased TG and RE content was observed in the ileum (Fig. 6, A–C). Increased RE content in the duodenum of LAL-deficient mice was accompanied by decreased ROH levels (Fig. 6A). In the lung of LAL-deficient mice, CE content was increased whereas that of REs was decreased. All other lipid classes in the lung were comparable between both genotypes (Fig. 6D). In accordance with a previous report (4), we observed an enlarged mesenteric lymph node in LAL-deficient mice that contained ∼0.05 and ∼0.6 nmol/mg protein ROH and RP, respectively. Notably, the spleen of LAL-deficient mice contained largely increased RE content (93 ± 36 pmol/mg of protein versus 0.17 ± 0.15 pmol/mg of protein in LAL-deficient versus WT mice, respectively). Interestingly, and similar to what was already observed in 3-month-old LAL-deficient mice, 6.5-month-old LAL-deficient mice also exhibited reduced ROH and RE content in the liver (Fig. 6E). Because livers of LAL-deficient mice exhibited unchanged LRAT mRNA expression (Fig. 6F), decreased hepatic RE content was apparently not a consequence of a down-regulation of LRAT expression. Thus, decreased RE content in the liver and lung of LAL-deficient mice, which was accompanied by an accumulation of REs in the duodenum and jejunum, rather suggests that the nutritional supply with vitamin A in these mice might be compromised.